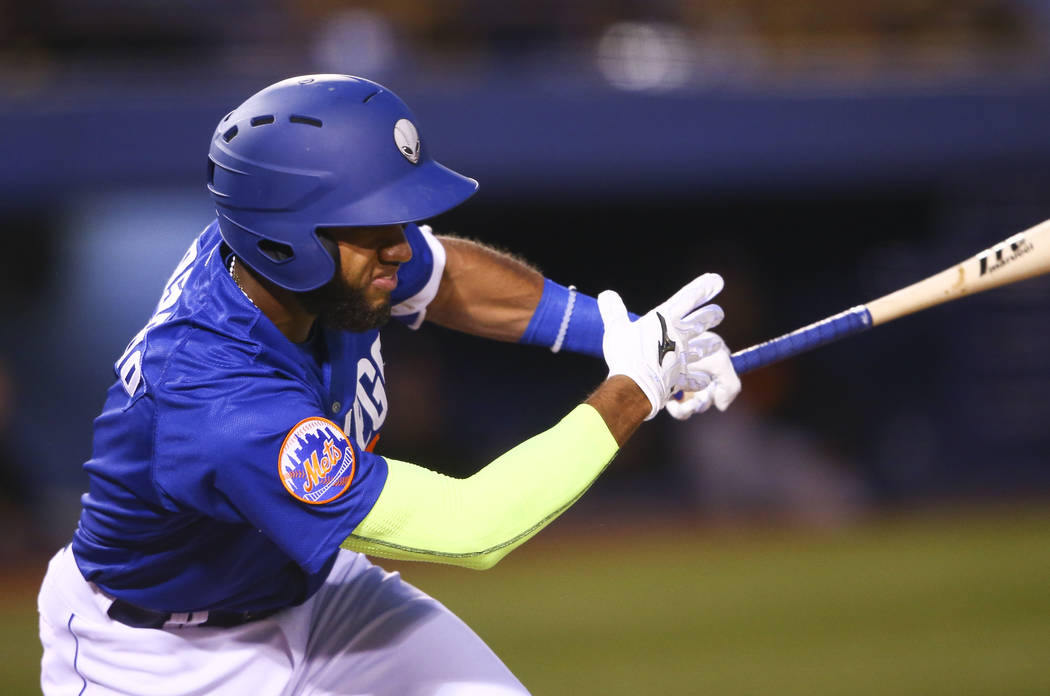 While the rest of his teammates will take a few days off, Amed Rosario won't get much of a break this week.
The 51s shortstop participated in the Futures Game on Sunday in Miami for the second time, and Monday he'll hop on a flight and head across country to Tacoma, Washington.
Not much of a break.
But Rosario, the No. 4 prospect per Baseball America, might need to get used to having his All-Star breaks planned out for him.
Before the Futures Game, he said through a translator that it was a "blessing" to represent not only his home country — the Dominican Republic — but also the world.
He started at shortstop and went 0-for-2 with a pair of strikeouts as the U.S. beat the World 7-6.
The Triple-A All-Star Game will take place on Wednesday, and Rosario will be the Pacific Coast League's starting shortstop.
Rosario finished the first half of the season hitting .327 with seven home runs, 52 RBIs and 113 hits in 83 games.
He will be the only 51s player to appear in the game, though he'll be joined by hitting coach Jack Voigt, who will fill that job on the PCL's staff.
"(PCL president) Branch (Rickey) said I've been here for a number of years, and I had a good year last year, and I said 'Well that wasn't me, that was my players,' " Voigt said. "He said you guys had a pretty good run with what you did last year with the three top hitters. He said 'I'd like to know if you could do it.' "
T.J. Rivera, Brandon Nimmo and Gavin Cecchini finished as the league's top hitters last year at .353, .352 and .325, respectively.
Voigt said it was an honor and he's glad to have the opportunity to do it.
Though he wishes more 51s were joining him, he said he's looking forward to chatting with some players from other teams.
"I'm going to pick their brains just as much as anybody else. I'm going to ask them stuff," he said. "This is another opportunity for me to learn and find out what other people do."
Two All-Star Las Vegans
No, not those two.
Only one of the big two — Bryce Harper and Kris Bryant — will be representing Las Vegas in the MLB All-Star Game.
Harper will be a starter for the National League, representing the Washington Nationals.
Brandon Kintzler, the Minnesota Twins' closer, was selected Friday as a replacement for the American League.
The game is Tuesday night in Miami.
Upcoming at the ballpark
After the break, the 51s will return for an eight-game series against Albuquerque and Fresno.
Thursday will be Budweiser Dollar Beer Night, Friday will feature fireworks and on Saturday the first 2,500 fans through the gates will receive a baseball cap.
Contact Betsy Helfand at bhelfand@reviewjournal.com. Follow @BetsyHelfand on Twitter.
Amed Rosario in the Futures Game
1. Struck out against Tampa Bay Rays prospect Brent Honeywell in first inning
2. Struck out against Chicago White Sox prospect Michael Kopech in fourth inning