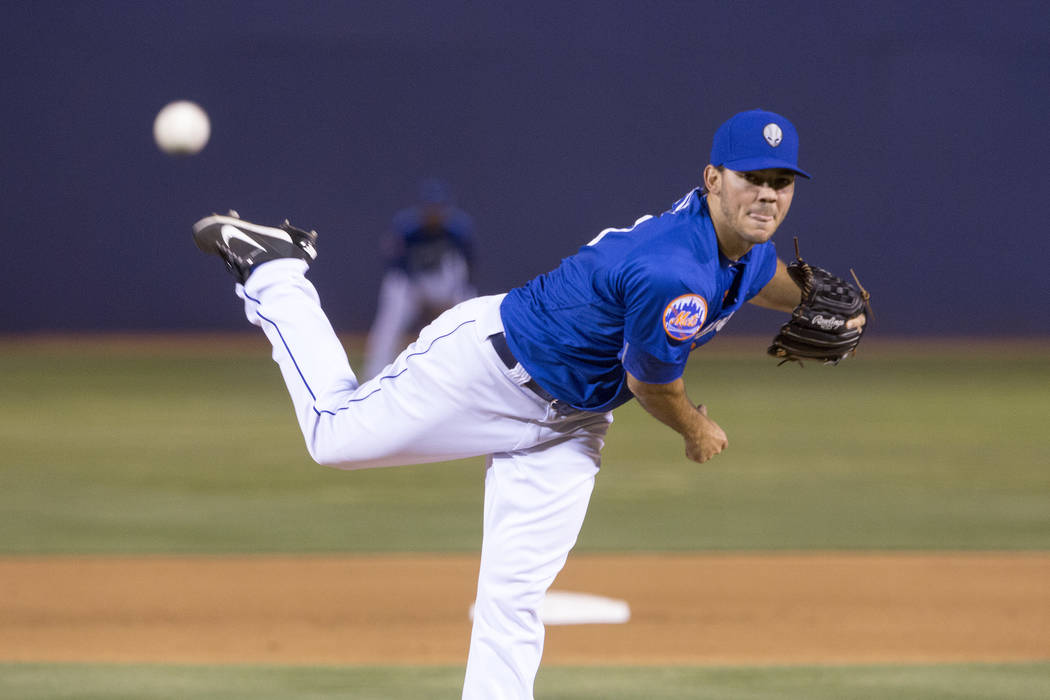 The 51s headed to New Orleans following a 1-7 homestand and a fairly dreadful first three weeks of May.
Monday, they'll be looking for the sweep after beating the Baby Cakes for the third game in a row Sunday, this time behind a solid outing from Tyler Pill and more than enough offense.
The 51s struck first on their way to a 7-3 victory at Shrine on Airline in Metairie, La.
After two shutout innings, Las Vegas (19-25) jumped on New Orleans (14-29) starter Scott Copeland for four runs in the third inning and three in the fourth.
"He tried to attack the zone early and we were ready," manager Pedro Lopez said. "We came out of the gates swinging the bats well. After that, he started shying away from the strike zone and we were patient enough that we brought him back into the strike zone and he made some mistakes. I thought that the game plan was well executed today."
Jayce Boyd led off the third inning with a double to left and after Copeland retired the next two batters, the 51s got to him.
Gavin Cecchini and Travis d'Arnaud hit back-to-back singles and that was followed up by back-to-back doubles from Amed Rosario and Dominic Smith.
An inning later, the 51s struck again, first on a wild pitch allowing Desmond Jennings to score and then on back-to-back doubles from Cecchini and d'Arnaud.
Of the 51s' 11 hits, eight were doubles, including two each from Rosario and d'Arnaud.
Catcher d'Arnaud, who is with the 51s on rehab working his way back from a bruised right hand, went 3-for-5 and caught the entire game. Lopez said everything was good with his hand after the game.
Pill gave up just one run in his 6⅓ innings while striking out four, moving him to 3-1 with a 1.96 ERA on the season.
The one run came in the third on an RBI groundout from Tomas Telis, which drove in Mike Aviles.
"He did a really good job, Lopez said. "Six plus innings, strong innings. I thought he threw the ball well, worked ahead, mixed pitches well, a couple times got in trouble but made good pitches to get himself out of jams."
Dave Roseboom came on in relief and gave up two runs in his 1⅓ innings pitched, both in the eighth inning, and after that Erik Goeddel threw 1⅓ scoreless innings while striking out three.
Las Vegas has outscored New Orleans 17-6 in the three games and has committed only one error, marking three of their most complete games this month.
"I think the guys are doing a good job," Lopez said. "The pitchers are attacking the strike zone, the hitters are having quality at-bats and defensively we're playing well."
Up next
Who: Las Vegas 51s at New Orleans Baby Cakes
When: 5 p.m.
Where: Shrine on Airline in Metairie, La.
Starters: Wilfredo Boscan (0-2, 4.37 ERA) vs. Chris O'Grady (1-1, 6.10 ERA)
Next five
Tuesday: Las Vegas at Round Rock, 5:05 p.m.
Wednesday: Las Vegas at Round Rock, 5:05 p.m.
Thursday: Las Vegas at Round Rock, 5:05 p.m.
Friday: Las Vegas at Round Rock, 5:05 p.m.
Saturday: El Paso at Las Vegas, 7:05 p.m.
Update
Wilfredo Boscan will make his second start since coming off the disabled list (knee). In his last start, he gave up five runs on seven hits in only 2⅓ innings pitched.
Contact Betsy Helfand at bhelfand@reviewjournal.com. Follow @BetsyHelfand on Twitter.