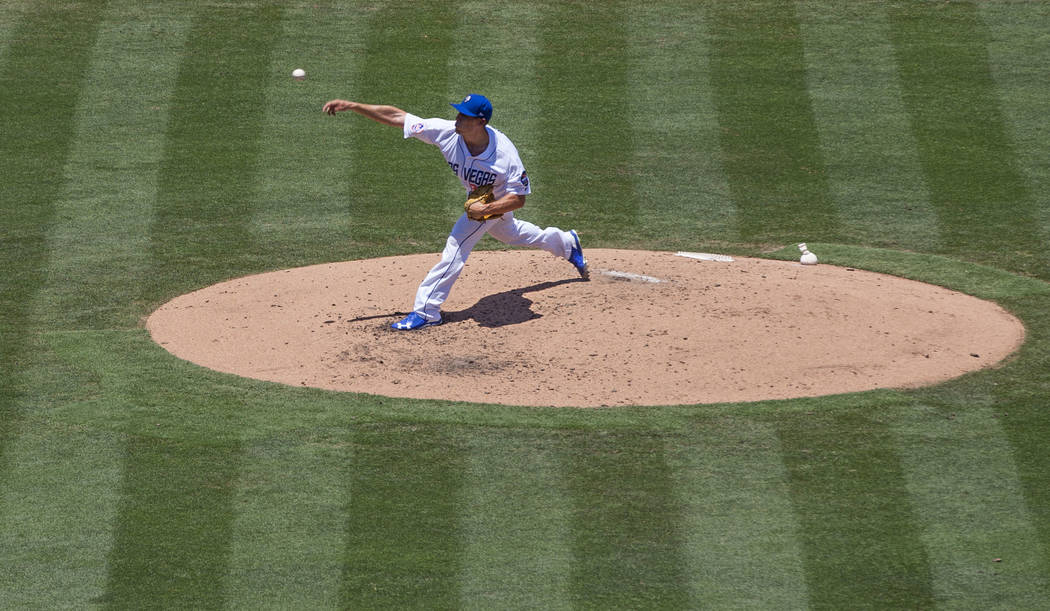 The 51s needed pitchers.
With injuries rocking their way through the Mets' rotation and a couple starters who began the season in Triple-A designated for assignment, Las Vegas found itself with just three starters earlier this month.
Enter Mitch Atkins.
Atkins, who the Mets signed away from the independent Somerset Patriots in New Jersey, will make his second start for the 51s on Friday as the team heads to Salt Lake.
"It was pretty much out of the blue," Atkins said. "We were on Long Island. The manager asked me if I had heard a call, heard from anybody. I said no. And then a couple hours later, they said I was going to be with the Mets. Stuff happens fast."
Atkins, 31, was signed on June 22 and has made one start for the 51s, giving up four runs — three earned — in 5 1/3 innings pitched.
"I'm just trying to get my feet underneath me a little bit," he said after his first start.
It was a Thursday and Atkins was supposed to be pitching for Somerset on Friday. Instead, he started for the 51s at Cashman Field that Sunday.
"I think he's going to help us," manager Pedro Lopez said after Atkins' start. "He throws strikes and I think he does a good job mixing pitches. He's just got to be down in the strike zone, and that's anybody, of course."
Atkins gave up three first-inning runs, but then settled down, giving up just one more run in that outing.
Atkins said he thought he threw well, and a couple better pitches "here and there" would have limited a few runs.
"It wasn't the best. It wasn't the worst. I felt good, though," he said. "It's something to build off of."
Pitching coach Frank Viola agreed with that sentiment.
"He's going to be a fifth starter here for the rest of the year," Viola said. "We've got to make something of it and it was a good starting point."
Viola, like Lopez, said Atkins in his one start showed him that he can throw strikes. He especially liked Atkins' curveball.
And though he wanted to see him pitch a couple more times before he offered suggestions, he did see something he could help Atkins work on.
"There's just not contrast right now between his fastball and his changeup, but with working between starts I can actually give him some pointers and then it's up to him whether or not he can accept it and do it," Viola said.
Atkins comes to the 51s after a lengthy minor league career and a couple cups of coffee in the majors.
Drafted in the seventh round of the 2004 draft by the Chicago Cubs, he has appeared in the majors in three separate seasons (2009-11) with the Cubs and Baltimore Orioles. He has a 6.75 ERA in his 10 major league games pitched (three being starts).
Atkins also has pitched in the Washington, Atlanta and Boston organizations.
Last year, he was mostly in Double-A Portland, a Red Sox affiliate, where he went 6-7 with a 4.48 ERA in 30 games (20 starts). At Somerset, he was 4-3 with a 4.06 ERA in 11 starts, before the Mets picked him up.
"In independent ball, your goal is to get back into affiliated," he said. "It's a good opportunity and I'm happy to be here."
Contact Betsy Helfand at bhelfand@reviewjournal.com. Follow @BetsyHelfand on Twitter.