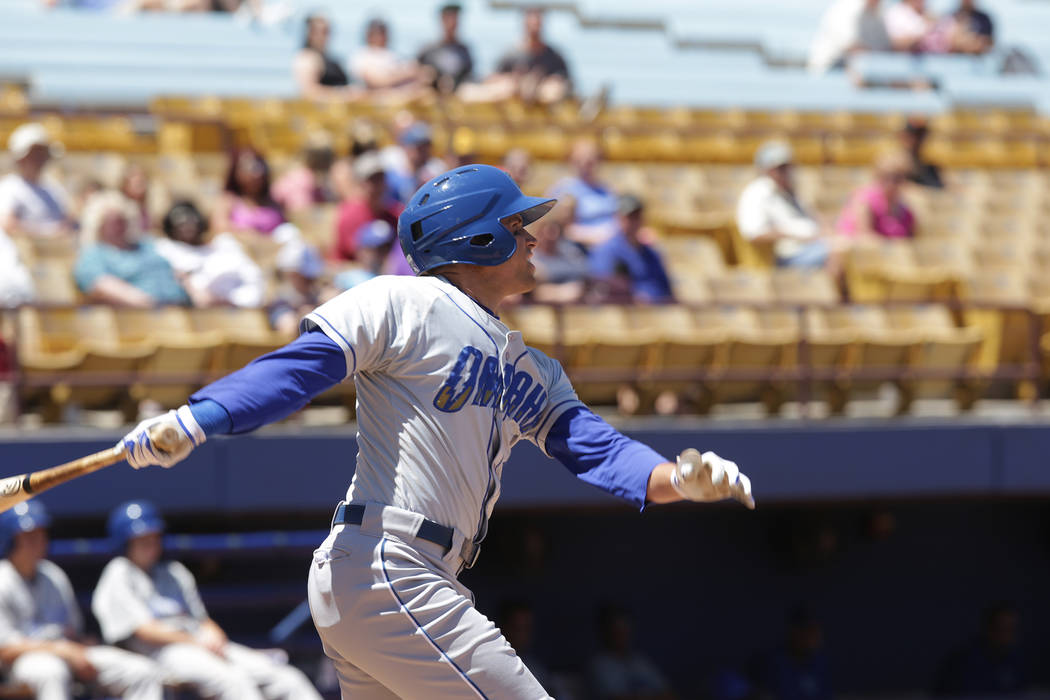 As the 51s have struggled through the month of May, Pedro Lopez has been trying his best to preach positivity.
But even his frustrations seemed evident Sunday both during — the skipper got tossed from the game Sunday after a close play at first base — and after the game, an 8-4 loss to Omaha at Cashman Field.
"Pitching and defense win championships and right now we're not pitching well," Lopez said. "We're not pitching well. We're making errors. The offensive side of it, we're not swinging the bats well either. We're not playing, fundamentally, we're not playing well and we've just got to get back to the fundamentals."
Still, he repeats his call to remain positive, even though he knows his team is unhappy.
"Getting mad or having long faces is not going to help," he said.
The Storm Chasers' (18-17) win Sunday sent the 51s (15-22) to their fourth straight loss and 10th in their last 12 games. It's still early, but the 51s have settled into last place, six games behind division-leader Salt Lake.
"I always say little keys open big doors and right now we're not doing that in any aspect, whether it's hitting, pitching, defense or whatever," Lopez said. "We've just got to make sure that we stay positive. Got to make sure that we send the right message out there to the guys and hopefully tomorrow will be a better day."
Starter Ricky Knapp was hit early and often, giving up six runs in the game on 14 hits in 4⅔ innings pitched.
Knapp gave up a single run in the first, third and fourth innings with three more coming in the fifth.
"(He) made too many mistakes over the middle of the plate," Lopez said. "He was working behind and when he did work ahead, he just had a tough time making adjustments and trying to execute his pitches."
The 51s fought back to tie up the game in the third thanks to an RBI double from Gavin Cecchini, one of three hits for him, and an RBI single from Amed Rosario.
They scored two more in the seventh with another Cecchini RBI hit, this one a single, and Dominic Smith RBI knock, but two runs behind was as close as they would get.
Cecchini said he thought the team needed a little bit of a spark.
"If we can, as individuals, go out there and give it our all, I know that a few games ago we were kind of slacking a little bit as far as effort and if we can look at ourselves in the mirror individually, each and every single one of us, and at the end of the day say 'Did we give it our all?' I think that's the spark that we need."
He also said he didn't think the mindset was necessarily bad in the clubhouse, but more energy could help.
"I think that if we could bring a little more energy, energy could never hurt," Cecchini said. "Don't worry about how many games we're down or how many games we've lost in a row or whatever that is because as you know and I know and people in this game know, if you start worrying about that then one game leads to another and then it's a snowball effect."
And thus, the reason why Lopez keeps preaching positivity.
Tomorrow, as he keeps saying, is a new day.
"Winning is contagious. Losing is contagious, too. We need to make sure we come back tomorrow and just play solid all around and if we do that, I'm not saying tomorrow we're going to win but eventually," Lopez said. "It's that process that you've got to go through in order to get the results that you're looking for."
Contact Betsy Helfand at bhelfand@reviewjournal.com. Follow @BetsyHelfand on Twitter.
UP NEXT
Who: Iowa Cubs at Las Vegas 51s
When: 7:05 p.m. Monday
Where: Cashman Field
Starters: TBA vs. Sean Gilmartin (0-1, 5.63 ERA)
Next five
Tuesday: Iowa at Las Vegas, 7:05 p.m.
Wednesday: Iowa at Las Vegas, 7:05 p.m.
Thursday: Iowa at Las Vegas, 7:05 p.m.
Friday: Las Vegas at New Orleans, 5 p.m. PDT
Saturday: Las Vegas at New Orleans, 4 p.m. PDT
Update
Sean Gilmartin will make his second start on Monday since being sent down by the Mets. In his last start, Gilmartin gave up three runs (two earned) in 4⅔ innings.