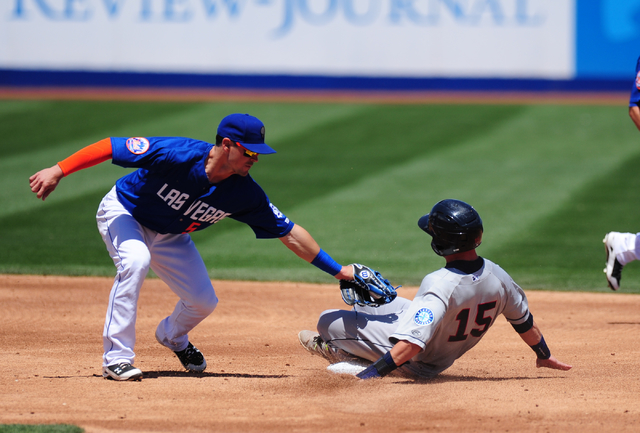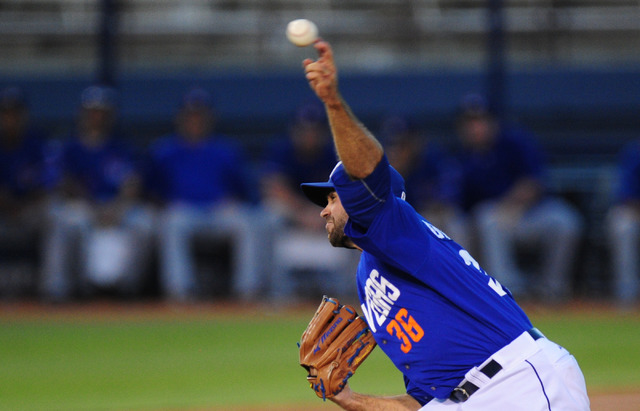 The New York Mets called up Matt Reynolds on Wednesday, two days after he left the 51s in Sacramento to fly to New York.
After dealing with a tight hamstring last week and making his return Sunday, Reynolds left Monday to meet up with the Mets, missing the past two 51s games. To make room for Reynolds on the roster, the Mets sent down left-hander Sean Gilmartin.
Gilmartin, who made one start for the 51s this season, was called up April 14. The Mets sent him down April 20 and called him up a day later before sending him down again Wednesday.
Gilmartin has made one appearance for the Mets, a scoreless appearance that lasted two-thirds of an inning.
Reynolds has primarily played left field for the 51s this season and has hit .300 with 15 hits and four RBIs in 13 games. Originally an infielder, he also has played in left and center field, and at third and second base for Las Vegas this season.
Follow all of our Las Vegas 51s coverage at reviewjournal.com/51s and @RJ_Sports on Twitter.
Up next
Who: Albuquerque Isotopes at 51s
When: 7:05 p.m. today
Where: Cashman Field
Starters: Ryan Carpenter (1-1, 3.18 ERA), Isotopes, vs. Adam Wilk (2-1, 4.43 ERA)
Next five
Friday: Albuquerque at Las Vegas, 7:05 p.m.
Saturday: Albuquerque at Las Vegas, 7:05 p.m.
Sunday: Albuquerque at Las Vegas, 12:05 p.m.
Monday: Albuquerque at Las Vegas, 7:05 p.m.
Tuesday: Tacoma at Las Vegas, 7:05 p.m.
For more coverage of the 51s, go to ReviewJournal.com/51s
Contact Betsy Helfand at bhelfand@reviewjournal.com. Follow @BetsyHelfand on Twitter.