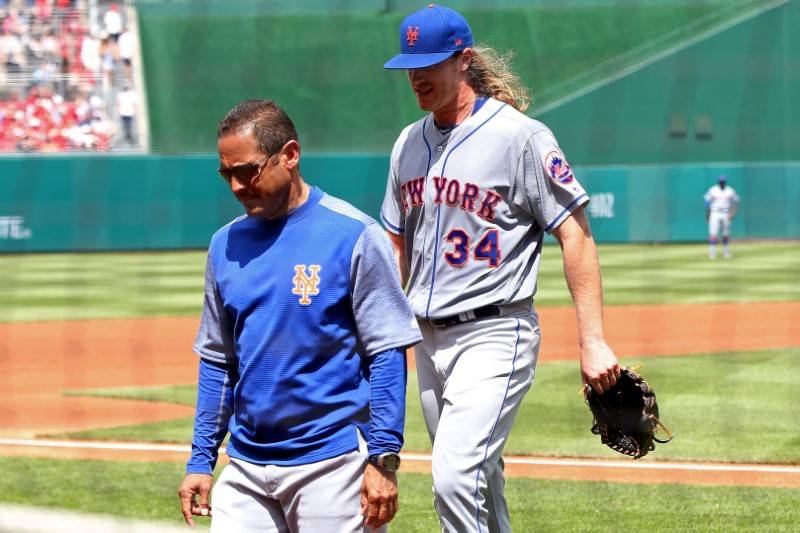 For all the hype around about the New York Mets' "five aces," one thing still remains a fact: Noah Syndergaard, Jacob deGrom, Steven Matz, Matt Harvey and Zack Wheeler have never all been members of the rotation at the same time.
But when the Mets arrived in Port St. Lucie, Florida, for spring training, all were pronounced healthy and one of the prevailing storylines was about the team's incredible rotation depth.
Robert Gsellman and Seth Lugo, who helped pitch the team to the Wild Card game when injuries rocked the rotation last year, helped provide insurance, potentially even destined for Triple-A.
That depth is gone.
Matz (elbow discomfort) and Lugo (partially torn UCL) haven't thrown a pitch for the Mets this season and Monday, Syndergaard was diagnosed with a partially torn lat, the most crushing blow so far.
So, who's left? Behind the big names, the options are thin.
"We are so far behind in pitching depth. In that year that we went to the World Series, we lost 12 pitchers from High-A through Triple-A and the big leagues," 51s pitching coach Frank Viola said. "You can't just make up for it like that, so for the last two years, the well is dry right now.
"We have to have boys step up. They're a year away. We have to have a couple really good drafts the next couple years to refurbish the minor leagues."
The biggest name among that bunch was Michael Fulmer, the centerpiece of the trade for Yoenis Cespedes. He was named the American League Rookie of the Year last year after posting a 3.06 ERA in 26 starts with Detroit and is off to a nice start again this year.
"What we were doing for two years ago, you were going for it. We got to the World Series," Viola said. "They did something right but the problem was that everything since that point, through injury and what have you, dissipated everything positive that they built up so now we're playing catch up again and it's tough to compete when all your big arms are breaking down."
Trading Gabriel Ynoa and Logan Verrett to Baltimore for cash didn't help the system's depth, either.
Ynoa was the 51s' top starter a season ago, going 12-5 with a 3.97 ERA, and Verrett wound up starting 12 games for the Mets last year.
Sunday, Verrett secured the win for the Orioles with two scoreless innings.
"They're not your top of the upper-tier pitchers, but they're those guys that over a 30, 60-day period can make all the difference in the world," Viola said. "They're stop gaps or fill gaps for somebody coming back and we don't have that right now. Both of those guys were vital in this organization in their own way and now it's a big plus for Baltimore instead of us."
Now, with Syndergaard out indefinitely, the Mets need a stop gap for Friday. Matz and Lugo are not options, though both are progressing. Their timetables still put them at late May at the earliest.
So with little else, the Mets will have to turn to either Rafael Montero or Sean Gilmartin on Friday, with Montero being the likelier option because he is stretched out.
Because of multiple roster moves, Gilmartin has pitched 6⅔ innings between Triple-A and the majors this season. Sunday, after Syndergaard's departure, he threw 67 pitches after not pitching in a game since April 18. He has given up five runs in 3 ⅓ innings pitched for the Mets this season.
Montero had a particularly rough go of it with the Mets earlier this season, giving up eight runs — seven earned — in 6⅔ innings out of the bullpen while walking eight and giving up 16 hits.
Since coming down to Triple-A, he has pitched well, giving up two runs in 10⅓ innings over two starts, though Viola said he would like to see him pitch inside more.
"He doesn't really have a putaway pitch and he doesn't pitch inside enough," Viola said. "In the big leagues, you have to show inside. Here, you get away with it because the hitters aren't the quality of big leaguers."
Viola said since Montero has been sent down, they've been playing around with a split finger, though what they've done more than anything was try to refine his changeup.
Beyond those two, Viola said his next option up would be Adam Wilk, who has pitched in nine major league games in his career.
He is 2-2 with a 5.60 ERA with the 51s this season, though Viola called him a strikethrower who was not afraid to mix it up.
"It's not an ideal scenario per se but in the short term, you can more than adequately fit a need," Viola said.
Then again, when teams need to turn to their eighth, ninth or 10th rotation options in early May, it's never the ideal scenario.
"If everybody stays healthy, we wouldn't even be having this conversation because we're still looking at Gsellman as a sixth or seventh starter," Viola said. "Injuries occur, that's part of the game. We've had such a bunch of them that now, all of a sudden, people are getting desperate because we don't have the depth anymore like we used to."
Contact Betsy Helfand at bhelfand@reviewjournal.com. Follow @BetsyHelfand on Twitter.