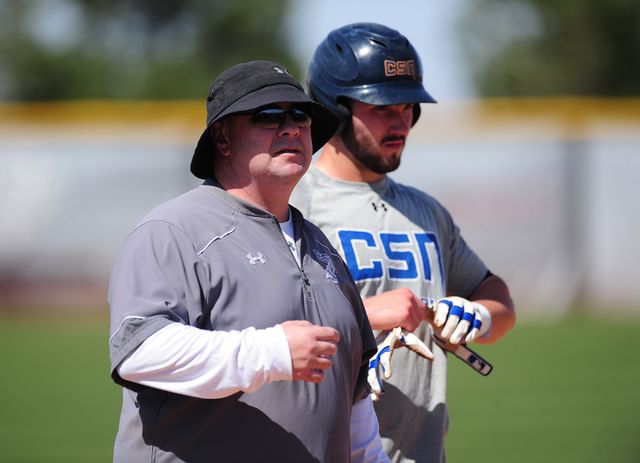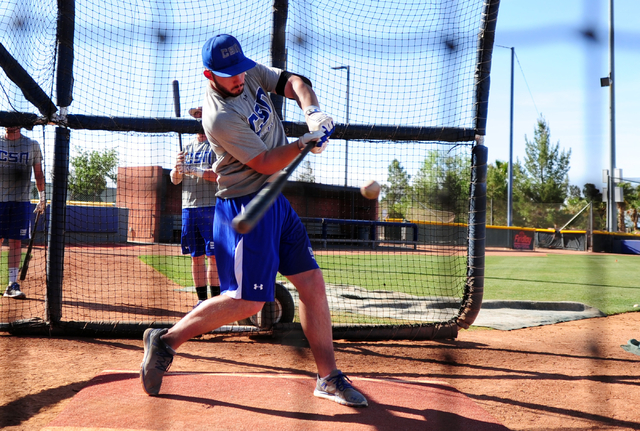 Family is the best way to describe this year's College of Southern Nevada baseball team.
Coach Nick Garritano said it's the biggest difference from previous CSN teams in his six years at the junior college.
"It's a very tight-knit group," Garritano said. "They're pulling on the same rope. The locker room is a lot of fun. They love playing cards together, video games. They're always together. It's one team, one family. It's something we've preached since they got to camp in August."
CSN, ranked 17th by the NJCAA, is one victory from clinching its third Scenic West Athletic Conference regular-season championship in four years. The Coyotes play at Western Nevada this weekend, with the Wildcats needing a sweep of the four-game series to overtake CSN for first place.
The Coyotes (37-11, 27-6 SWAC) will host the conference tournament next week if they win the title.
CSN, which has been ranked as high as 10th, is winning with a roster loaded with Southern Nevada players, including two with major league pedigrees.
"It's really an honor to play for a program that guys like Bryce Harper have come through, and with the town behind you, it's really a great feeling," said staff ace Mikey York, who has overcome Tommy John surgery. "We're such a family out here, and with knowing everyone is behind you, knowing we're all supporting one another, it's just something special this year."
York's father, Mike, played parts of two seasons for the Pittsburgh Pirates and Cleveland Indians. Mikey York might follow in his footsteps, as scouts for major league teams regularly watch him pitch.
York is closely followed in the rotation by A.J. Jones. The closer is Alec Hutt, who has a school-record 12 saves.
Powering the lineup are catcher Jordan Hand (.351, 6 HRs, 42 RBIs) and infielders Brody Westmoreland (.373, 12 HRs, 45 RBIs), Blake Wiggins (8 HRs, 50 RBIs) and Drew Newson (.380, 6 HRs, 37 RBIs).
Hand played at Shadow Ridge High School and transferred from Cal State Fullerton after one year. He said he's glad to be playing back home and has no regrets about leaving the major college powerhouse.
"We're all family here, we're all a great group of guys, and that's what makes us successful," Hand said. "I've been on a lot of different teams, and I can honestly say I haven't been on a team that feels like a family like this one. The coaches do a great job keeping us together as a collective unit, and that's going to help us go far."
Garritano said one of his smartest players is former Bishop Gorman standout Jerrel Latham. The center fielder's father, Chris, is a former big leaguer who played for the Minnesota Twins, Toronto Blue Jays and New York Yankees before finishing his career in Japan.
Latham, who leads the team in stolen bases with 24, occasionally will point out things to Garritano before he sees them. Latham said it comes naturally from everything his father taught him.
"I take pride in it," said Jerrel Latham, who transferred from Brigham Young. "We're one of the top junior college programs in the country. Me being a local, it just means I really have to step my game up and perform for my team. For me, it's a good chip on my shoulder because I want to play good for my teammates, I want to play good for my hometown."