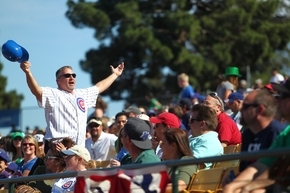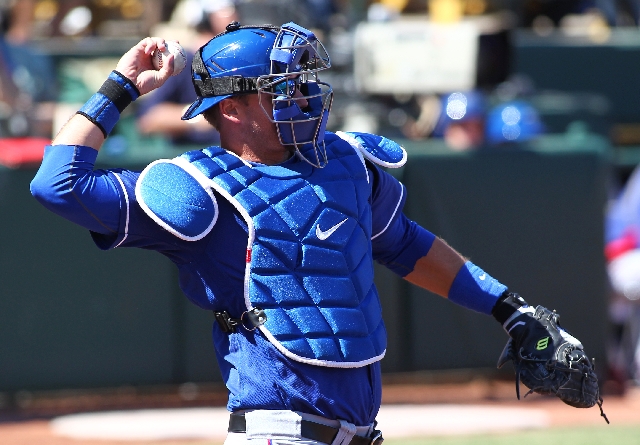 Aside from Hall of Fame pitcher Nolan Ryan, Rangers catcher A.J. Pierzynski got the loudest reception at Cashman Field during Big League Weekend.
The former Chicago White Sox star was booed by the pro-Cubs crowd each time he came to the plate Saturday and Sunday and fan cheered when he made an out.
Pierzynski, who was punched in the face by Cubs catcher Michael Barrett during a 2006 brawl following a home-plate collision, is accustomed to drawing the ire of people.
The two-time All-Star — who signed a $7.5 million, one-year, free-agent contract with Texas after eight seasons with the White Sox — was voted the most hated player in the major leagues last summer in a poll of 100 players conducted by Men's Journal.
"I've heard it all, so it doesn't bother me," said Pierzynski, 36, who went 2-for-6 with a double in Las Vegas. "Sometimes I'm an easy target because they think, 'Oh, he's won it before, so lets just vote for him again.' A lot of times it's people who don't know me and have never met me or talked to me.
"I'm just an easy target, but I'm used to it and I kind of laugh at it now."
Pierzynski said some people wrongly assume he's a loudmouth.
"I think one misconception is that I talk a lot," he said. "I'm kind of quiet and kind of mind my own business.
"I think I'm pretty easy to get along with. I don't think I'm too much trouble."
Texas manager Ron Washington said Pierzynski has fit in perfectly on the Rangers and doesn't understand the animosity directed toward him.
"I've never hated him, even when I played against him," Washington said. "He's one of the guys. We have a club that's very relaxed, and if you can't fit in here, something is wrong with you.
"What I love about him most is he does what he has to do to win a ballgame."
Coming off a career year in which he hit .278 with 27 home runs and 77 RBIs, Pierzynski was upset with Washington last season when he didn't pick him for the American League All-Star team, but said he doesn't hold a grudge.
"It was over as soon as it happened," Pierzynski said. "Obviously the day you find out you're upset, but after that there's nothing you can do about it.
"I've always loved Wash. There's never been a problem between us."
Washington said he felt sorry for Pierzynski at the time, but it "was a situation where I had to pick from a team and their best player was a catcher."
As colorful as Pierzynski can be, it would be hard to be more colorful than Washington as he profanely — and entertainly — recounted the All-Star snub.
"(The media) asked me who I thought was getting (expletive), and I said A.J. Pierzynski. His comment was if I felt that way, then why didn't I choose him, and I had no issue with that," Washington said. "(The media) tried to get something out of me, and I just repeated what I said: He got (expletive).
"Whether they want to say I (expletive) him or someone else (expletive) him, I don't give a (expletive). He got (expletive)."
A career .284 hitter who won a World Series with the White Sox in 2005 and has caught a no-hitter (Mark Buehrle, 2007) and perfect game (Philip Humber, 2012), Pierzynski has been one of the most durable catchers in baseball history — appearing in at least 100 games behind the plate in each of the past 12 seasons for Chicago (2005-12), San Francisco (2004) and Minnesota (2001-03). Pierzynski shows no signs of slowing down.
"I feel great. Physically, I'm as healthy as I've been in a long time," he said. "I'll play as long as my wife will let me."
And Cubs fans will boo him every chance they get.
■ NOTES — Rangers prospect Joey Gallo, a Bishop Gorman product, started at third base and hit a three-run homer to right-center in the sixth inning. He also walked twice. … Drew Robinson, a Silverado graduate, replaced Gallo at third in the seventh and flied out twice. … Nate Schierholtz, who was born in Reno, hit a solo homer for the Cubs, who wore green hats for St. Patrick's Day. … The two-game series attracted a total of 17,807 fans (9,005 Saturday, 8,802 Sunday).
Contact reporter Todd Dewey at tdewey@reviewjournal.com or 702-383-0354.
TEXAS 8
CHICAGO Cubs 5
KEY: Former Bishop Gorman High School star Joey Gallo and Mitch Moreland each hit a three-run home run and Jose Felix a two-run shot for the Rangers.