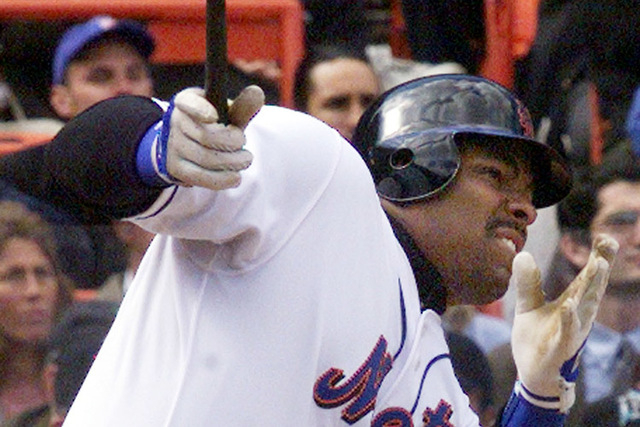 It's always Christmas in July for Bobby Bonilla.
The former big leaguer collected $1.19 million from the New York Mets on July 1 for the fifth straight year Wednesday and the 52-year-old will continue to get paid $1.19 million by his former team every July 1 through 2035 in what has to be one of the best buyouts ever for a player.
The deal was struck when the Mets released Bonilla after the 1999 season despite owing the remaining $5.9 million on his contract. Rather than pay him then, New York agreed to defer Bonilla's payment 10 years and send him a check for $1,193,248.20 every year for 25 years.
All told, when Bonilla cashes his final $1.19 million check at age 72, he will have pocketed a total of $29.8 million over the 25 years — or about $24 million more than the Mets owed him initially. Pretty good gig for a guy who earned a total of $46.4 million for his 16-year playing career.
ESPN's Adam Schefter pointed out that Bonilla will make more money this year as a retiree than three high-profile pro athletes earned last season: Mike Trout, the reigning American League Most Valuable Player, made $1 million in 2014; Draymond Green, a member of the NBA champion Golden State Warriors and the league's All-Defensive first team, earned $915,243; and Russell Wilson, the Seattle Seahawks' Super Bowl-winning quarterback, took home $817,302.
Bonilla hasn't played baseball in 14 years, but his annual salary makes him the ninth-highest paid player on the Mets' current roster. In fact, he makes more than pitchers Matt Harvey ($614,125), Jacob deGrom ($556,875), Zack Wheeler ($546,250) and Jeurys Familia ($523,925).
Then again, Bonilla's salary is a bargain compared to Mets third baseman David Wright, who will be paid $20 million this season and has appeared in only eight games.
Merry Christmas, Bobby-Bo!