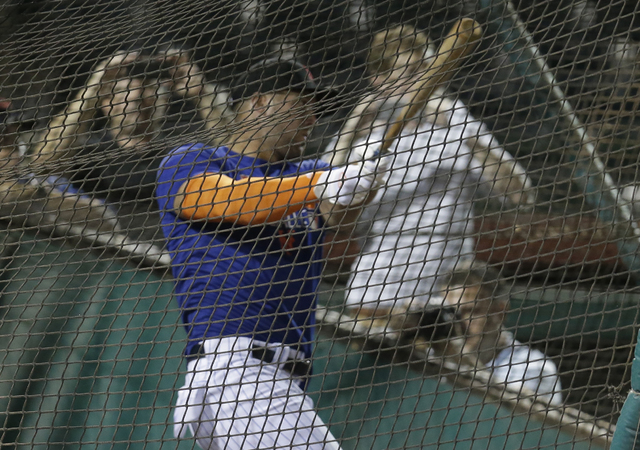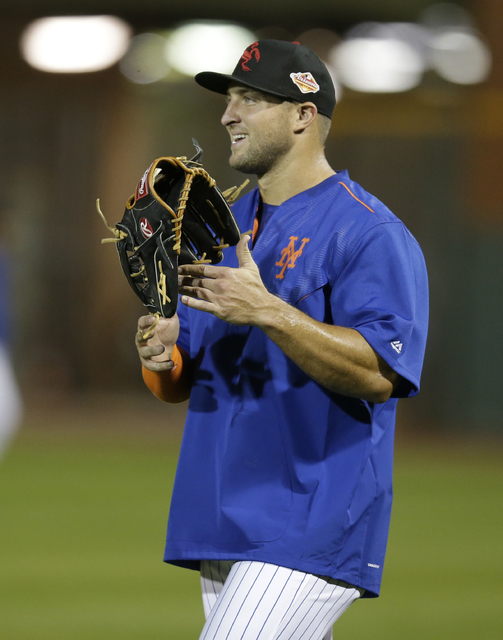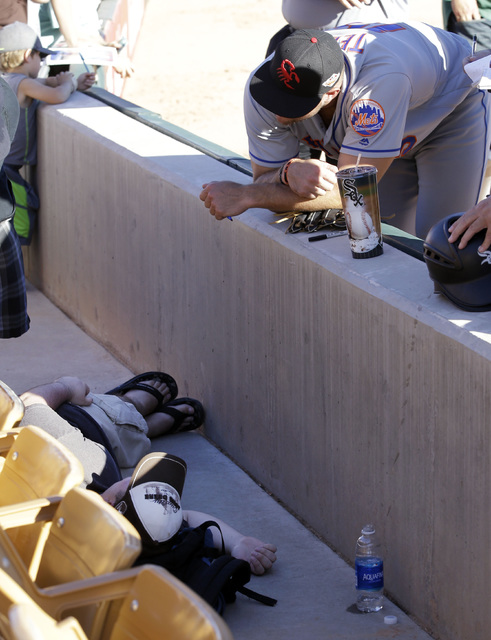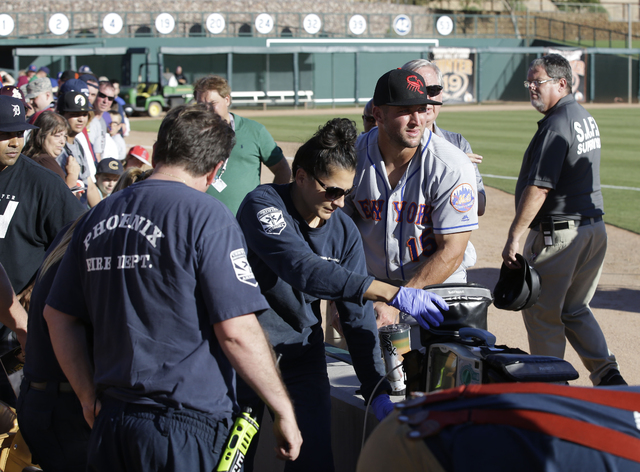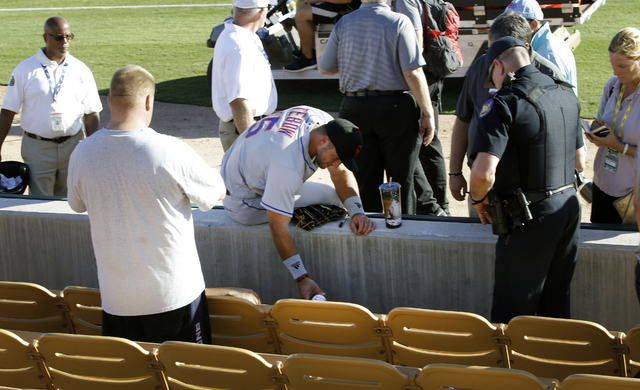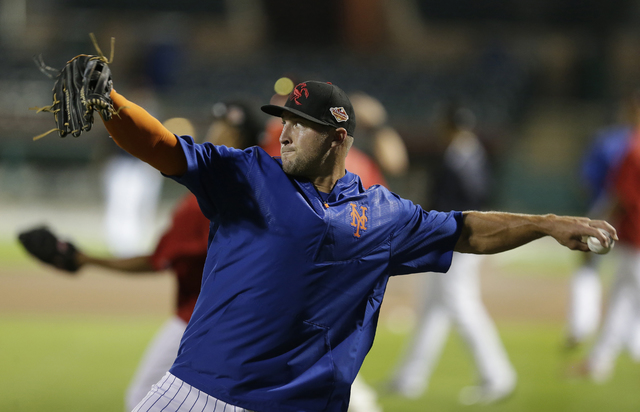 SCOTTSDALE, Ariz. — On a warm fall day in Arizona, Tim Tebow stood in front of the first-base dugout at Scottsdale Stadium, hand bandaged, arm banged up — evidence of his new career.
He fielded questions with patience, though they're probably ones he's heard hundreds of times as he makes a highly publicized transition from football to baseball.
Tebow is playing for the Scottsdale Scorpions in the Arizona Fall League, but standing in Scottsdale, about 300 miles from Cashman Field, he's perhaps the closest he'll ever get to the Triple-A affiliate while wearing a New York Mets-branded jersey.
Only time will tell.
The transition — from football to baseball — might seem abrupt. Or strange.
To Tebow, 29, it's neither.
"There were people that were super nervous like, 'Wait a second,'" Tebow said. "The people that really see my heart, though, they would totally get it, like why I'm doing it. You're doing it for the love of something, for the passion of something, for the fun of something. People would understand that."
Before this year, Tebow hadn't played competitive baseball since his junior year of high school.
After winning the Heisman Trophy and leading Florida to a national title, Tebow bounced around in the NFL, playing for the Denver Broncos and New York Jets from 2010 to 2012, then spending training camps with two other teams.
But when football didn't pan out, he turned back to his other passion.
After signing with the Mets in early September, the team sent him to the Instructional League in Florida.
He homered on the first pitch he saw in his first game, and after the Instructional League ended, the Mets gave him a coveted Arizona Fall League roster spot, usually reserved for highly regarded prospects.
But it hasn't been smooth sailing from there as Tebow tries to readjust to the sport.
"He works so hard. He really comes out and he works hard at what he's trying to do better at," Scottsdale Scorpions manager and Mets first-base coach Tom Goodwin said. "He knows it's not easy. He knows it's not going to be an easy transition."
Tebow started 0-for-13. After Thursday's play, he was hitting .125 with a .176 on-base percentage and had struck out 12 times in 32 at-bats.
He said he was still getting used to things and figuring out his routine.
"I feel like I'm improving. Honestly, it's awesome to be able to work with all these coaches," Tebow said. "To be able to work with (Mets hitting coach) Kevin Long, who is the best, (I) love being able to work with him. I feel like it's a process but improving every day."
A slight wrinkle in the process is that Tebow leaves every weekend to fulfill his commitment to the SEC Network.
"That's what hurts him here is that he does have to go do his other thing with TV, which is fine, but he's missing out on the every day," Goodwin said. "Baseball is an everyday sport. Especially once you start playing it, it's hard to just show up and play it once or twice a week. I mean, even for guys who are here every day in batting practice, it's hard for them to come out and play Tuesday, Thursday and be able to do something."
Mets minor league hitting coordinator Lamar Johnson said he didn't see that as a problem, as most players in the fall league don't play in games more than a few times a week.
Johnson has seen Tebow in the Instructional League and in Arizona, and he said they were working on trying to get him to develop a consistent swing and to drive the ball to the middle of the field.
In the outfield, Tebow has made improvements since the Instructional League, too. Mets minor league outfield coordinator Benny Distefano said Tebow's throwing had grown more consistent this month.
"He has a better feel for throwing to the bases on one hops," Distefano said. "I saw big improvement on that and also running after fly balls. He's gliding a little bit better, (and) instead of running after with his glove out, he's running with both arms pumping and then reaching, so he's making improvements. Remember, he hasn't played in a long time, so there's a lot of rust to get off, and you just go and get better by repetition."
The Mets haven't given Tebow an indication of what comes next. After spring training, they could keep him in extended spring training and then send him to Short-Season A Brooklyn. They also could send him to Single-A Columbia or Single A-Advanced St. Lucie, among other options.
But Tebow hasn't focused much on that while in Arizona, instead on improving himself, a day-by-day process because he's been out of the game for so long.
And so while Tebow is physically close to Las Vegas, he's still a long way from Las Vegas.
"There's a lot of great players out here, but I feel more and more comfortable every time," he said. "I'm looking forward to putting in the work and seeing where I can get to."
Contact Betsy Helfand at bhelfand@reviewjournal.com. Follow @BetsyHelfand on Twitter.