9 reasons to be a UNLV football fan
December 24, 2013 - 8:26 pm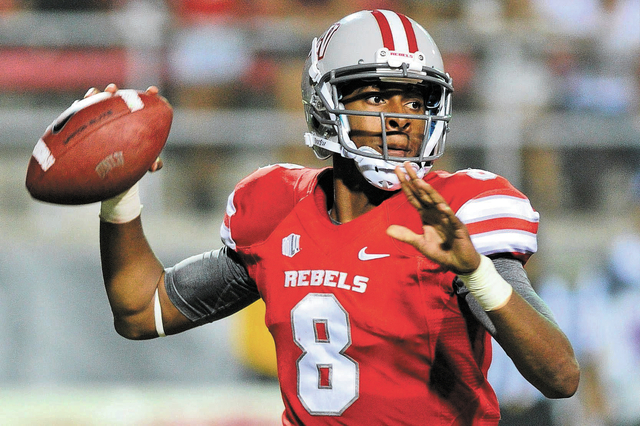 Editor's note: During our 10 days of UNLV football, we'll run a UNLV list a day leading up to the Heart of Dallas Bowl on New Year's Day.
It was an unusually good season to be a UNLV football fan.
Die-hard fans are seeing their loyalty pay off, as UNLV is bowl eligible this season for the first time in a decade.
Those who haven't made it to Sam Boyd Stadium in a few games — or years — may need some convincing to hop back on the Rebel train. Here's our list of nine reasons to be a UNLV football fan:
1. Free Cane's if we return a kickoff
Who doesn't love free food?
If a Rebel player returns a kickoff for a touchdown, anyone with a game ticket gets free chicken fingers and french fries at Raising Cane's. Talk about a good deal.
2. Tailgating at Sam Boyd Stadium is a great experience
We may not be the south, but Las Vegas knows how to throw a party — especially since UNLV relaxed the tailgating rules early this season.
Yelp reviews say even if the game is a disappointment, the tailgating makes it worth it.
3. Beautiful weather and awesome views
There aren't many stadiums that offer beautiful views and nearly perfect weather throughout the season.
You're not often going to find yourself wishing you had brought a coat to Sam Boyd.
Sure, it's not the only stadium with a view. But you can enjoy it without dealing with humidity, rain or snow.
4. There's not a bad seat in the house at SBS
You're not going to end up so high that you'd rather spit over the guardrails into the parking lot than try to make out the numbers on the players' jerseys.
Pretty much wherever you end up, you'll have a good view of the field without having to rely on the jumbotron. You could have just stayed home if you wanted to watch the game on a screen.
5. Tickets are cheap
Going to a game is great Saturday entertainment, and it won't break the bank.
You'll drop a couple Benjamins on sideline season tickets, or the price of dinner on a single game ticket. (But a kickoff return will get you free chicken, so if you're debating between a game and dinner, you've gotta ask yourself a question: "Do I feel lucky?")
6. Fun with all your friends at the game
Making memories and all that.
As a quick look at any Instagram account on a Saturday afternoon during the season will tell you, football games are prime locations for selfies.
7. Support your coaching staff, athletic department and dedicated, hard-working players
Like Caleb Herring.
Players like Herring, Devante Davis and Tim Cornett really came through for UNLV this year, taking the school to a bowl game for the first time in a decade.
Players like these deserve to be cheered on.
8. It's your local, hometown team
Have some pride! You may not have been in Las Vegas for more than a few years, but you're here now, and UNLV is your local team.
Plus, we're not getting an NFL team anytime soon. Might as well jump on the Rebel bandwagon.
9. UNLV needs all the fans they can get
Let's be real: Officials were being optimistic when they raised the capacity of the stadium to nearly 37,000 in 1999.
To remain a Division I school, UNLV has to average 15,000 paid football tickets or in-house attendance per game. Last year, UNLV failed to meet that requirement.
The Rebels need the kind of fans who will expect a lot out of them, but will cheer them on even when the chips are down.
Columnist Lori Cox contributed to this story.
Contact Stephanie Grimes at sgrimes@reviewjournal.com. Find her on Twitter: @steph_grimes
RELATED:
10 well-known players to come out of UNLV