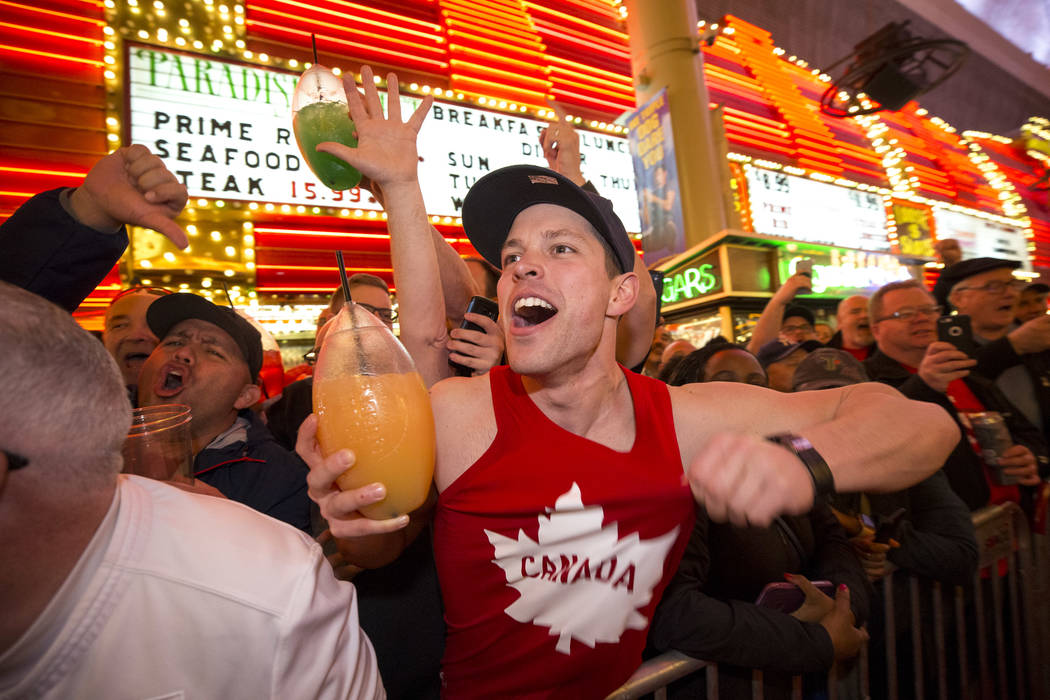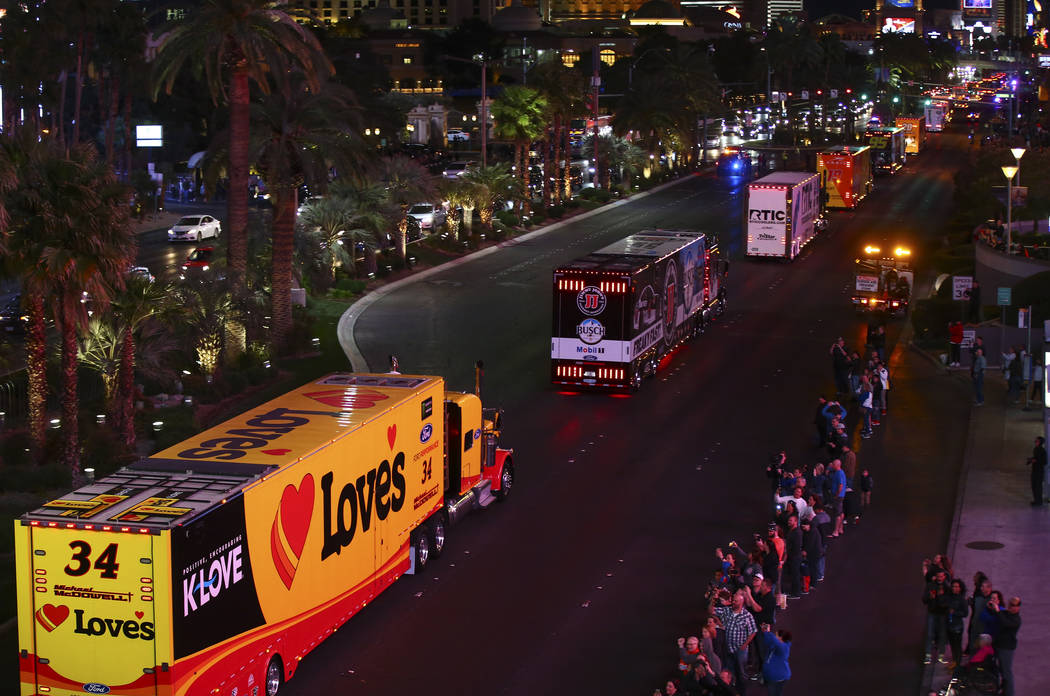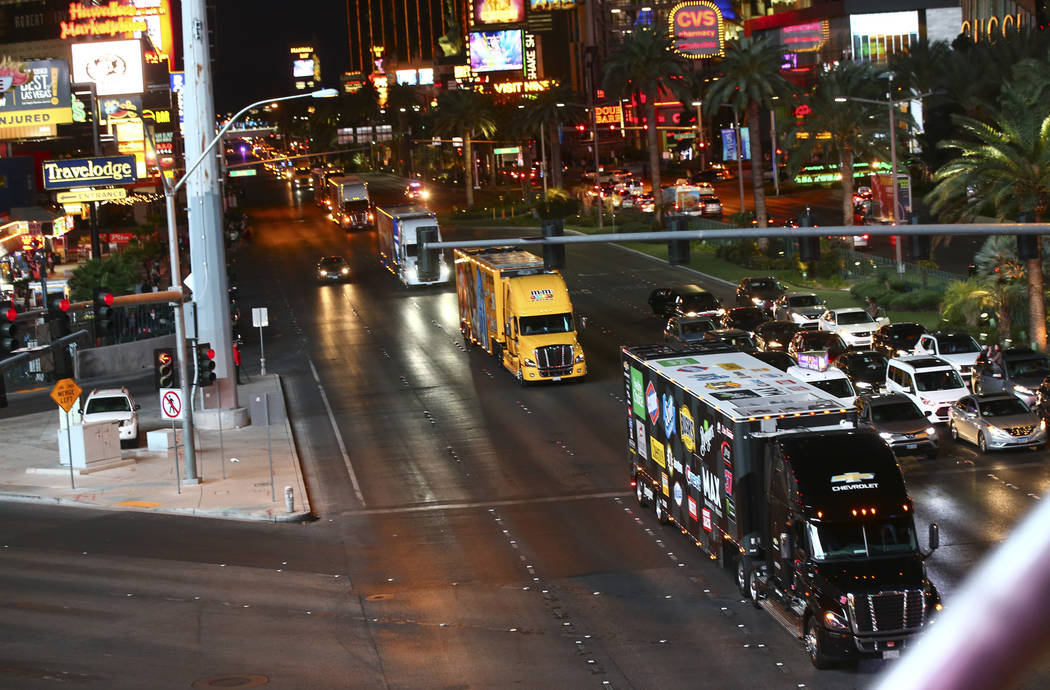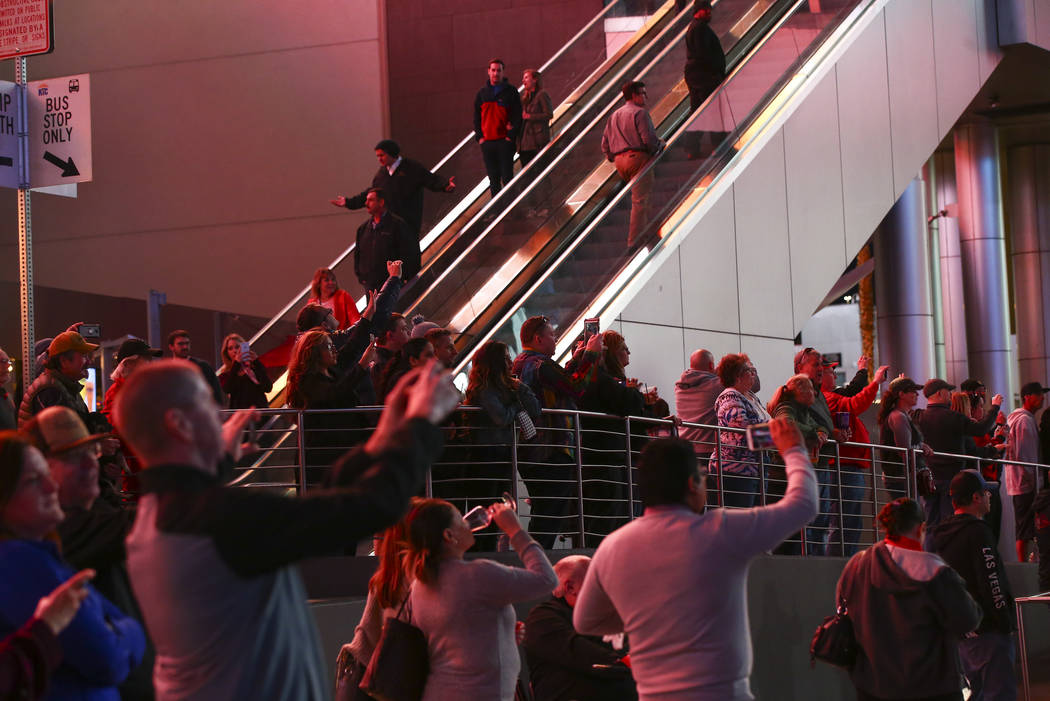 Hockey players, rugby players, race car drivers and prize fighters congregated for a pep rally Wednesday night at Toshiba Plaza outside T-Mobile Arena and prepared Las Vegas sports fans for one of the most momentous events the city has to offer.
Ultimate Vegas Sports Weekend is finally here.
The five-sport extravaganza began at noon Thursday at Orleans Arena with the West Coast Conference women's basketball tournament.
On Friday, the three-day USA Sevens Rugby tournament begins at 3 p.m. at Sam Boyd Stadium. Three NASCAR races will take place beginning Friday at Las Vegas Motor Speedway; the Golden Knights will host the Ottawa Senators at 7 p.m. Friday at T-Mobile Arena; and UFC 222 is Saturday at T-Mobile.
"Only Las Vegas could bring this type of event together to celebrate our continuing growth as a sports town," Las Vegas Convention and Visitors Authority CEO Rossi Ralenkotter said in a statement. "We're excited to partner with the various sports and show fans around the world that no one does it quite like Las Vegas."
What a city. What a weekend.
Rugby Sevens
USA Rugby Sevens is the largest rugby competition in North America. Three-day ticket packages are available on the event's website (usasevens.com/las-vegas/tickets) and range from $216 to $1,111. Three-day youth packages are $43.
Single-day and two-day packages range from $85 to $465 and $171 to $954. Youth packages are going for $22 or $33.
StubHub, a popular secondary ticket market, is offering limited single-day, two-day and three-day passes. Friday tickets are $39, Saturday $77 and Sunday $55.
Two-day tickets are $150; three-day tickets are $180.
NASCAR
Tickets for NASCAR weekend are available at the Las Vegas Motor Speedway website (lvms.com/tickets), which partners with Ticketmaster.
Three-day passes, which include admission to the Camping World Truck Series Stratosphere 200 on Friday, the Xfinity Series Boyd Gaming 300 on Saturday and the Monster Energy Cup Series Pennzoil 400 on Sunday, are available from $122 to $250.
Single-day tickets also are available — Friday tickets start at $24, Saturday at $34 and Sunday at $126.
SeatGeek, another popular secondary market, is offering tickets for substantially less on Friday and Saturday; Friday's start at $4 and Saturday's at $6. Tickets for Sunday start at $104.
Golden Knights
Lower level tickets for the Golden Knights' game against Ottawa start at $200 and are available through the team's website (nhl.com/goldenknights/tickets/single-game), which partners with AXS. Stubhub has upper level tickets starting at $79.
UFC 222
Tickets range from $55 to $550 through the promotion's website (ufc.com/event-ticket-info), which partners with AXS. Tickets on StubHub start at $59.99.
West Coast Conference tournament
The WCC men's and women's tournaments return to The Orleans, with the men's title game Tuesday.
Ticket prices start at $40 for the preliminary rounds and go up to $75 (orleansarena.com/event-calendar/west-coast-conference-basketball-championships).
The best ticket might be Saturday night when the men's second quarterfinals will be played, featuring Gonzaga, Pacific and San Francisco.
Those tickets start at $128 on StubHub and top out at $184 for center court seats.
Transportation
A standard UberX from Sam Boyd Stadium to Las Vegas Motor Speedway was less than $34, as of Thursday. An UberX ride from Sam Boyd to T-Mobile Arena was less than $17.
A ride from the speedway to T-Mobile on Thursday was less than $27.
At its website, the Las Vegas Motor Speedway says Lyft is its ride-hailing partner. The speedway has dedicated drop-off and pickup locations near Gate P and urges fans to use mass transportation and ride-hailing services.
The speedway also has a bus shuttle service.
Buses operated by the Regional Transportation Commission of Southern Nevada also provide service for Knights games.
Contact reporter Sam Gordon at sgordon@reviewjournal.com. Follow @BySamGordon on Twitter.
Weekend schedule
Friday
Noon — West Coast Conference men's and women's tournament, Orleans Arena
3 p.m. — USA Sevens Rugby matches, Sam Boyd Stadium
6 p.m. — Stratosphere 200 NASCAR Camping World Truck Series race, Las Vegas Motor Speedway
7 p.m. — Ottawa Senators vs. Golden Knights, T-Mobile Arena
Saturday
11:30 a.m. — USA Sevens Rugby matches, Sam Boyd Stadium
1 p.m. — West Coast Conference men's and women's tournament, Orleans Arena
1:05 p.m. — Boyd Gaming 300 NASCAR Xfinity Series race, Las Vegas Motor Speedway
5 p.m. — UFC 222, T-Mobile Arena
Sunday
11:30 a.m. — USA Sevens Rugby matches, Sam Boyd Stadium
12:30 p.m. — Pennzoil 400 presented by Jiffy Lube NASCAR Monster Energy NASCAR Cup Series race, Las Vegas Motor Speedway
5 p.m. — USA Sevens Rugby finals, Sam Boyd Stadium
Monday
Noon — West Coast Conference men's and women's tournament, Orleans Orena
Tuesday
1 p.m. — West Coast Conference women's championship game
6 p.m. — West Coast Conference men's championship game