Abundance of experience gives Spurs big advantage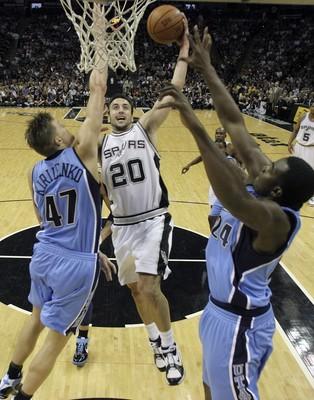 As hard as it is to believe, Cleveland Cavaliers star LeBron James lacks big-game experience. He looks like he's in his 30s and it seems as if he's been around forever.
But until last week, James had not won anything significant since high school. So carrying the young Cavaliers to the NBA Finals is a major accomplishment for the 22-year-old.
Tim Duncan and the San Antonio Spurs, shooting for their fourth title in nine years, are no strangers to this stage.
The Spurs are about 5-1 favorites at most sports books — the line is minus-450 at the Las Vegas Hilton — to take out the Cavaliers in a best-of-7 series that tips off Thursday.
"Perhaps the biggest advantage San Antonio has is its tremendous wealth of experience, not just in the playoffs, but especially in the Finals," said handicapper Jim Kruger, who predicts the Spurs to prevail in six games.
"The possibility of Cleveland being 'just happy to be here' does exist. The Cavs just won their biggest playoff series in almost 30 years. They have to be higher than Apollo 13 ever went and very well could have the same difficulty in coming back down to Earth as the capsule did. James has turned out to be a strong leader, and those skills will be severely tested in this series."
The Cavaliers are perceived to be a one-man crew, and that assessment is fair. James has a capable but inconsistent supporting cast with guards Daniel Gibson and Larry Hughes, forward Drew Gooden and center Zydrunas Ilgauskas.
But the Spurs bring three players — Duncan, point guard Tony Parker and shooting guard Manu Ginobili — capable of taking over any game. And don't forget defensive stopper Bruce Bowen, who could be an important factor in slowing James.
"The key is whether James continues to be aggressive driving to the rim and drawing fouls, especially on Duncan. Driving into the lane toward a waiting Duncan is more challenging than what James faced against Detroit," said Kruger (vegassportsauthority.com).
"I believe the Spurs will try to take advantage of the speed and quickness of Ginobili and Parker by attacking the basket. Defense is the name of the game for both teams, with the Spurs ranking second in the league in defensive efficiency and the Cavs ranking fourth. Offensive efficiency is where San Antonio has a significant edge."
The pressure will be on James to produce, and his performances probably need to be transcendent for Cleveland to take the series the distance. James is averaging 26 points and eight rebounds per game in the playoffs, helping the Cavaliers go 12-4 against the spread.
San Antonio is a 7 1/2-point home favorite in Game 1, with a total of 180. The Hilton has posted 20 proposition wagers, and the total for James' points and assists is set at 33 1/2. James scored 35 and 19 points in Cleveland's regular-season sweep of the Spurs.
"Cleveland has the capability of winning this series," said Kruger, noting the Cavaliers are 38-15-1 against the spread in their past 54 games, and 21-6-1 in their past 28 away from home.
"While the Cavs improved as the season progressed, they just don't have the offensive firepower that is needed to beat San Antonio in a seven-game series. The Spurs have multiple offensive weapons that can easily go for 25 points any game. If Bowen can do a good job defending James, I don't see Cleveland scoring 90 points or more in any game."
Kruger, ranked No. 1 at the Professional Handicappers League (procappers.com) and third in NBA net units won at the Sports Monitor, also gives Spurs coach Gregg Popovich a tactical edge.
"A lack of big-time playoff experience, youth and offensive deficiencies will do in the Cavs," Kruger said. "But it still will be fun to watch James for a few more games."