Aces go big against Wings with WNBA Finals berth on the line
Updated September 28, 2023 - 3:37 pm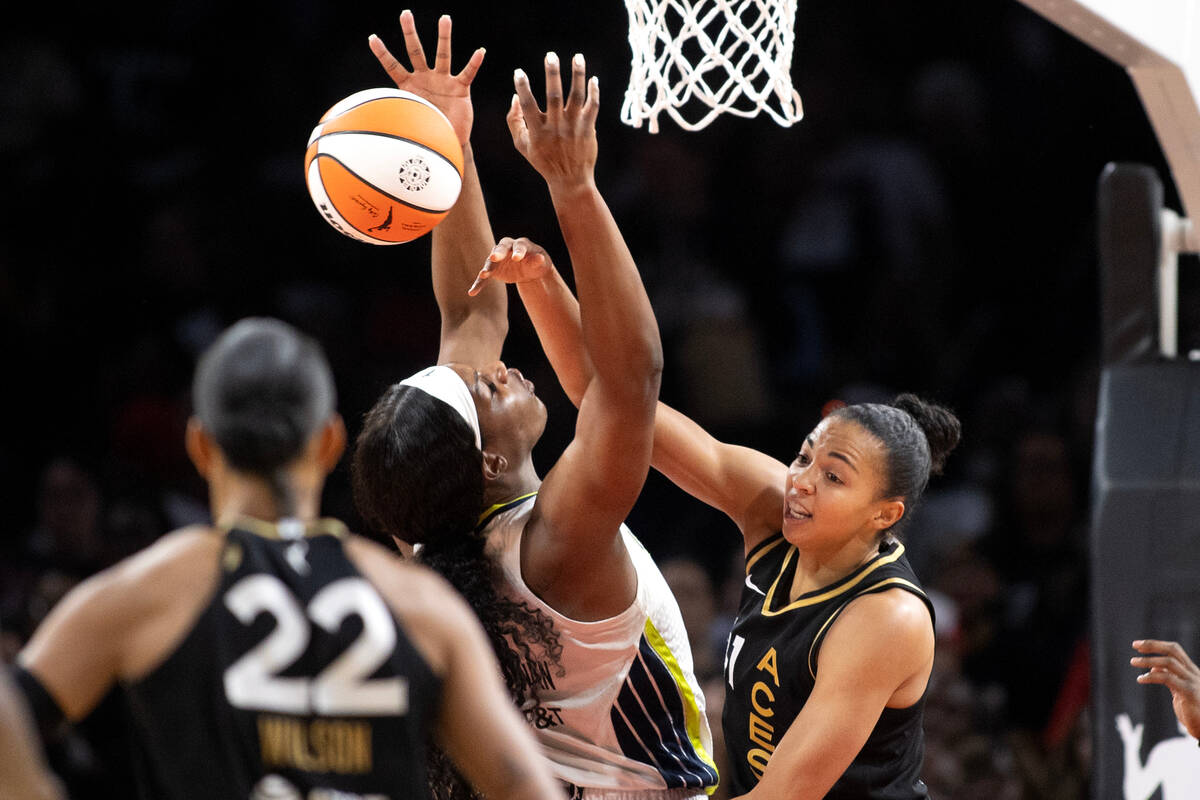 Becky Hammon won't look too far ahead. Before she can begin thinking about game plans or tactical wrinkles for the Finals, the Aces coach emphasized her team has to take care of business and close out the semifinals.
"I don't want us to be content," Hammon said Tuesday. "We still have a lot more work to do. We have a lot more basketball ahead of us. I expect it to be an all-out war in Dallas."
The top-seeded Aces can secure a semifinals sweep against the No. 4 Dallas Wings at 6:30 p.m. Friday, when the teams play Game 3 at the College Park Center in Arlington, Texas. A victory will send Hammon's team to a third WNBA Finals in the past four seasons.
"It's extremely hard to close out a team, especially a team on their home court," Hammon said.
The Aces are coming off a 91-84 win against Dallas in Game 2. The Wings made some lineup changes, grabbed 21 offensive rebounds, took 23 more shots and scored 12 more points in the lane than the Aces, but they still failed to steal a game at Michelob Ultra Arena.
Interior defense played a large part in the victory. The Aces grabbed 31 defensive rebounds and only lost the rebounding margin by one. A'ja Wilson, Jackie Young and Kiah Stokes combined for 27 rebounds, two fewer than Dallas' entire starting lineup.
Additionally, the Aces limited 6-foot-7-inch centers Teaira McCowan and Kalani Brown to 8-of-19 shooting — 42.1 percent — a significant dip in efficiency for two players who shot 55 percent or better from the floor during the regular season.
Hammon has limited the impact of McCowan and Brown in the first two games of the series, despite avoiding her normally potent small ball lineups. Newly crowned Sixth Player of the Year Alysha Clark averaged 25.4 minutes in four regular-season games against the Wings during the regular season. She played just under 18 minutes in Game 2.
Instead, Stokes, in particular, has seen her playing time skyrocket. The veteran center played 29 minutes in the Aces' 97-83 Game 1 win, then got 35 minutes in Game 2. She averaged 19.3 minutes against Dallas and never played more than 31 minutes in a game during the regular season. Stokes played the entire second quarter and all but six seconds of the fourth in Game 2.
Stokes said her main objective has been to protect Wilson, taking responsibility for McCowan and Brown to keep the two-time MVP out of foul trouble. Stokes' presence down low also allows Wilson to roam the lane freely and protect the rim.
"That's been Becky's idea going forward," Stokes said Thursday, "just to try to keep a bigger body matched up with one of them as best we can."
Hammon also reintroduced Australian center Cayla George into the rotation in Game 2. She played four minutes, all next to Stokes, to give Wilson some time on the bench out of quarter breaks. The move kept two bigs on the floor for the Aces at all times, outside the two-and-a-half minute breaks Stokes got in the first and third quarters.
"I think that's been one of the keys to this whole series, just rebounding and defending the paint," Stokes said. "If we continue to do that, we should be OK, but it's their first game at home so we've got to come ready to play and stay focused."
Contact reporter Andy Yamashita at ayamashita@reviewjournal.com. Follow @ANYamashita on X.
Up next
Who: Aces vs. Dallas Wings
What: WNBA semifinals, Game 3
When: 6:30 p.m. Friday
Where: College Park Center, Arlington, Texas
TV: ESPN2
Radio: KRLV (920 AM)
Line: Aces -6, Total: 174½
WNBA semifinals
Aces lead 2-0
Game 1: Aces 97, Dallas 83
Game 2: Aces 91, Dallas 84
Game 3: 6:30 p.m. Friday at College Park Center, Arlington, Texas
Game 4*: 6 p.m. Sunday at College Park Center, Arlington, Texas
Game 5*: TBD Tuesday at Michelob Ultra Arena
*If necessary