Gordon: Playoffs bring out Aces' championship-level defense
Updated September 15, 2023 - 4:03 pm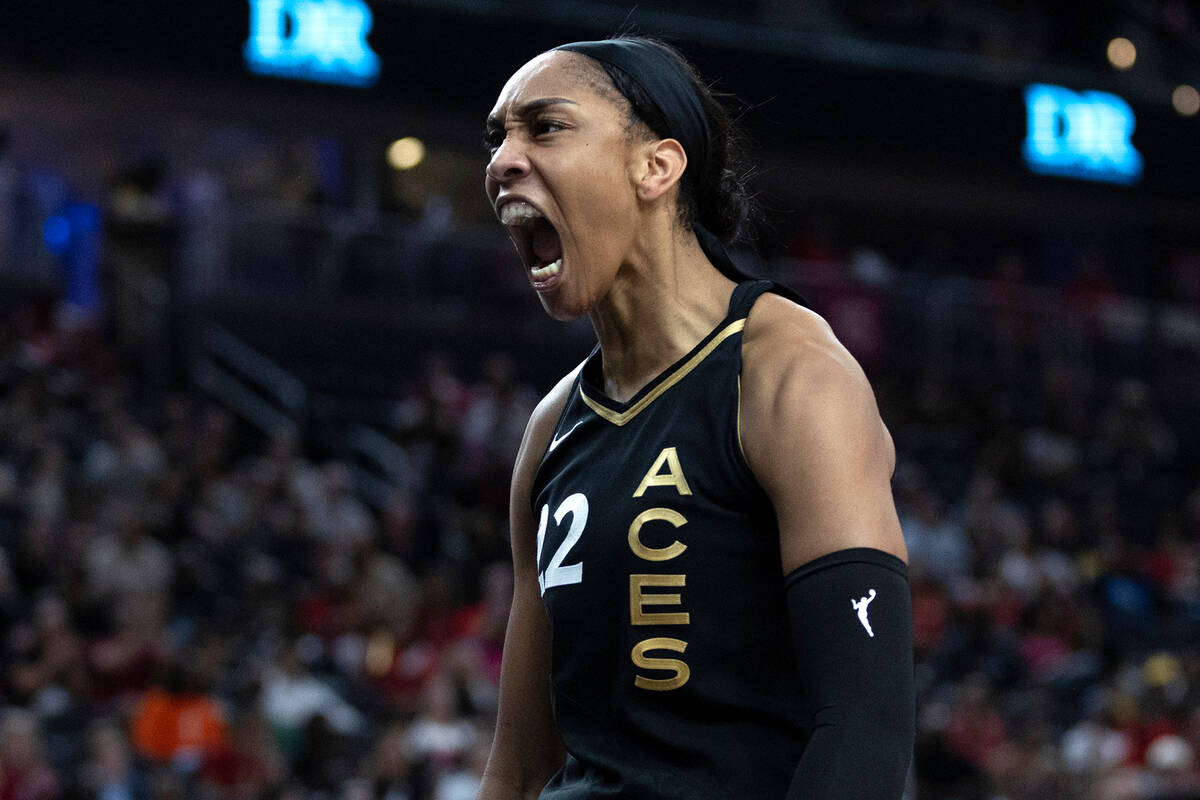 The Aces led the Chicago Sky by 19 points Wednesday when A'ja Wilson trailed Kahleah Copper in transition. Everyone who knows Wilson was not surprised by what happened next.
Sure enough, when Copper stopped and popped, the reigning WNBA MVP and Defensive Player of the Year batted the basketball past the baseline and into the stands — flexing and snarling in momentary celebration.
"Great defense. Our bigs played great defense," coach Becky Hammon said afterward, delving into the way they dominated. "I was pleased with the defense. More than anything."
So much for the Aces' midseason malaise.
The defending champions defended like champions in Game 1 of the WNBA quarterfinals, putting forth their finest effort on that end of the floor this season — the kind of effort required nightly to capture their second straight championship. That after leading the WNBA in defensive rating (97.7 points per 100 possessions) for the first time since 2019, a mark they mostly preserved without standout Candace Parker.
Asked afterward about why the Aces defended so well Wednesday — limiting Chicago to 33.3 percent shooting, 22.7 percent 3-point shooting and 23 points in the second half of their 87-59 victory — Hammon smirked silently for a second before offering a response.
"It's the playoffs and they want to do it," she said. "Everybody was really locked in defensively."
Defense asserts itself
Try as they may, their timely second and third rotational efforts didn't always have the same urgency during a 40-game regular season they dominated en route to their record 34-6 record, making their top-rated regular-season defensive rating all the more impressive.
The random midsummer Tuesday night or Sunday afternoon doesn't manufacture desperation. The postseason inherently does.
With a singular opponent to hone in on and additional time for Hammon and her assistants to prep, the Aces can deploy more refined game plans to practice and execute.
They deterred the drives of Chicago's guards or funneled them toward Wilson, the league's best rim protector and shot blocker. Syncopated rotations mostly prevented efficient scoring opportunities, hence the 28-point margin of victory.
Such an effort defensively gives leeway offensively to the Aces, who shot 43.2 percent from the field and 31.8 percent from 3-point range to fall far below their season averages of 48.6 percent and 37.2, respectively.
Shots won't always fall: The Aces in games during their championship run last year shot 40.6 percent, 42.2 percent and 39.7 percent, games they won because of how well they defended. Conversely, opposing teams are going to present more refined game plans designed to limit the Aces in the halfcourt.
But their defense Wednesday triggered 27 transition points, a hearty number in June — let alone September when offense is harder to come by.
"I think (we're) doing the little things, paying attention to the scout, what we want to do, what we want to execute and what we're willing to give up," said reigning WNBA Finals MVP Chelsea Gray. "We know when we can get aggressive with (starting center) Kiah (Stokes) back there blocking shots, when you've got (Wilson) back there blocking shots.
"When we're able to do that, we're able to flow and get into our offense a little more."
If the Aces sustain their defensive effort, imagine when their shots start falling.
Contact Sam Gordon at sgordon@reviewjournal.com. Follow @BySamGordon on X.
Up next
Who: Aces vs. Sky, Game 2
When: Noon Sunday
Where: Michelob Ultra Arena
TV: KTNV-13
Radio: KWWN (1100 AM, 100.9 FM)
Line: Aces -17½; total 170½
Series schedule
Aces lead 1-0
■ Game 1: Aces 87, Sky 59
■ Game 2: Noon Sunday at Michelob Ultra Arena
■ Game 3*: TBD Wednesday at Chicago
* If necessary