How Las Vegas became preeminent in women's basketball
Updated July 13, 2023 - 6:15 pm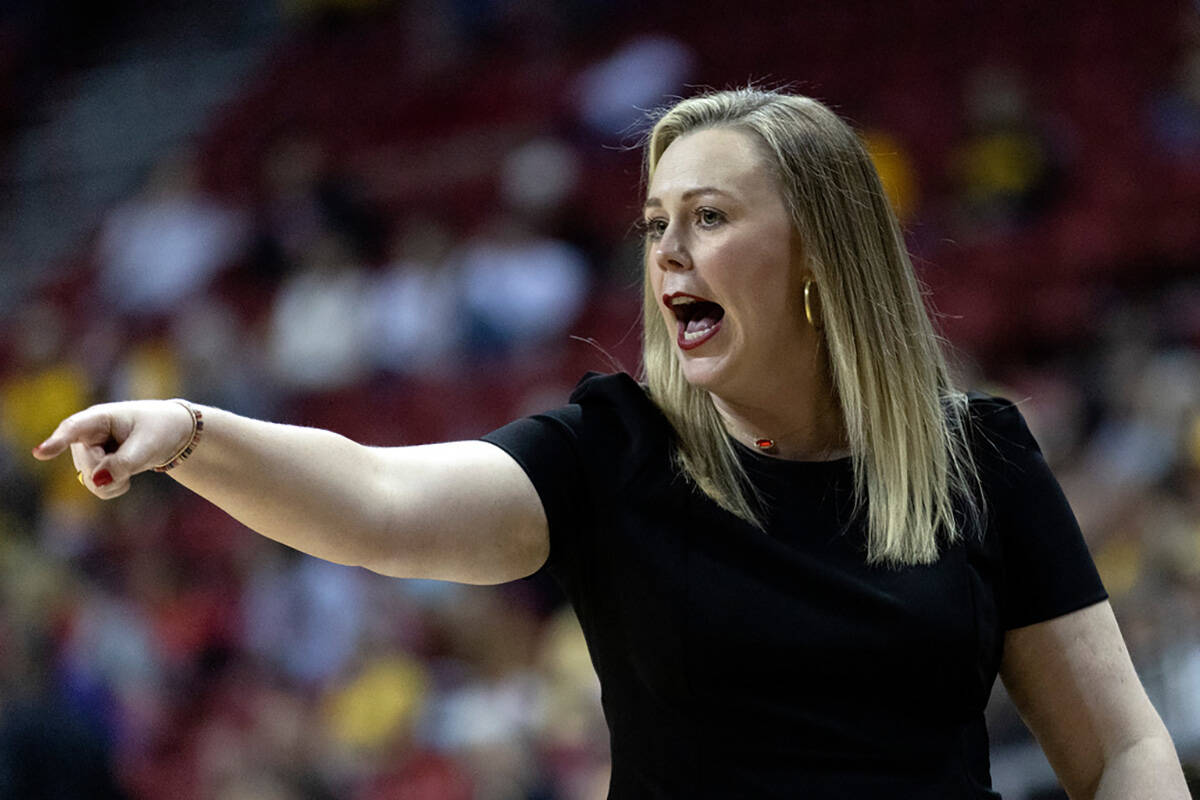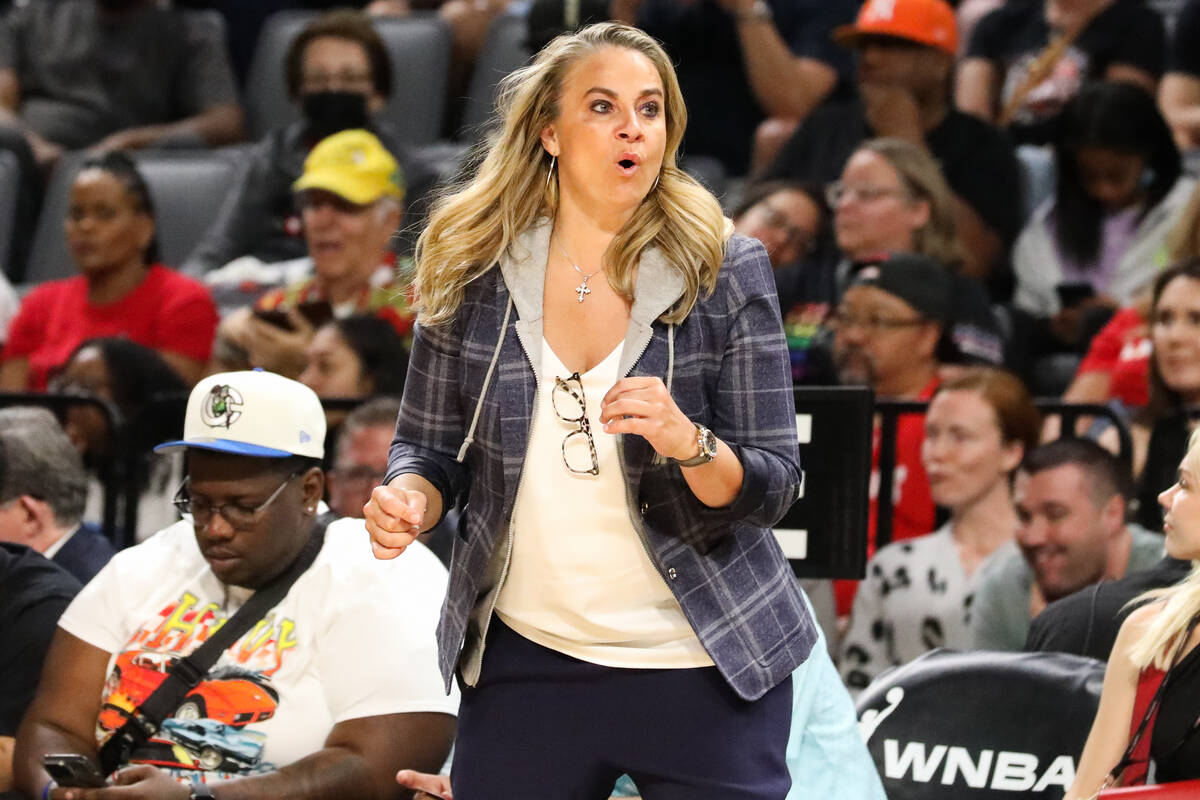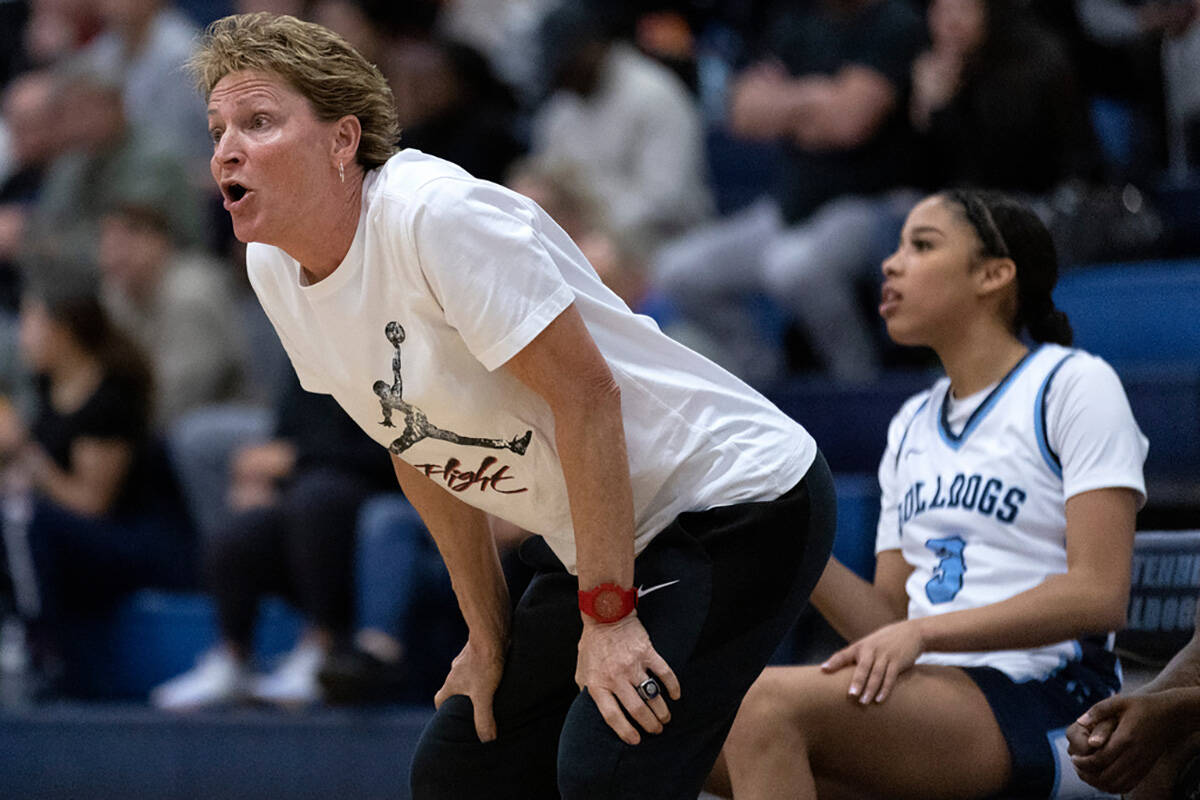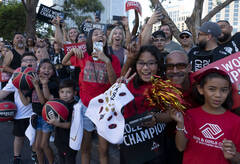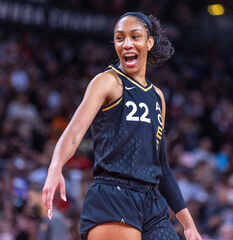 No.
Aces coach Becky Hammon didn't have any additional complementary tickets Tuesday for another sellout at Michelob Ultra Arena.
Didn't matter who asked.
No. No. No. No. No.
"They thought they knew somebody that had any kind of pull. Turns out they didn't," Hammon said after a 98-72 victory over the Phoenix Mercury.
"I couldn't help anybody with tickets." Not exactly a bad problem to have.
The Aces welcomed a record crowd Tuesday of 10,281 to Michelob Ultra Arena and will welcome a sellout crowd to their friendly confines Saturday for the WNBA All-Star Game, played again in Las Vegas for the third time in five seasons.
This time, though, the game takes place during an extraordinary time for women's basketball in the city. The defending WNBA champion Aces are among the league leaders in attendance, drawing 9,054 per game during of one of the greatest seasons in the league's 27-year history.
And that's not all.
UNLV under the direction of Las Vegas native Lindy La Rocque is an emerging mid-major powerhouse, claiming consecutive Mountain West regular-season and tournament championships — and appearing in the Associated Press rankings last season for the first time since 1994.
Centennial anchors the prep landscape with one of the nation's top programs, buoying a local high school scene with more talent and opportunity than ever before.
"Women's basketball is booming at the moment. I really haven't seen it be in a better spot," said Las Vegas native, Mojave graduate and former Duke and San Diego State standout Chelsea Hopkins.
"Vegas has changed drastically because we have a WNBA team and have been able to highlight women. Young girls are always going to get behind that when they have people to follow."
Barren beginnings
Centennial coach Karen Weitz remembers when there weren't junior high girls basketball teams in Las Vegas, let alone a professional team — and the best professional team at that. The longtime Bulldogs coach and UNLV graduate began coaching locally at Cheyenne in 1996, when girls basketball in junior high schools was reintroduced by Clark County School District.
Without the resources and infrastructure that her coaching counterparts had in the Reno area — then the state's epicenter for girls basketball — Weitz solicited their expertise in an effort to advance her program.
"If you were going to compete with the Reno schools at the time, you had to play year round and do what they were doing as well," said Weitz, who also oversees Centennial's club basketball companion, the Vegas Bulldogs.
"That's what's made us competitive all these years. We're still one of the only high schools that stays together year round."
As Weitz's programs evolved, so too did others around the Las Vegas Valley in an effort to remain competitive — leading to a gradual increase in travel teams, leagues and subsequently the talent they help develop.
The city's everlasting spike in population boosted the quality of basketball, prompting the natural growth and development of opportunities for girls.
Hopkins, for instance, graduated in 2008, playing all but her final season of club basketball locally and regionally.
"Playing that one season in AAU on a travel-ball team on the circuit, I went from having offers at Pepperdine and Santa Clara to Duke, Texas and USC," said Hopkins, who played portions of three WNBA seasons and coaches with Nevada Premier, an affiliate of Nike's prestigious Elite Youth Basketball League featuring players from Las Vegas.
"From an exposure standpoint, these kids have all the resources and platforms in the world to showcase their ability."
As a a result, Power Five programs are drawn to the city's fertile recruiting grounds, giving Las Vegas a presence in some of the country's most prominent programs.
Hometown talent
But with La Rocque at UNLV's helm, leaving Las Vegas isn't a prerequisite for success at the next level.
The Lady Rebels the last two years were guided by forward-center Desi-Rae Young, point guard Essence Booker and wing Justice Ethridge, all of whom played and graduated from local high schools.
UNLV's record the last two seasons: 57-10 with two trips to the NCAA Tournament.
"I felt like when I came back to Las Vegas that there's really good high school talent here," La Rocque said. "And there's really good young players even before high school that are staying in town and not hopping over to California to find a better place to play because you can play here and play at a high level."
Case in point: La Rocque said that participation last month in the program's annual weeklong youth basketball camp more than doubled from 70 last year to 150 this season, triggering for the first time a wait list she hopes to eliminate.
She hopes next year to host a two-week camp, adding "I don't want to turn any little girl away from getting introduced to basketball or playing basketball for the first time."
"There's always been basketball here and as a young girl growing up, you kind of had to find your way," La Rocque said. "Even at the development age, there's more things just for girls. Girls teams. Girls leagues, similar to ours. It's a girls camp. It's not a co-ed camp. That's pretty intentional on our part, to want to continue to foster playing at a young age."
Regarding this iteration of the Lady Rebels, Booker and Ethridge exhausted their eligibility last season, but Young is returning to anchor a team comprised of talented returners, transfers and out-of-state signees.
La Rocque this month also secured a verbal commitment from four-star Idaho guard Teagan Colvin, considered by ESPN the No. 81 overall prospect in the senior class and one of the top recruits in UNLV's history.
"We've been able to kind of retain our staff … which allows our players to buy in more, because there's not crazy turnover," La Rocque said. "You could argue that's kind of the same with the Aces, right? The city really helps them, but they've been able to keep their good players. … Their core players, they've kept them. And those players also wanted to buy into that."
Viva the Aces
That they did and the results are stunning: a 19-2 record backed by the best offensive rating (114.7 points per 100 possessions) and net rating (19.1) in WNBA history. The Aces also lead the WNBA in defensive rating (95.6), sporting the uncanny ability to simultaneously overwhelm opponents on both ends of the court.
They feature four All-Stars in reigning WNBA MVP and top 2023 candidate A'ja Wilson, reigning Finals MVP Chelsea Gray, reigning All-WNBA first-team honoree Kelsey Plum and two-way dynamo Jackie Young.
A marquee acquisition in free agency, WNBA legend Candace Parker, rounds out the starting lineup.
Stellar home crowds often include the biggest stars in sports and entertainment.
"You can tell the energy is growing. People now recognize Las Vegas as not only a basketball city, but where the best women's basketball players come to play," said general manager Natalie Williams, whose daughters, Ayla and Nation, are among the standouts at Centennial.
"We say it, but everybody is recognizing that we set the bar here in Las Vegas with how basketball should come."
Credit should also go to owner Mark Davis, whose investments as owner include Hammon's record-setting $1 million annual salary and a state-of-the-art practice facility adjacent to the Raiders' facility in Henderson.
The Aces used to practice periodically at UNLV, and La Rocque and Williams both said the synergy between their respective teams remains strong. Aces players attend UNLV home games at Cox Pavilion and UNLV players attend Aces home games at Michelob Ultra Arena.
A sellout crowd is attending the All-Star Game on Saturday.
"I remember when (All-Star Weekend) was first here," Wilson said. "The All-Stars were just happy to see their pictures on the marquees going down the Las Vegas Strip. That's big. The visibility is huge. Vegas, when it comes to putting you in the spotlight and under those bright lights, we do a great job of doing that."
Contact Sam Gordon at sgordon@reviewjournal.com. Follow @BySamGordon on Twitter.