Las Vegas Aces lose, 103-91, trail 2-0 in WNBA semifinals
Updated September 19, 2019 - 9:33 pm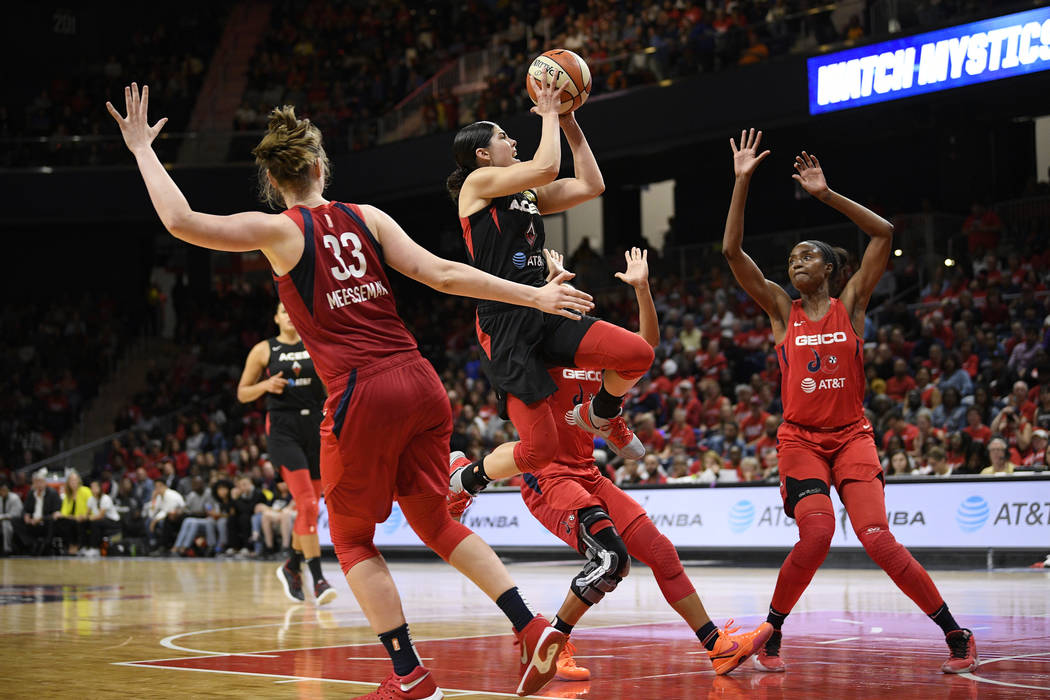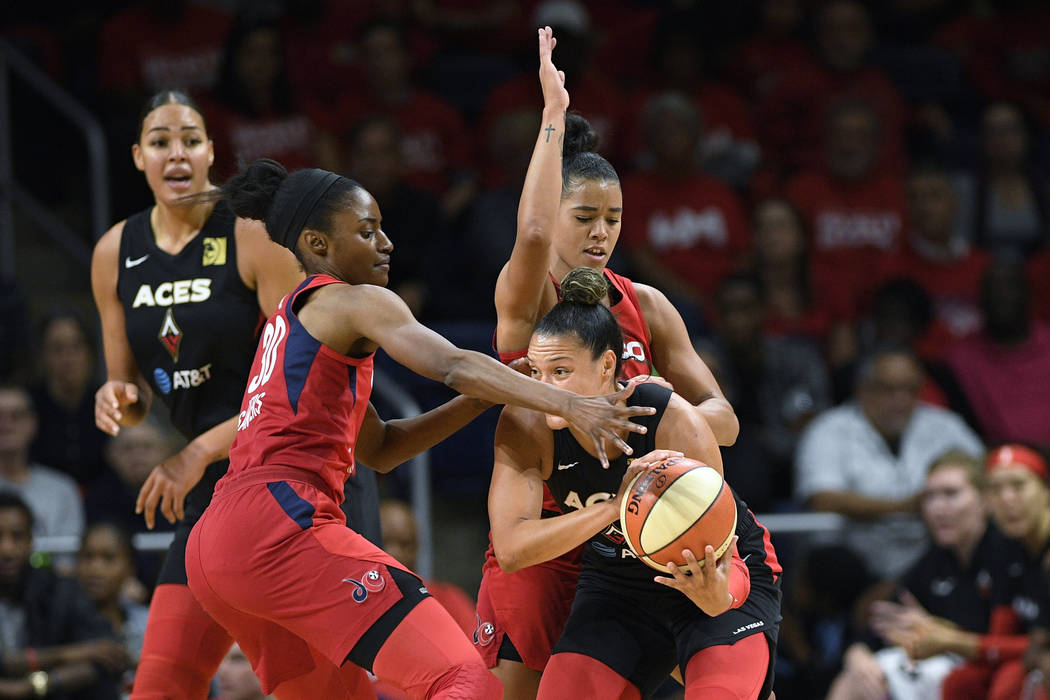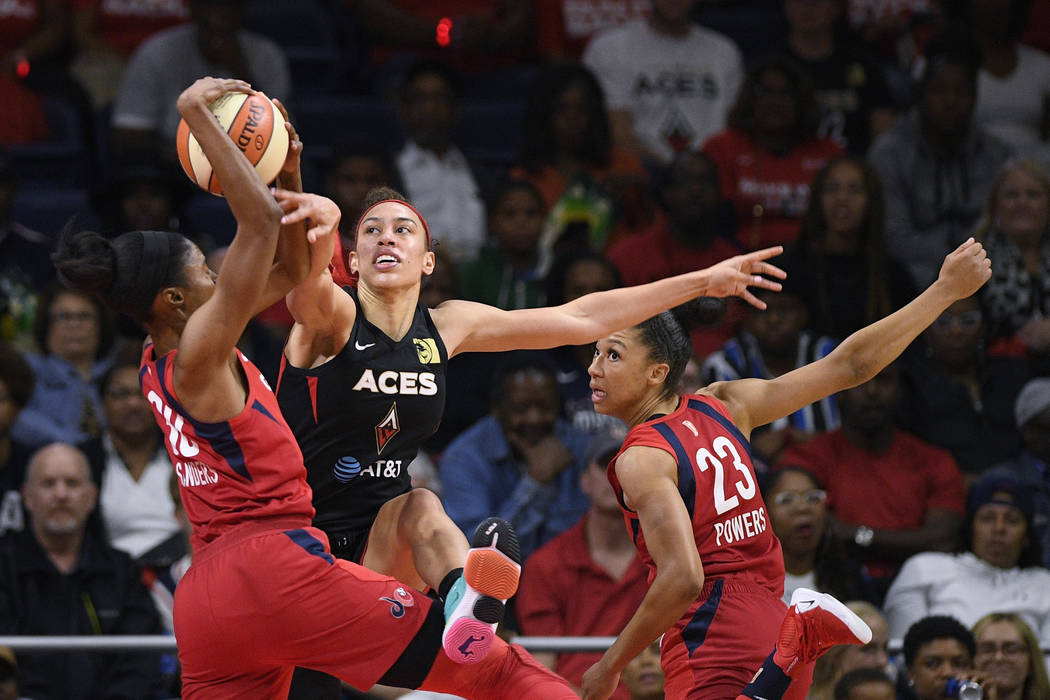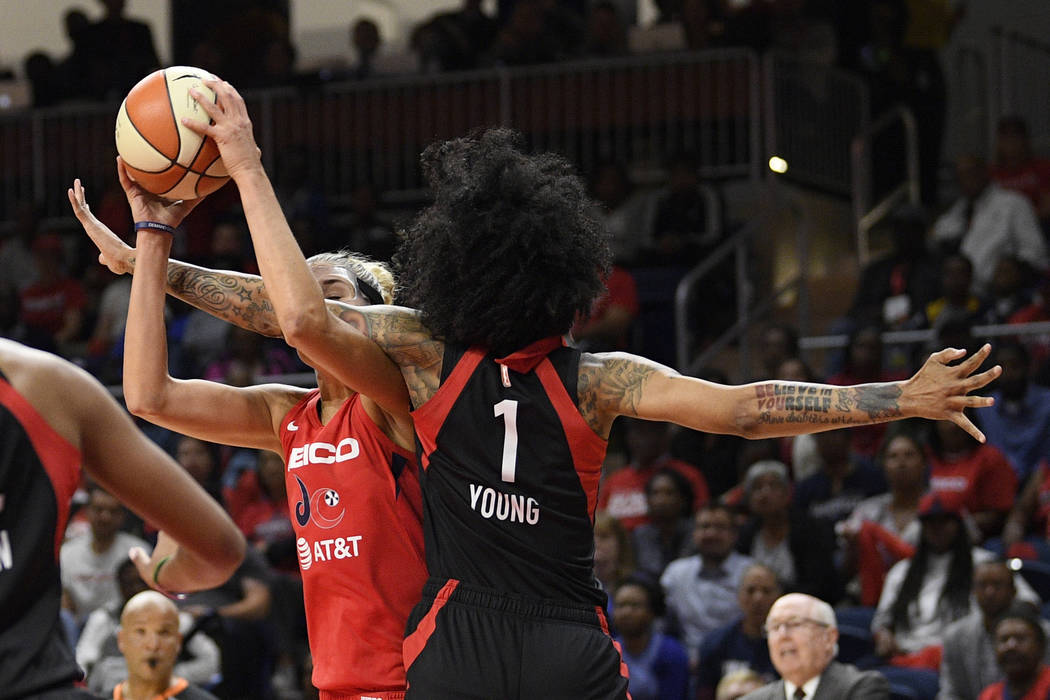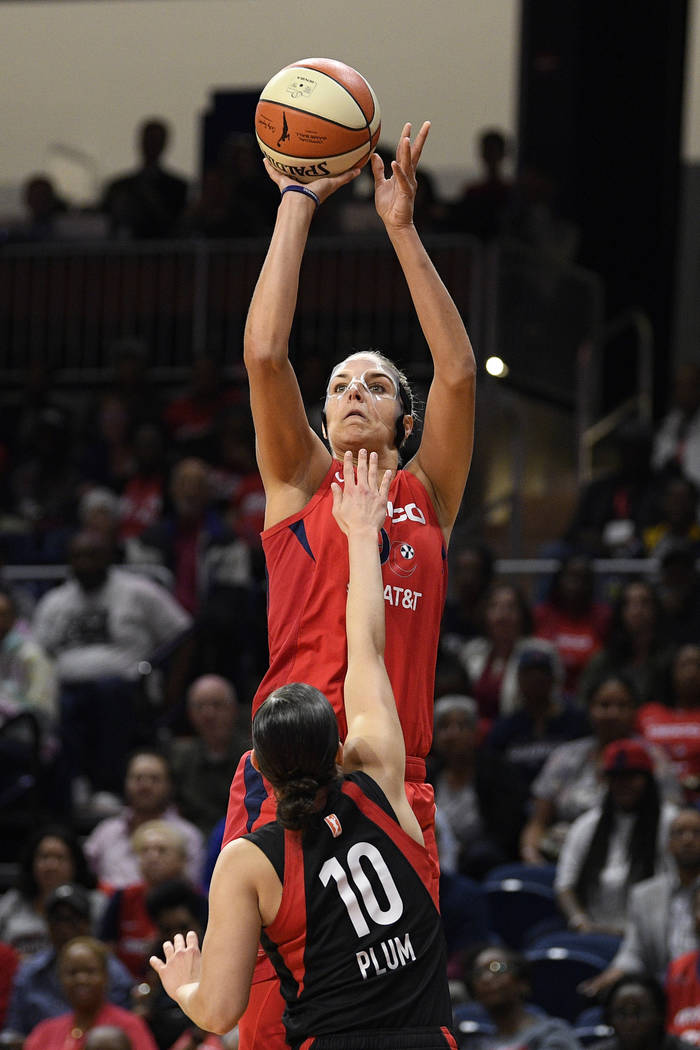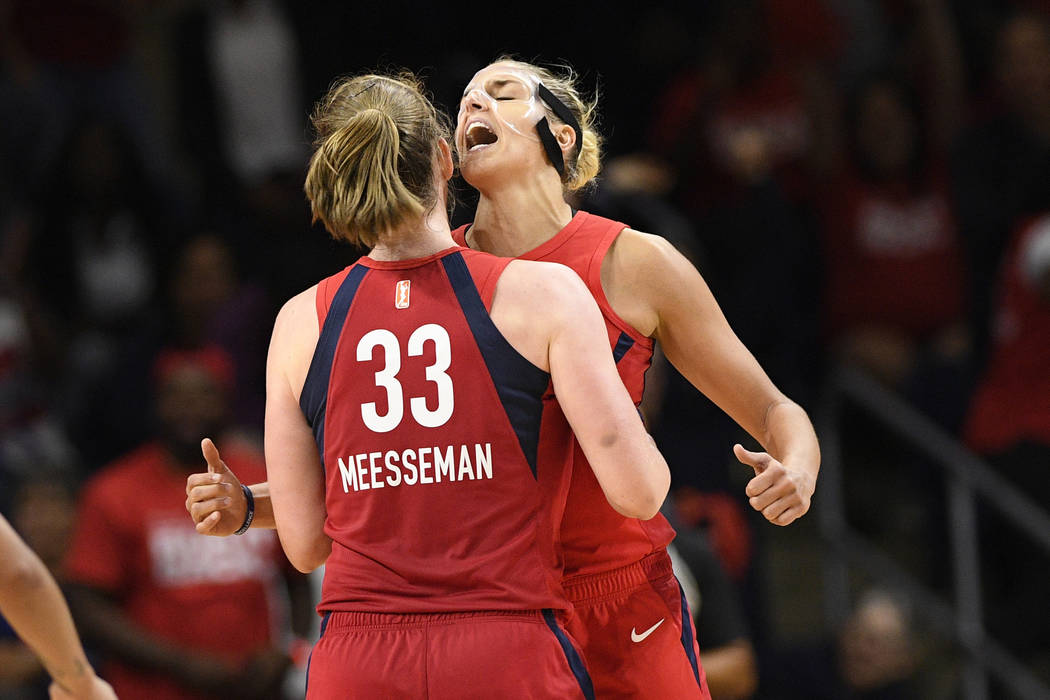 The Aces duplicated their admirable Game 1 effort Thursday night against the Washington Mystics in Game 2 of the WNBA semifinals.
They also duplicated the result and are one loss from beginning their offseason.
The Aces surrendered an untimely 19-5 run late in the third quarter of a 103-91 loss to host Washington in Game 2 at Sports and Entertainment Arena and trail 2-0 in the best-of-five WNBA semifinals.
The Aces will attempt to stave off elimination in Game 3 on Sunday at Mandalay Bay Events Center, where they were 13-4 during the regular season. The Mystics are one victory from reaching the WNBA Finals for the second consecutive season.
"It's a series for a reason," Aces center Liz Cambage said. "We get to go home, go back to the house and play in front of our fans, who lift us up every game. We ain't done. It's just getting started."
The Aces for the second straight game put forth the energy necessary to topple the Mystics, who have four victories in four games against the Aces this season with MVP Elena Delle Donne in the lineup. They attacked Washington's defense before it could set and adjusted defensively by incorporating more switching against its pick-and-roll offense and led 64-61 early in the third quarter.
Kelsey Plum returned to the starting lineup as the team's primary ball handler after playing the last six games as a reserve, sparking transition and half-court offense.
Cambage overpowered opposing defenders for 23 points and 10 rebounds.
But the Aces couldn't sustain their defensive execution, and miscommunication led to a flurry of breakdowns late in the third. Mystics forward Emma Meesseman roamed free all game for a game-high 30 points and Natasha Cloud attacked mismatches and slow rotations for 18 points and 11 assists.
"They capitalize on everything you do, mistakes that you make," said Plum, who had 19 points and 10 assists. "They're such a good team in terms of the way they execute. … If you relax for a second, before you know it, you look up and you're down 10."
And at one point Thursday night the Aces' deficit 16.
The Aces must make additional tactical adjustments on Sunday to slow the Mystics, who set offensive efficiency records during the regular season. Meesseman popped free for uncontested jumpers in both games, and over-helping created driving lanes for Washington's guards to create more quality shots.
The Aces also committed 12 turnovers — mostly unforced like in Game 1 and during regular season — while the Mystics committed six.
"If we put together a game, all of us our team playing as we should, our confidence will grow, and that's what we're looking for when we go home," Aces coach Bill Laimbeer said. "We have to make some adjustments as coaches and players. We'd made some. We didn't execute. We know where our holes our. We know where our problems are defensively."
Contact reporter Sam Gordon at sgordon@reviewjournal.com. Follow @BySamGordon on Twitter.