'Next woman up': Reserve's defense shines just when Aces need her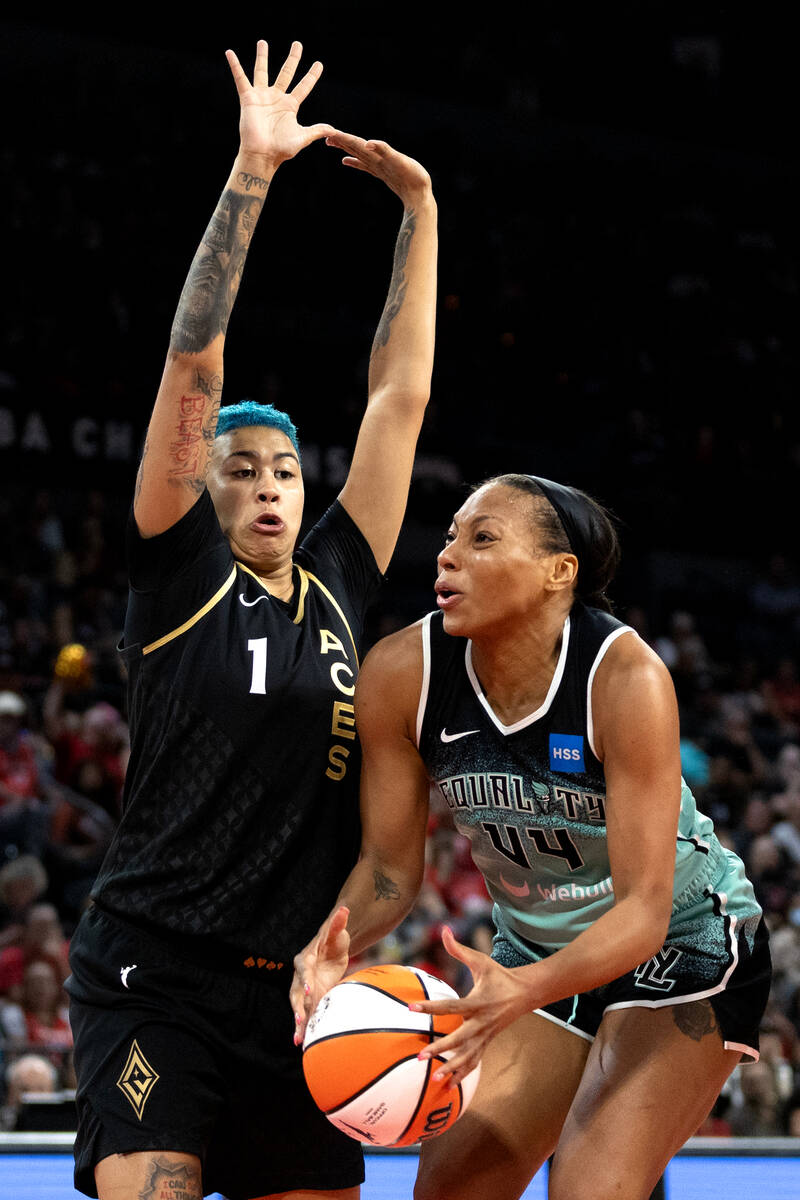 It was far from the highest-scoring game of her career. The stat line wasn't even close to her best in an Aces uniform.
But Kierstan Bell's performance Thursday may be a sign of what's to come for the second-year wing, Aces coach Becky Hammon said.
"She's the next woman up," Hammon said.
Bell played a little more than 16 minutes during the Aces' 88-75 win against the New York Liberty at Michelob Ultra Arena. She scored four points, went 2 of 6 from the floor and didn't make a 3. Bell also added four rebounds, two steals, an assist, a turnover and two fouls.
But her seemingly pedestrian numbers belied one of Bell's best performances of her young career. She finished the game plus-11, tied for second among all players and only trailing fellow Aces reserve wing Alysha Clark (plus-16).
The Aces (28-3) play the final game of their five-game homestand at noon Saturday against the Los Angeles Sparks (12-18).
"My teammates trust in me, believe in me," Bell said Sunday. "They know I can hoop, so they just tell me to go out there and do my thing — shoot the ball and play defense."
Bell's minutes have steadily increased this season. Two-time MVP Candace Parker's left foot fracture put a strain on the Aces' already thin depth, and Bell — the only member of the Aces' five-player 2022 draft class still on the roster — has emerged as the team's second-most valuable reserve behind Clark.
Her rise into the rotation has come with a steep learning curve. The former Florida Gulf Coast wing has always been a scorer, averaging 22.8 points during her final season for the Eagles and winning consecutive Becky Hammon Mid-Major Player of the Year awards in 2021 and 2022. Bell scored a career-high 15 points against the Atlanta Dream in a 21-point Aces win Aug. 1.
Instead, defense has been Bell's biggest challenge for minutes.
Defensive rating functions the same for individual players as it does for teams. It's the number of points a player allows per 100 possessions.
For context, Candace Parker leads the Aces with an 88.3 defensive rating this season. Reigning WNBA Defensive Player of the Year A'ja Wilson has a defensive rating of 96.4. Bell's 99.4 defensive rating for the season ranks eighth on the team, lowest among the players averaging at least nine minutes per game.
But against the Liberty, Bell flashed defensive potential. She contained her assignments on and off the ball, provided good help defense without fouling, used her 6-foot-1-inch frame to bother Liberty players at the rim and got her hands into passing lanes to cause deflections and steals.
Her 78.1 defensive rating against New York was the best among Aces players who were in the game for more than two minutes.
Hammon was also impressed with Bell's hustle. Three of her four rebounds were on the offensive glass, including one with 5:08 remaining that turned into Wilson free throws and gave the Aces a seven-point lead.
"I think I've improved on my defense," Bell said. "And I think it's only going to increase because that's what coach harps on every day. She knows our offense is going to come, so if I continue to lock in … I'll be fine."
Contact reporter Andy Yamashita at ayamashita@reviewjournal.com. Follow @ANYamashita on Twitter.
Up next
Who: Aces vs. Los Angeles Sparks
When: Noon Saturday
Where: Michelob Ultra Arena
TV: KTNV-13
Radio: KWWN (1100 AM, 100.9 FM)