Who have been the most notable celebrities at Aces games?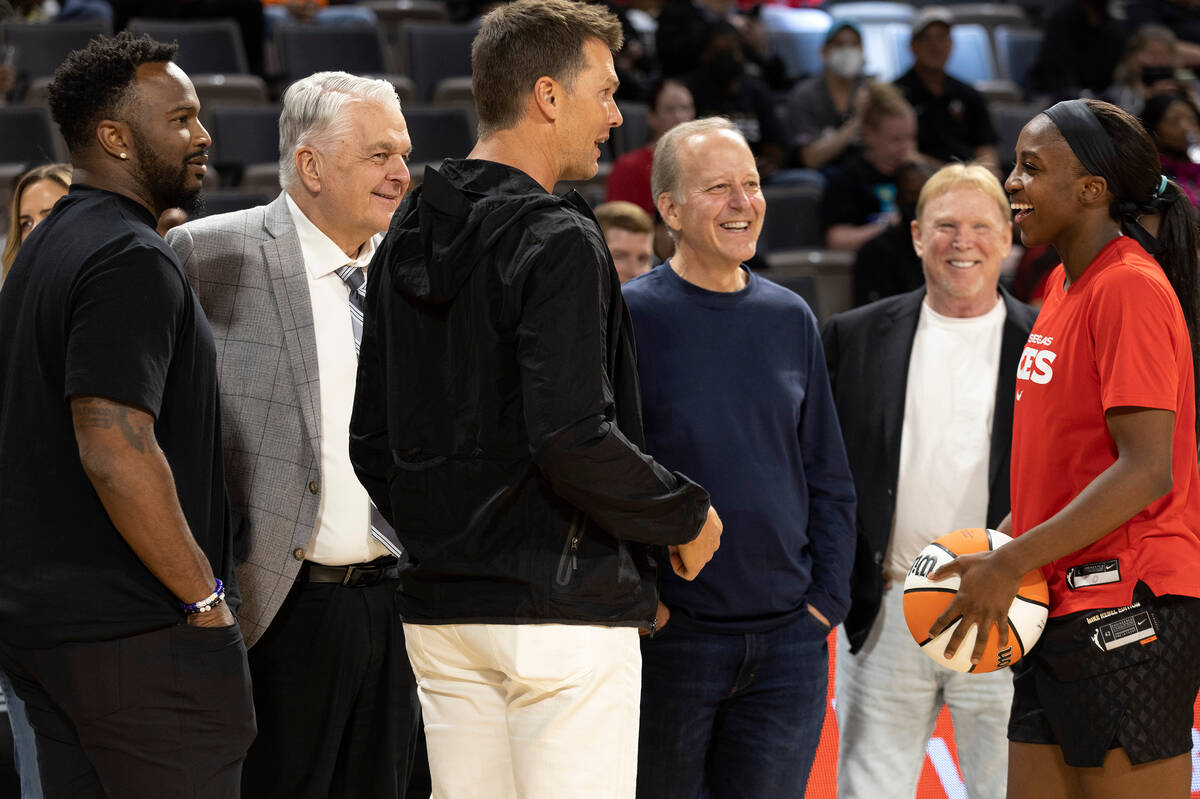 The Aces have had their fair share of high-profile visitors since moving to Las Vegas in 2018. While their courtside seats may not have a catchy name like Gucci Row, the Aces boast a list of visitors that includes some of the biggest names in popular culture.
Here's the Review-Journal's list of the five most notable celebrities who've been spotted at Michelob Ultra Arena.
5. Bill Russell (NBA)
The NBA's preeminent champion, Bill Russell sat courtside at an Aces game July 20, 2019. Russell, one of the NBA's first superstars, won 11 championships with the Boston Celtics and recently had his number retired league-wide after his death in 2022.
4. Floyd Mayweather Jr. (Boxing)
A regular at Aces games, Floyd Mayweather Jr. can often be found at Michelob Ultra Arena, recently sitting courtside with fellow boxer Ryan Garcia during a game between the Aces and the Dallas Wings on July 30.
Mayweather's foundation is also partnering with the Aces Foundation and the A'ja Wilson Foundation to host a back-to-school giveaway event to provide backpacks and school supplies to K-12 students in Clark County School District.
3. Kobe Bryant (NBA)
One of the WNBA's biggest fans and ardent defenders before his death, Kobe Bryant and his daughter Gianna both sat courtside for the Aces' season-opening game in 2019. He brought along his entire Mamba Sports Academy team and took pictures with Aces players in the locker room after the game.
The five-time NBA champion also attended the 2019 WNBA All-Star Game at Michelob Ultra Arena.
2. LeBron James (NBA)
The greatest basketball player of his generation, and arguably of all time, LeBron James has some connections to the Aces of his own.
A'ja Wilson, Jackie Young and Chelsea Gray are all clients of Klutch Sports Group, the agency founded by James' longtime friend Rich Paul, and James has been at several Aces games in the past, particularly when the Las Vegas Summer League is in full swing at the nearby Thomas & Mack Center.
James also shouted out Wilson for winning the ESPY for best WNBA player during his acceptance speech for best record-breaking performance.
"Y'all make sure you get out there and support those women and what they do," James said.
1. Tom Brady (NFL)
While Tom Brady's celebrity status may or may not be greater than others on this list, he's No. 1 on this list simply because his appearance at Michelob Ultra Arena May 31, 2022, preceded his eventual ownership stake in the team.
Brady's appearance also included getting barked at by Kelsey Plum.
"We played the first half and I walked out and I was like, 'Don't say anything. Don't say anything,'" Plum said. "And then I locked eyes with him and I was like, 'Screw it.' I walked right up to him, I dapped him up, and gave him a big hug, and I was like, 'Man you're a dog, I love you.'"
Plum proceeded to imitate a dog barking, which she said Brady appreciated.
"This woman really just barked at Tom Brady," A'ja Wilson said.
Honorable mentions: Ja Morant (NBA), Anthony Davis (NBA), Teresa Weatherspoon (WNBA) DeMar DeRozan (NBA), Kyle Lowry (NBA), Perez Hilton (media personality), John Wall (NBA), DeMarcus Cousins (NBA), Ticha Penicheiro (WNBA), Shea Theodore (NHL) Tracy McGrady (NBA), Dwyane Wade (NBA), Gabrielle Union (actor) Ryan Garcia (Boxing), Dana White (UFC), Darren Waller (NFL), Logan Thompson (NHL), Jayson Tatum (NBA), Nic Hague (NHL), Lisa Leslie (WNBA), P-Lo (rapper), Keegan Kolesar (NHL), Sandra Douglass Morgan (NFL), Dylan Coghlan (NHL).
Contact reporter Andy Yamashita at ayamashita@reviewjournal.com. Follow @ANYamashita on X.