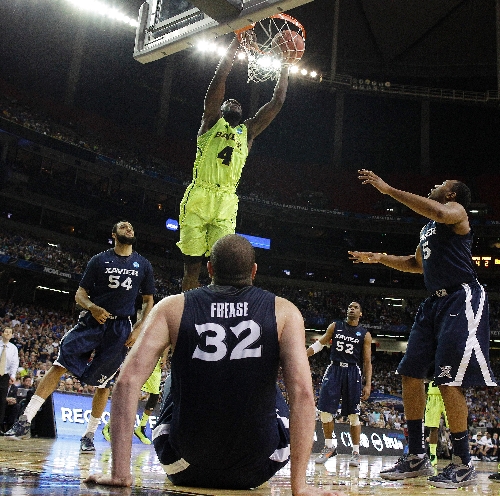 ATLANTA — Quincy Acy picked up the slack for his roommate to help push Baylor to another regional final.
The 6-foot-7-inch senior had a double-double on an off night by sharpshooter Brady Heslip as the third-seeded Bears moved their attack inside to beat 10th-seeded Xavier 75-70 in the NCAA Tournament South Region on Friday.
"I think I got a little of that magic from (Heslip)," Acy said.
Baylor's post players were not double-teamed most of the game and Acy took advantage to the tune of 20 points and 15 rebounds. Perry Jones III added 14 points for Baylor (30-7), which reached its second region final in three years.
"You stay with Brady, that means we're one-on-one down in the post, and you see what happens," Baylor coach Scott Drew said.
Las Vegan Pierre Jackson (Desert Pines) supplied 16 points and 10 assists for the Bears, who will play top-seeded Kentucky (35-2) on Sunday for a Final Four berth.
"We're just looking forward to go a little farther and make a little history," Acy said.
Heslip, coming off his career-high 27 points on nine 3-pointers in Baylor's second-round win over Colorado, made only one Friday. He finished with 11 points.
But Acy had his back, throwing down several dunks and added a few jump shots that surprised Xavier coach Chris Mack.
"He's a cage-rattler," Mack said of Acy. "We knew that. … I never saw him hit a 15-foot jump shot, and he does that in the first four minutes of the game."
Acy made 8 of 11 shots from the field and each of his four free throws, including two with 31 seconds remaining after Xavier cut the Bears' lead to six points.
Acy, Baylor's only starting senior, has his second chance to help the Bears win a regional final. Baylor also won three NCAA Tournament games in 2010 before losing to eventual champion Duke.
Drew said it never gets old watching Acy play.
"Baylor fans have been blessed, the nation's been blessed, and he is a better person than a player," Drew said.
Baylor, wearing bright neon-green uniforms, led by 18 points less than 8 minutes into the game.
Xavier played from behind all night, but never quit. The Musketeers cut the gap to three, 71-68, with 22 seconds left.
"Down the stretch there, we made it a little closer than it needed to be with some careless turnovers, but credit them for not giving up and fighting through," Drew said of Xavier.
Tu Holloway led Xavier with 22 points.
The Musketeers were hurt by poor shooting, especially from beyond the arc. They were 0-for-11 on 3-pointers before Justin Martin ended the drought with 2 minutes left. He added another 3 40 seconds later, and Holloway's 3 with 22 seconds left cut the lead the 71-68.
Heslip's four free throws in the final 17 seconds protected the lead.
Xavier (23-13) couldn't advance after making the round of 16 for the fourth time in five years.
Kenny Frease had 18 points and Mark Lyons had 16 for the Musketeers.