Adrian Peterson says he wants to secure future with Vikings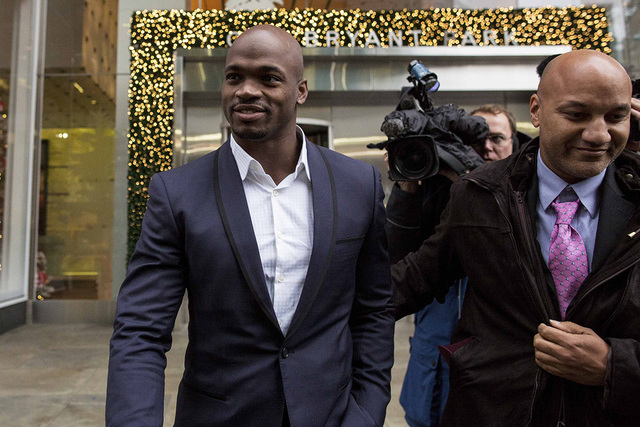 EDEN PRAIRIE, Minn. — Running back Adrian Peterson, the only player on the Minnesota Vikings' roster who did not show up for the first week of OTAs, kept his name in the headlines Thursday.
Not coincidentally, it was one day after coach Mike Zimmer said Peterson's "not going to play for anybody else. That's just the way it's going to be."
Peterson apparently thinks Zimmer insinuated the great running back was angling for a trade. Not so, said Peterson in an interview with ESPN. Then he also tweeted Thursday that he believes NFL contracts are too one-sided in favor of the teams.
"The reason I'm not attending OTAs has nothing to do with wanting to be traded," he said to ESPN. "It's about securing my future with the Vikings. It's business, not personal, and I understand that firsthand. Go Vikings."
Peterson has three years and $46 million left on his contract. None of it is guaranteed. His agent, Ben Dogra, backed off on trade demands once the draft was over. But the new squabble obviously is over the fact there is no more guaranteed money in Peterson's current deal.
On Twitter Thursday, Peterson complained about the unfair nature of NFL contracts, where players are held to the deals but teams can release players at their discretion.
Peterson tweeted (edited): "Question for the people: Is a contract two-sided or one?"
He said a team can decide to force a player to take a pay cut or simply release the player and "there's never talk about honoring a contract!"
"I know hundreds of players (who) wished their team would've HONORED the contract! But instead (they) got (thrown) to the side like trash."
He said it's "a (little) crazy how one side has so much power that they can do as they please when it comes to the contract!"
But if a player wants a change, he said, "Those same laws don't apply! It's all about honoring (your) contract! Sounds like free will is being a (little) challenged to me!"
Peterson, who is owed $12.75 million for the 2015 season and $44.25 million over the final three years on the existing deal, likely wants Dogra to receive financial assurances or boost the amount of guaranteed money in the deal to protect his future.
Peterson sacrifices $250,000 for not attending offseason workouts. The next scheduled workouts with mandatory attendance are June 16-18.
Peterson was responding to Zimmer's comments on Wednesday that served as a virtual ultimatum for the 30-year-old running back.
RELATED:
Adrian Peterson's agent tells Vikings exec he'll never play for team again
Vikings coach says team has 'no plans to trade' Adrian Peterson
Vikings' Adrian Peterson eager to return to field
Vikings expect to have Adrian Peterson back for 2015 season