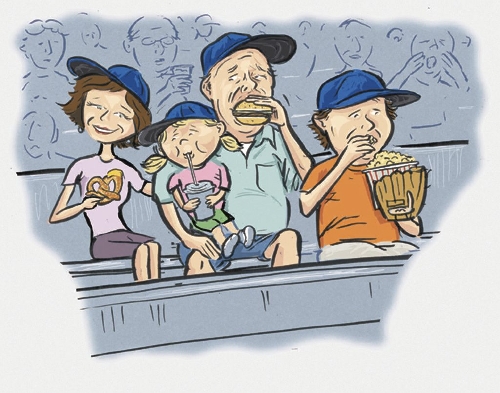 The Martin family will load up the van this summer and head west for a few days at a beach.
But the family of five avid sports fans won't feel the need to take in a big-league baseball game during their trip, because nothing will top the deals offered by the Las Vegas 51s.
"All three of our kids are into sports and we love the deal we get at 51s games," said Shannon Martin, who is joined by husband Dave and three children at local sports events whether it is minor-league baseball or Wranglers hockey games.
Two of the most popular and affordable regular sports events in Southern Nevada are the 51s and the Bullring track at Las Vegas Motor Speedway, which hosts local NASCAR racing most of the summer.
The tough economy and high gas prices will challenge many families to fund vacations this summer, but several sports events in Southern Nevada over the next three months are free, providing opportunities for sports "stay-cations" that would cost a family of four well less than $100.
The 51s offer two special family packages. "Value Deal Mondays" provides four tickets for $40 and a special $1 menu at concession stands. The club's Carl's Jr. Family 4 Pack Nights (June 25, July 1 and Aug.20) cost $36 and include four tickets, four $4 food vouchers and four 51s caps.
"We started the Value Deal nights two years ago because we understood things were tough economically and people were struggling," said Don Logan, 51s executive director. "It's been very successful. We've been getting a lot more calls that made it clear our customers are very concerned about cost.
"We strive to be a very affordable form of entertainment."
Chris Powell, president of Las Vegas Motor Speedway, echoed the sentiment.
"We're happy if the Bullring breaks even financially," he said. "The Bullring isn't a great revenue producer, but it brings out a lot people and helps introduce our sport to new fans.
"It's the most economical form of sports entertainment or any type of family entertainment you'll find anywhere."
The local sports menu is not limited to pro baseball and semi-professional auto racing.
The South Point Equestrian Center has several free events ranging from a variety of horse-related affairs to a big BMX dirt-bike show. And all are in air-conditioned comfort.
This summer includes major high-school age basketball tournaments in July and a big youth golf tournament next weekend at Anthem Country Club that is free to the public.
Mike Catalano said he enjoys taking his 12-year-old son Nick to 51s, UNLV and high school baseball games.
"We just love baseball and there are always games around here," he said.
Contact reporter Jeff Wolf at jwolf@reviewjournal.com or 702-383-0247.