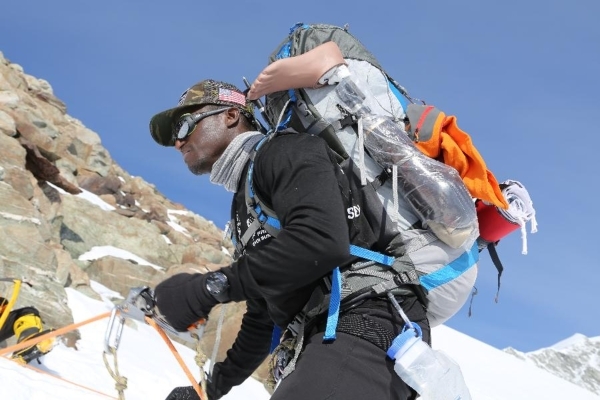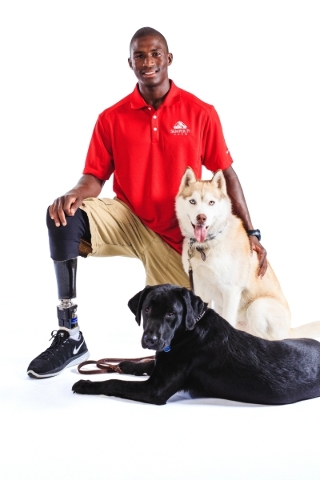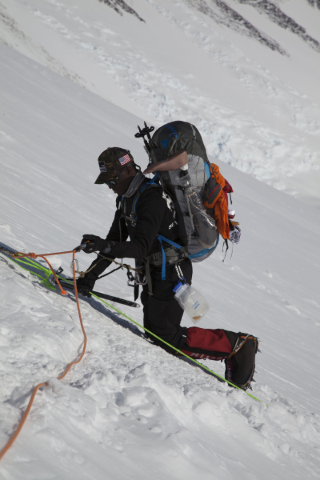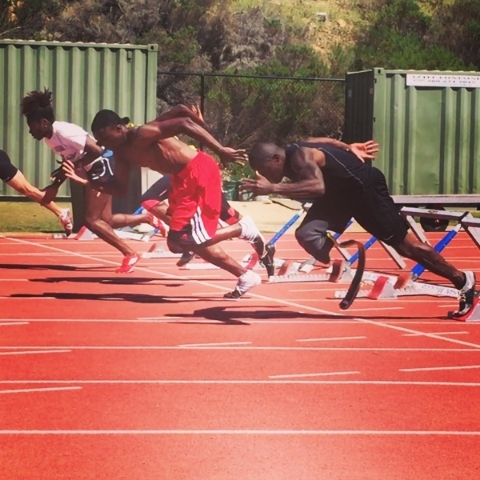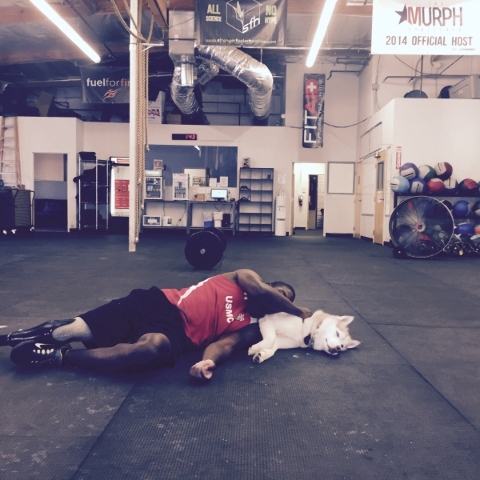 The U.S. Marines motto, "Improvise, Adapt and Overcome," carries a deep meaning for Kionte Storey.
The retired Marine lance corporal has embodied the mantra since the day in September 2010 when he lost his right leg during battle in Afghanistan after he stepped on an improvised explosive device while leading his unit on patrol.
Storey experienced a wide range of emotions in the months following his injury, as he battled post-traumatic stress disorder and contemplated suicide before finding salvation through sports and his beloved service dog, Koja.
Improvise, adapt and overcome.
"Any obstacle that comes your way, no matter how hard or how rigorous it is, you get over it by any means necessary," Storey said of what the motto means to him. "Everything in life is always changing, no matter how much you plan for it."
Storey, 27, hopes to help runners in Sunday's Rock 'n' Roll Las Vegas Marathon & Half Marathon overcome their 13.1-mile or 26.2-mile test. He'll compete in the half-marathon on the Strip alongside other amputee athletes from the Challenged Athletes Foundation as part of a Built With Chocolate Milk ad campaign.
While Storey says he's not a good self-promoter, he hopes to lead by example.
"I've met people who were walking and told me, 'You inspired me to jog it,' or said, 'You motivate me to continue. I can't sit here and whine about running,'" Storey said. "I enjoy that feeling. I'm making a difference.
"I can't get the whole world, but I can do one person at a time, and hopefully that will lead to a chain reaction of something positive."
Laying in bed at Bethesda Naval Medical Center after his injury, Storey struggled to maintain a positive attitude.
"I kept telling myself, 'It could be worse, I could be missing more limbs, I'm lucky I only lost my leg,'" he said.
But he felt guilty that he wasn't still in Afghanistan fighting alongside his Marine brothers.
"I felt bad because the deployment wasn't over for my guys, but the deployment was over for myself," he said. "For me not being there, there was one guy taken out of the fight where I could've done something to prevent anything happening to someone else. It was very frustrating."
Depression set in when he was discharged from the hospital and realized how difficult it was to get around on his own. Storey holed up in his room, began to question why he was still here and started to have thoughts of suicide.
"I felt lost. I didn't know who I was or what my purpose was in life," he said. "I started talking to God and asking questions, 'Why am I here?'"
Storey started using prescription pain medication to numb the emotional and physical pain he was feeling.
"I started taking more and more, and I got to the point where I didn't enjoy the direction I was headed. It wasn't me," he said. "I told myself there has to be a better way."
After quitting the pain pills cold turkey, Storey searched for something to keep his mind occupied and found the solution in sports.
"I got involved with the CAF, and it felt like a big relief. It felt like everything started to come together," he said. "I felt normal. It was like I had a purpose every day when I woke up.
"I enjoyed being out there training with all these guys who had their own disability and were out there having fun and enjoying life."
Storey competed in snowboarding, swimming and ice hockey at Paralympic camps before narrowing his focus to track and field, where he hopes to qualify for the 2016 Paralympic Games in Rio as a sprinter.
While he became passionate about sports, Storey still struggled with PTSD symptoms such as anxiety, nervousness, flashbacks and a high sense of alertness, all of which made it hard for him to be comfortable around others.
After falling in love with a physical therapy dog named Tommy, Storey got approved for his own service dog, a Siberian Husky named Koja who has become his best friend and training partner.
"He was always by my side and was quickly able to catch on to what was going on with me, especially going out in public. That was a big thing where my anxiety would kick in being around random people I didn't know," Storey said. "He'd help me. Instead of trying to determine the next threat, like we'd been trained to do in the military, when I brought Koja around, everybody had a smile on their face. It was more of a peaceful environment."
Koja also would give Storey solace at night, when his depression was deepest.
"He has saved my life," Storey said. "If he wasn't in my life, I probably wouldn't be here. I would be in such a dark pit that I would find a way to end myself."
In 2013, Storey became the first amputee to reach the summit of Antartica's Mount Vinson as part of the Heroes' Project, in which he joined forces with six other former Marine amputees to climb the highest mountains on each of the world's seven continents in honor of fallen soldiers.
Storey completed the Marine Corps Marathon on Oct. 25, but said summiting Mount Vinson remains his proudest accomplishment.
"That was a life-changing event for me. It sounds very easy, but when you're talking to an amputee, a little more comes into play," he said. "I made it halfway up the mountain, and I was satisfied, but the Marine inside of me said, 'No, you're going to get to the top. We always finish what we've started.'
"It was a very good feeling to be on top of that mountain. I thought, 'If I can do this, I can do anything I set my mind to. My injury isn't going to stop me. Nothing can stop me, except myself.'"
Contact reporter Todd Dewey at tdewey@reviewjournal.com or 702-383-0354. Follow him on Twitter: @tdewey33