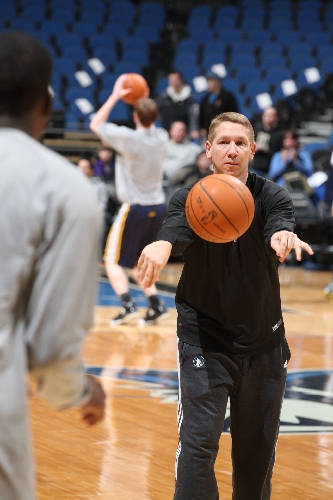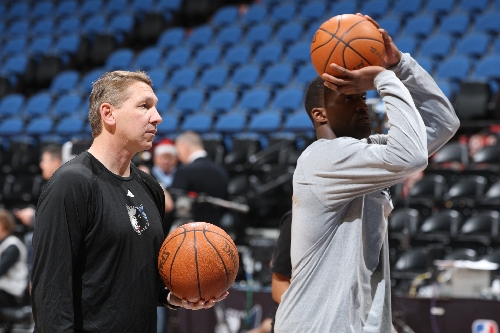 No father wants to break a promise to his son. But even promises can have a statute of limitations.
Because his son understood that, Jason Glover was liberated to take advantage of a career-making opportunity to become the player development coach of the Minnesota Timberwolves.
The Las Vegas native made his promise in 1999, when he was an unemployed college basketball coach. He had been part of Pat Foster's staff at UNR, and when the Wolf Pack let Foster go, Glover was out a job as well.
In the midst of a divorce and raising his son, Jordan, then 8, Glover vowed to stay in Reno to be a daily part of Jordan's life, even if meant settling into a more workaday existence.
Four months ago, Glover, 48, was offered a chance he felt he couldn't pass up. While working as an assistant with the Reno Bighorns of the NBA Developmental League and running the basketball academy he founded in 1999, he was offered the player development job by Timberwolves president of basketball operations David Kahn.
When the offer came in September, Jordan was starting his senior year at Reno High.
"I didn't want to break my promise to my kid," Glover said. "But when I told him, he said, 'Dad, you gotta take it.' "
For Glover, who played at Western High School from 1978 to 1980, the new job is the latest chapter in a basketball story that goes back to 1977 when he was a ninth-grader at Hyde Park Junior High. That year, as Danny Tarkanian's best friend, Glover got to travel with him to Atlanta for the NCAA Final Four, where UNLV was making its first appearance under coach Jerry Tarkanian.
"That changed my entire life," Glover said. "From that trip to Atlanta, I knew I wanted to be a basketball coach."
Thirty-three years later, Glover works with the game's elite, trying to help the Timberwolves gain respectability. They are 6-24, but have one of the youngest rosters in the NBA.
"We've had five or six games where we were right there at the end, but we didn't have the experience to close it out," Glover said. "We've got a group of talented, competitive guys and we're going to get there."
Most of Glover's work is done long before tipoff. He works with players on their shooting form, footwork, hands — the little things. He's on the floor during practice and shootarounds and before warmups, reminding players of things they've worked on.
Glover's guidance has made a positive impact. Early this season he spotted a flaw in the shooting form of Jonny Flynn, noticing that the point guard's fingers were too compact upon release, making his shooting erratic. He began having Flynn spread his fingers wider, giving him better control of the ball.
"We were playing the Clippers the other night and Jonny made a 3 and he came back to the bench and tapped me on the shoulder and was smiling," Glover said. "That gives you a good feeling knowing you're helping a player get better."
Glover could have joined the Timberwolves sooner, having interviewed with Kahn a year ago, but the team hired former NBA point guard Darrick Martin instead. In April, after the Bighorns finished their D-League season, Kahn flew Glover to Minneapolis and had him spend a week around the coaches and players.
Glover fit in quickly, and he was hired after meeting with Kahn again during the NBA Summer League in Las Vegas.
"I felt we needed one more set of hands, especially with our players who aren't traveling and are rehabbing injuries," Kahn said. "Jason knows what he's doing. He's hungry. He's a hard worker, and he wants to succeed. He fits in with what we're trying to build here with the Timberwolves."
Glover has the least NBA experience on a staff that features head coach Kurt Rambis, assistants Dave Wohl, Reggie Theus, Bill Laimbeer and Martin. But Glover's 24 years of coaching experience are topped only by Wohl's 30.
"There's no way I get this job without all of that experience," Glover said. "It gave me the opportunity to learn and grow as a coach."
Working with NBA players was intimidating at first, Glover admitted.
"One day I'm working with a high school kid, the next day I'm working out Martell Webster and Wesley Johnson," he said. "But the guys have been great. They've welcomed me with open arms."
Rambis said he loves Glover's enthusiasm and that his personality has meshed well with the rest of the staff.
"It's refreshing to have someone with his attitude at this level," Rambis said. "But he really knows how to work with the players. He's able to detect and correct a lot of the little things that could get overlooked with a player."
Rambis said in today's NBA, where players enter the league at younger ages, coaches such as Glover are a necessity.
"There's a need to do a lot of teaching at this level, and Jason has the experience to relate to our players," Rambis said.
Also among Glover's duties with the Timberwolves is scouting the D-League.
"I'm doing the same exact stuff in Minnesota that I did in Reno," Glover said. "I'm ecstatic to be here."
Contact reporter Steve Carp at scarp@reviewjournal.com or 702-387-2913.