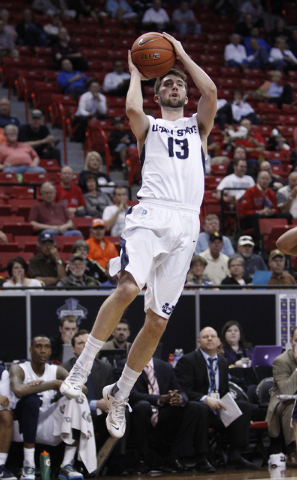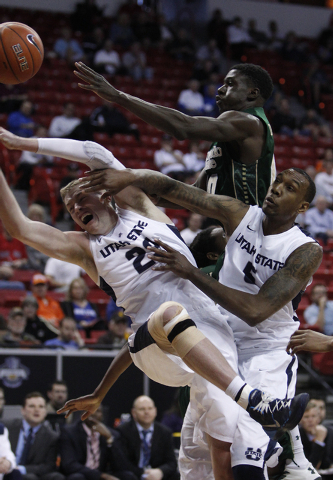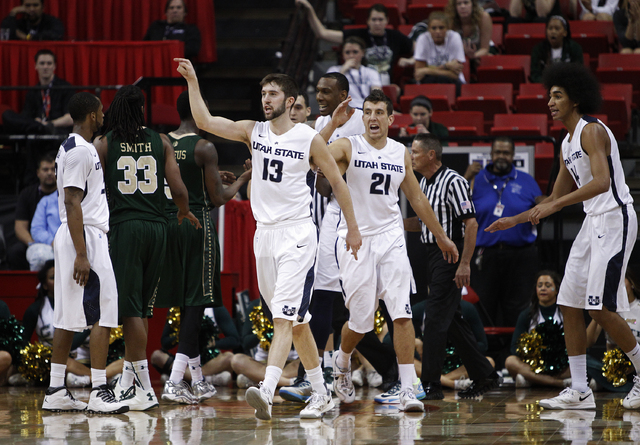 The San Diego State coaches probably were wrapping up their scouting report of Colorado State when Spencer Butterfield made it as valuable as a counterfeit $100 bill.
The Utah State senior guard led a 16-3 comeback in the final 1:35 to push the eighth-seeded Aggies past the ninth-seeded Rams 73-69 on Wednesday and into today's noon quarterfinal against the No. 1 seed and eighth-ranked Aztecs in the Mountain West tournament at the Thomas &Mack Center.
"I've been coaching a long time, and I've never seen a run like that," Utah State coach Stew Morrill said after his team's improbable comeback. "Things were like a blur. So many things had to go right in that situation, and you get fortunate sometimes."
Part of Utah State's good fortune came when Daniel Bejarano lost his temper. The Colorado State junior guard was having a frustrating day, going 2 of 17 from the field. And after a turnover led to a 3-point field goal by Butterfield, Bejarano started jawing with the Aggies and was assessed a technical foul.
Butterfield made both free throws, Utah State trailed 67-66 with 40 seconds to play and the game was quickly slipping away from Colorado State.
"I think that technical foul gave us momentum," said Butterfield, who made four more free throws in the final 14 seconds and finished with 14 points.
Preston Medlin, who led Utah State (18-13) with 17 points, said of the comeback: "You're just thinking, 'Man, we got to stick in there and make a couple of 3s.' We kept fighting. We kept playing and got the win."
Colorado State (16-16) dominated most of the second half. The Rams were the more physical team and were finishing plays inside. And when J.J. Avila hit two free throws with 2:40 left to put them ahead by 11, it looked as if Utah State's season was over.
But Bejarano lost his cool, his teammates lost their focus, and before they knew it, they were headed back to Fort Collins.
"I thought we were the tougher team for 38 minutes," Colorado State coach Larry Eustachy said. "But it's a 40-minute game. We couldn't make the plays down the stretch, and they did. It was one of the most unusual, uncanny chain of events I've been involved with in 20-some-odd years as a head coach."
■ Fresno State 61, Air Force 59 — The 10th-seeded Falcons squandered a 15-point second-half lead with 5:46 remaining in losing to the Bulldogs.
Fresno State's Tyler Johnson hit two 3-pointers in the final 1:34, and Alex Davis broke a 59-all tie with two free throws with 12.4 seconds left as the seventh-seeded Bulldogs advanced to today's 6 p.m. quarterfinal game against No. 2 New Mexico.
Johnson led Fresno State (17-15) with 19 points, and reserve Allen Huddleston scored 15. Tre Coggins scored 20 for Air Force (12-18).
■ Boise State 83, San Jose State 52 — The sixth-seeded Broncos opened with a 25-0 run and led by as many as 42 points in the second half in setting a tournament record for largest margin of victory. They will meet No. 3 UNR at 8:30 p.m. today in the quarterfinals.
Derrick Marks led Boise State (20-12) with 17 points.
No. 11 San Jose State (7-24) didn't score until Chris Cunningham hit a free throw with 10:56 left in the first half. Former Bishop Gorman guard Rashad Muhammad led the Spartans with 13 points.
The previous record for largest margin of victory was 27 points, set by Brigham Young against Colorado State in 2008.
Contact reporter Steve Carp at scarp@reviewjournal.com or 702-387-2913. Follow him on Twitter: @stevecarprj.