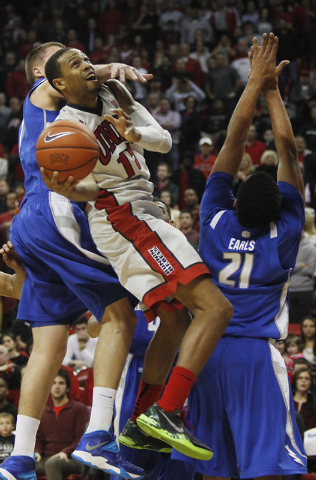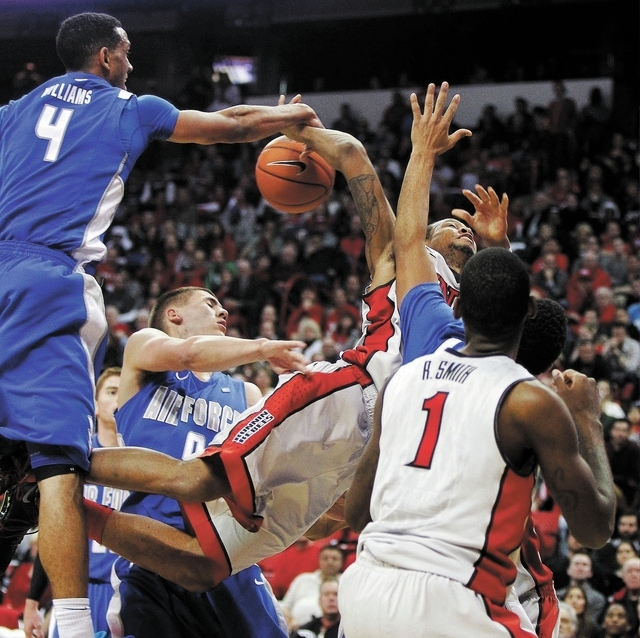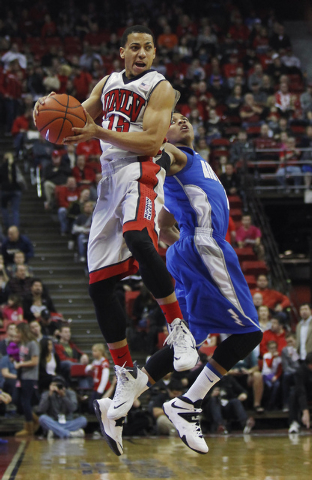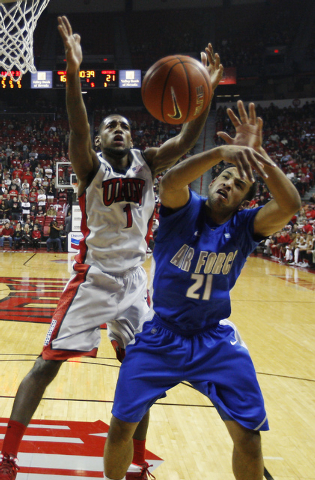 In the final minute of a game UNLV deserved to lose, Bryce Dejean-Jones stood at the free-throw line with two shots to steal one. Both attempts bounced off the rim, and maybe deservedly so.
Dejean-Jones scored a career-high 28 points, and he was not to blame at the end of the Rebels' seven-game winning streak.
"You never know what would have happened if I made those two free throws," he said.
What happened instead was Tre' Coggins drove for the go-ahead layup with 36 seconds remaining to lift Air Force to a 75-68 victory over UNLV on Saturday night at the Thomas &Mack Center.
The Rebels, 14½-point favorites, were outplayed on both ends of the floor and essentially let their Mountain West home opener get away long before Dejean-Jones' missed free throws with 20 seconds to go.
"We didn't lose the game because of those two free throws," UNLV coach Dave Rice said. "There is 40 minutes of action where a game is won or a game is lost.
"We dug ourselves a very deep hole. It was a very disappointing effort. I thought our defensive intensity was the most disappointing thing."
The Rebels (10-5, 1-1) failed to take advantage of their offensive strengths, junior forwards Roscoe Smith and Khem Birch, and got sliced apart on the defensive end of the floor.
Coggins scored 20 points, including his layup that put the Falcons (8-5, 2-0) up 69-68. Dejean-Jones was fouled on a drive on the next possession, but free-throw woes sealed UNLV's fate.
Dejean-Jones shot 10-for-16 from the field but 7-for-13 at the foul line, where the Rebels went 14-for-23.
"Every team is going to give us their best shot," said senior guard Kevin Olekaibe, who had 13 points for UNLV. "No team is going to come in here scared."
Air Force executed its disciplined, Princeton-style offense to near perfection while shooting 52 percent from the field, including 8-for-18 from 3-point range.
"It was just back cuts everywhere," Dejean-Jones said. "I think guys were involved in the game, it's just tough to play a team like this. It's tough to guard those guys. We were losing guys on back cuts and they were getting transition 3-pointers.
"I wouldn't say we took them lightly."
The Rebels trailed 41-33 at half this season, the first halftime deficit they faced since a home loss to UC Santa Barbara on Nov. 12. Zach Kocur's 3 from the corner gave the Falcons their largest lead, 32-22, with 6:27 remaining.
Olekaibe made two 3-pointers as UNLV opened the second half with an 8-2 run, finally exciting the crowd of 12,325. But Coggins was the silencer, sinking wide-open 3s on back-to-back possessions for the Falcons.
Air Force allowed its lead to slowly dissipate, and it finally disappeared. Chris Wood blocked Coggins' 3-point attempt from the top, and Jelan Kendrick hit a baseline floater to put the Rebels on top 56-55 with 9:45 to go, their first lead since the opening minute of the game.
After a 3 by Max Yon, who finished with 13 points, the Rebels answered. Dejean-Jones' three-point play tied the score at 64 with 4:08 remaining.
With just over two minutes to go and leading by one, UNLV wasted a possession by failing to run a play and settling for a hurried 3-point attempt from Deville Smith just before the shot clock expired.
Olekaibe missed another 3 on the Rebels' next possession.
"We did not do a good job down the stretch," Rice said.
Birch (eight points, nine rebounds) and Roscoe Smith (four points, seven rebounds) combined for just 12 shot attempts while UNLV shot 6-for-21 on 3s against the Air Force zone.
"In retrospect, we can always do more," Rice said. "We always try to play inside-out, we always try to dribble penetrate. It's always hard to play against set defense.
"They did a good job of clogging up the middle, and they were double-teaming and triple-teaming Khem and Roscoe when they caught the ball in the post."
The Rebels were limited to two fast-break points, and their streak of blowout wins went up in smoke not just because of two missed free throws.
Contact reporter Matt Youmans at myoumans@reviewjournal.com or 702-387-2907. Follow him on Twitter: @mattyoumans247.