Anaheim Ducks' Ryan Kesler still hurting from Game 7 loss to Nashville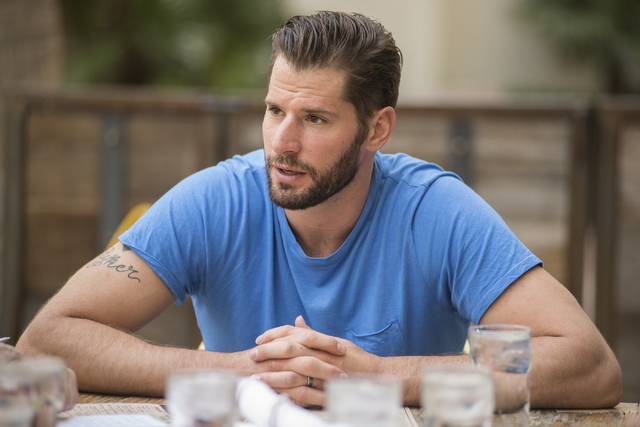 A month later, the pain still lingers for Ryan Kesler.
The Anaheim Ducks were trying to advance to the second round of the Stanley Cup playoffs and looking to reverse a negative trend of losing a Game 7 for the consecutive year. But the Nashville Predators proved to be a little too tough and the Ducks were eliminated, 2-1. In the aftermath, head coach Bruce Boudreau was fired.
Kesler, a 12-year veteran center and one of Anaheim's key players and a reason the Ducks bounced back from a dismal start to win the NHL's Pacific Division, is trying to put the disappointment behind him.
"Anytime you fall short of your goal, it hurts," said Kesler, who was in Las Vegas on Thursday to help promote this year's NHL Awards Show which will be June 22 at the Hard Rock Hotel. "It stings."
Kesler is one of three finalists for the Frank J. Selke Trophy, which is awarded to the NHL's top defensive forward. Los Angeles' Anze Kopitar and Boston's Patrice Bergeron are the other finalists. Kesler, 31, won the Selke in 2011 when he was with the Vancouver Canucks.
"I'm very proud to have won it once and I'm proud to be nominated again," Kesler said. "It's a reward for hard work."
Kesler, who just finished his second year in Anaheim after being traded to the Ducks in 2014, is one of the best two-way centers in the league and he led the league in defensive zone faceoffs won this season with 441 and was second in face-off win percentage (58.5 percent).
"My dad played in college and he coached for 33 years," said Kesler, who had 21 goals 53 points for Anaheim this year. "He instilled the importance of playing away from the puck and being accountable in the defensive end of the ice. I've always tried to play both ends."
The Ducks had a wild ride this season. The team struggled early and found themselves in last place in mid-December. But despite rumors of a coaching change and trades, the players held it together in the locker room, never lost faith in their coach and managed to turn things around on the ice over the second half of the season.
"I think our leaders did a good job of recognizing the situation," Kesler said. "Bruce did a good job of not panicking. He likened it to a bad front nine on the golf course and playing a great back nine to salvage the round.
"The big thing was we tightened things up defensively. We had a road trip in late December when we went to Calgary and Edmonton and we won both games 1-0 and it really gave us a big boost. We all kept each other accountable and the big guys led the way."
The Ducks would go on and win nine of 11 games in January to get back in the playoff chase and ultimately won the division with a 46-25-11 record and 103 points. Kesler's leadership in helping navigate the team through the rough early-season waters was a big part of Anaheim's bounce-back effort.
Those skills, both on and off the ice, will serve him well come September when Kesler represents the United States in the World Cup of Hockey in Toronto Sept. 17 to Oct. 1. A two-time Olympian, the Livonia, Michigan native will be reunited with John Tortorella, who will coach Team USA in Toronto and was Kesler's coach for one season in Vancouver in 2013-14.
"We were only together that one year but I enjoyed playing for him," Kesler said of Tortorella, who is currently the head coach of the Columbus Blue Jackets. "He's intense and he wants the best out of you. He was very well organized and he should do well in a tournament setting.
"I'm really excited about the World Cup. I think the atmosphere is going to be great and we're going to have a really good team that I think can win it."
Maybe success in Toronto come October for Kesler will finally erase the disappointment of losing in Anaheim in April.
Contact Steve Carp at scarp@reviewjournal.com or 702-387-2913. Follow on Twitter: @stevecarprj