Angulo planning to make most of career after losing time to jail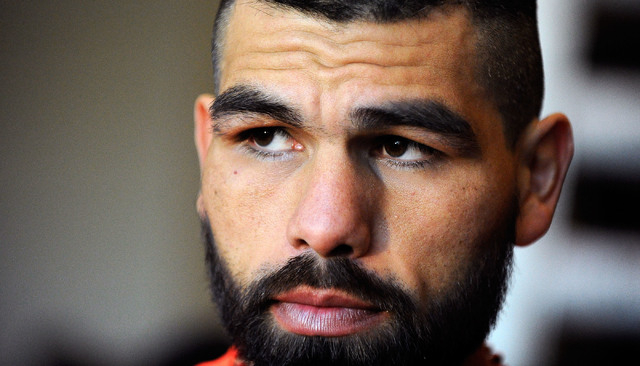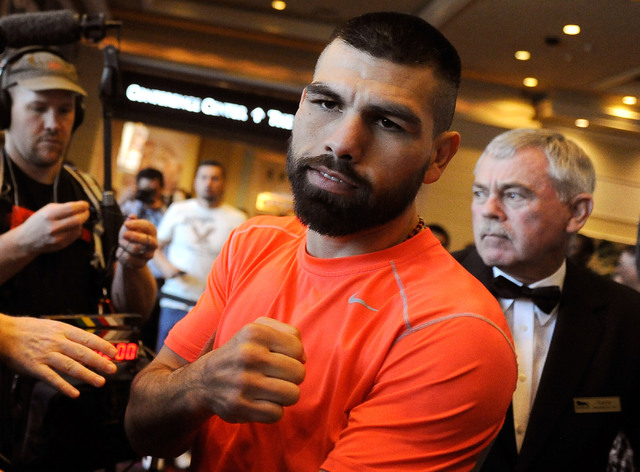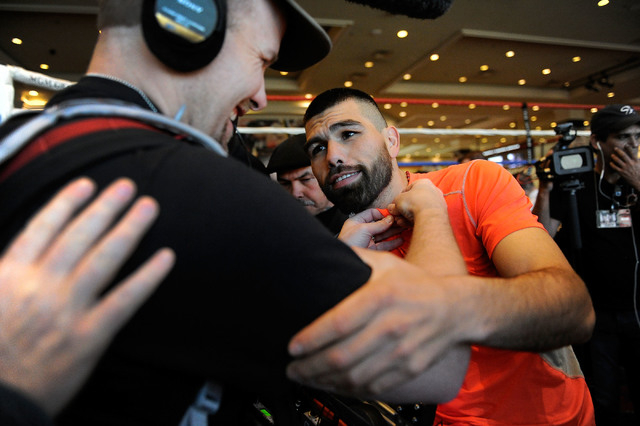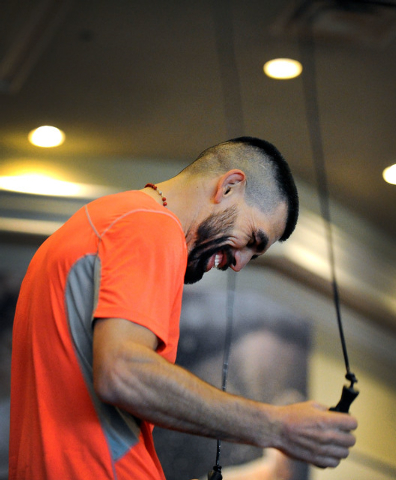 He doesn't show a lot of emotion when asked about it, but Alfredo Angulo clearly cherishes his freedom.
The 31-year-old junior middleweight, who will meet former world champion Canelo Alvarez on Saturday at the MGM Grand Garden, lost his freedom two years ago after a dispute over a visa. He sat in a jail cell for eight months in El Centro, Calif., not knowing if he would be able to fight again in the United States.
But eventually, his case was resolved and he returned to the ring.
"Honestly, what kept me going, what kept me strong and wanting to fight again was the fans and their support of me," Angulo said through an interpreter. "It was hard being in my situation. There were moments when I was serious about retiring from boxing."
Angulo, who was born in Mexicali, Mexico, had lost to James Kirkland in Cancun, Mexico, on Nov. 5, 2011. After the fight, he learned that his work visa had expired, and if he wanted to re-enter the U.S., he had two choices: He could illegally sneak back in, or he could go through the legal process.
He opted for the latter. And that's when his problems really began.
He turned himself in to immigration authorities in January 2012 and expected to be detained for a day or two while the paperwork was sorted out. But days turned into weeks, and weeks turned into months.
While he was incarcerated, he found himself at the mercy of the director of the facility who apparently took a disliking to him.
Angulo was denied the privileges most detainees enjoyed. Even getting proper footwear was a battle.
"It was difficult in there, and it made me appreciate freedom," Angulo said. "But I never lost faith that one day I would be free."
As a world-class professional athlete, Angulo had to find ways to stay in shape because he could not train as a conventional boxer while he was detained. So he learned to play handball.
"I became pretty good at handball," he said with smile.
Angulo resumed his career after he received his visa and was released from jail in August 2012. He knocked out Raul Casarez in the first round in his comeback fight on Nov. 10 at Staples Center in Los Angeles.
Less than five weeks later, he won a 10-round unanimous decision over Jorge Silva at the Los Angeles Sports Arena. He lost his most recent fight, to Erislandy Lara on June 8 in Carson, Calif.
The fact that he could recover from such a dark episode in his life speaks to Angulo's resiliency.
"I was born to fight," he said. "It's just in me."
Angulo (22-3, 18 knockouts) is expected to make $750,000 on Saturday in the Showtime Pay Per View main event against Alvarez (42-1-1, 30 KOs).
Golden Boy promotions CEO Richard Schaefer said Angulo deserves a shot on the big stage.
"He's a very nice guy and a pleasure to be with. People like that you don't abandon," Schaefer said of Angulo, who recently cut his long hair and donated it to "Locks of Love," a charity that helps children with cancer who lost their hair while undergoing chemotherapy.
"I felt he is the most deserving to get this fight with Canelo, and he's an exciting fighter with a lot of power."
As Angulo makes his final preparations for the fight, he does so knowing his freedom is secured and he can chase his dream without fear of being imprisoned. Even if he lost eight months of potential earning power while in his prime.
"It was a hard situation, but I am a stronger person for having been through it," he said.
Contact reporter Steve Carp at scarp@reviewjournal.com or 702-387-2913. Follow him on Twitter: @stevecarprj.