Animosity grows for Hendricks, St. Pierre ahead of UFC 167
November 15, 2013 - 7:15 pm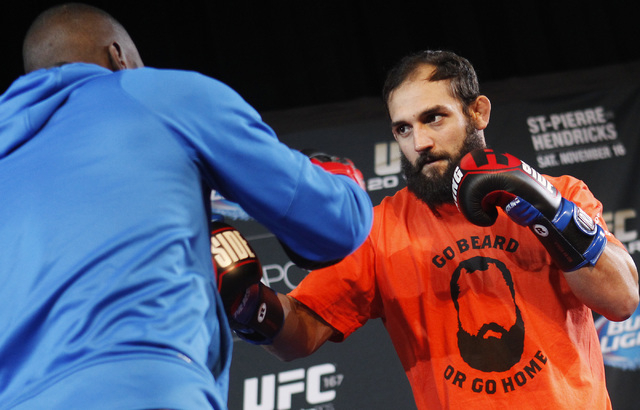 What started as a gentleman's agreement has sparked a spirited war of words between two of the nicer guys in the Ultimate Fighting Championship's welterweight division.
While it's unlikely to solve their philosophical differences, Georges St. Pierre, the welterweight champion, and Johny Hendricks will end the debate and meet in the main event of UFC 167 on Saturday night at the MGM Grand.
At issue is random drug testing leading up to the fight. When the matchup was announced, both fighters appeared ready to subject themselves to testing that reached beyond the standard postfight analysis from the Nevada Athletic Commission.
Then, St. Pierre aligned himself with the Voluntary Anti-Doping Association. Hendricks vehemently refused and insisted the fighters use the more established World Anti-Doping Agency, which handles testing for the Olympics and other international events. St. Pierre is one of several athletes who have signed up with VADA to have been featured on the organization's website in a promotional capacity.
St. Pierre continually has pointed out that VADA randomly tested him several times leading up to this fight while Hendricks refused to be tested. Hendricks likes to fire back that it didn't seem so random that St. Pierre was tested when cameras were around.
The issue boiled over this week when several reporters from Canada, where St. Pierre is a national superstar, grilled Hendricks about the issue.
Hendricks, normally easygoing, grew incensed after hearing St. Pierre again had made an accusation during a TV interview earlier in the day.
"What I don't have respect for is him saying I'm on steroids when he knows nothing about me. Has anybody accused me of steroids? Has anybody accused me of being on (human growth hormone)? Hell no," Hendricks said. "I've been clean my whole entire life, and all of a sudden some dude (who) doesn't know me, he's been accused the last six years of being on something, picks me and says I must be on something because I don't want to follow the pony train to VADA. Get out of here."
Hendricks added that he enters the cage looking "fat" after rehydrating while St. Pierre maintains his physique even 24 hours after weigh-ins.
UFC president Dana White says he has seen the same situation play out before in combat sports and believes testing best is left to the government agencies that have a protocol in place.
"This has happened in the past with other fighters saying let's agree to do this or that," White said. "You're never going to have two guys who are fighting each other agree over the terms of this stuff. That's why you have a commission come in and handle that and test and regulate all of those things."
St. Pierre was fairly diplomatic about the situation Thursday.
"I'm disappointed. I'm a man of my word. I said I would do it, and I did. I've been accused in the past, and I wanted to show (I'm clean)," St. Pierre said. "I'm disappointed it turned into a negative thing."
The issues will become moot when St. Pierre, who has won 11 straight fights, and Hendricks, who has won six in a row, step into the cage to fight for the belt St. Pierre has held since winning it in 2008 for the second time.
Hendricks, whose left hand is one of the sport's most feared weapons, is ready to take out his frustrations on St. Pierre.
"Oh, yeah, it gives me a lot of motivation," Hendricks said. "He's trying to play mind games. He's trying to get me angry. The only thing is, it's going to make me hit him that much harder. I can't wait to freaking deck the crap out of him. I want his eyes to roll back in his head. That's my goal."
Hendricks backed off the statement a bit, saying that's always how he feels before a fight. Still, it's clear he wants to win the title convincingly. He is accustomed to winning. He won three state wrestling titles in high school and two national wrestling titles at Oklahoma State.
The 30-year-old father of three daughters takes umbrage to the talk of St. Pierre's dominance.
"I don't worry about Georges St. Pierre," Hendricks said. "All you guys gave him the 'hasn't been beaten but once in the last six years' label. Guess what, neither have I. I'm 15-1. You guys say he's the most amazing fighter ever, which he has been. But has he fought me? All that stuff is in the past."
Light heavyweight Chael Sonnen, who works as an analyst on UFC broadcasts and will fight Rashad Evans on the card, believes Hendricks provides a tough test for the champion.
"It's the hardest fight Georges has ever had," Sonnen said. "But it's also by far the hardest fight Johny's ever had. I've followed his career because I'm a wrestler. He's a winner. Johny Hendricks has won everything he's ever entered since he was 10 years old. He doesn't know how to lose."
Either Hendricks or St. Pierre will see his winning streak end Saturday. Then the commission will test them.
Contact reporter Adam Hill at ahill@reviewjournal.com or 702-224-5509. Follow him on Twitter: @adamhilllvrj.