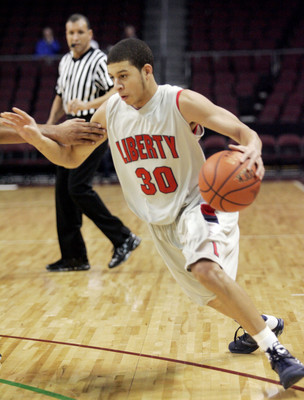 With all the attention his older brother, Stephen, has received at Davidson, it's hard to imagine how Seth Curry flew under the radar of college basketball recruiters.
The younger Curry isn't playing in the Atlantic Coast Conference, the Big East or some other power league. He's at Liberty University, better known for its founder — Jerry Falwell — than its basketball.
Curry, a wiry 6-foot-3-inch freshman guard who, like his brother, can shoot the lights out. He's generating a lot of interest in the Flames, who compete in the Big South Conference.
Curry, who put his skills on display Monday at the Orleans Arena in the Las Vegas Classic, is averaging 20.6 points per game. That's after he scored a career-high 30 points, 25 in the second half, in the Flames' 75-70 win over Northern Colorado.
He is the leading scorer in the nation among freshmen while his brother, who gained national attention during the NCAA Tournament last season, leads the country in scoring at 30 points a game.
"I'm enjoying college," Curry said. "I knew I'd be getting a lot of (media) attention because of who I am, but so far it's been OK."
So how did Liberty beat out all the big schools for former NBA guard Dell Curry's youngest son? Coach Ritchie McKay said he was fortunate.
"We were blessed," McKay said. "The truth is he wasn't being recruited hard in high school because he was slender and he had been hurt.
"But I had watched him play before he got hurt and he was really impressive. We were on him early and stayed on him, and we're glad to have him."
Dell Curry, who was in the Orleans Arena on Monday, said he left the decision up to Seth as to where he would attend college. As has been the case with Stephen, Dell Curry believes Seth can accomplish great things on the court.
"He can be really good," Dell Curry said of Seth. "He's got to get stronger. He's getting more (defensive) attention and he has to deal with that. But he's unselfish and he works hard on defense.
"As a father, you're proud and you're blessed to have two boys represent the family the way Steph and Seth have. They're very humble kids."
Seth Curry said watching his dad play in the NBA and seeing what his brother has done at Davidson have inspired him to keep working hard.
"Definitely," he said. "They are great role models for me.
"I understand people are always going to make comparisons. But I can't control what people say or think. I'm just focusing on school and basketball and trying to get better each day."
Curry got off to a slow start Monday against Northern Colorado (3-8), making just two of eight field-goal attempts in the first half as Liberty trailed 38-32 at intermission.
But he got untracked in the second half. He made four straight field goals and was instrumental in Liberty's comeback as the Flames (8-4) snapped a two-game losing streak.
Liberty will face South Carolina Upstate at 2 p.m. today in the fifth-place game.
"I don't know what happened in the first half," he said. "But my teammates did a great job of finding me in the second half and I got some shots to drop. We've had some tough losses lately so we needed a win."
Contact reporter Steve Carp at scarp@reviewjournal.com or 702-387-2913.
CREIGHTON, DEPAUL IN CHAMPIONSHIP GAME
Creighton 84, Fresno State 65 — Booker Woodfox scored 24 points and the Bluejays (9-2) went on a 22-9 second-half run to cruise into today's 7 p.m. championship game against DePaul.
Former Palo Verde High School standout P'Allen Stinnett, saddled with early foul trouble, scored 11 points for Creighton.
DePaul 65, Saint Louis 61 — Mac Koshwal had 17 points and 11 rebounds to help the Blue Demons (7-4) edge the Billikens (6-5).
Koshwal's basket with 2:53 remaining gave DePaul a 51-50 lead, and the Blue Demons maintained the lead the rest of the game.
South Carolina Upstate 71, Southern 43 — Bobby Davis had 19 points and a career-high 15 rebounds as the Spartans (1-9) beat the Jaguars (0-11) in a matchup of winless teams.
LAS VEGAS REVIEW-JOURNAL