Another kid from Las Vegas is hitting lots of home runs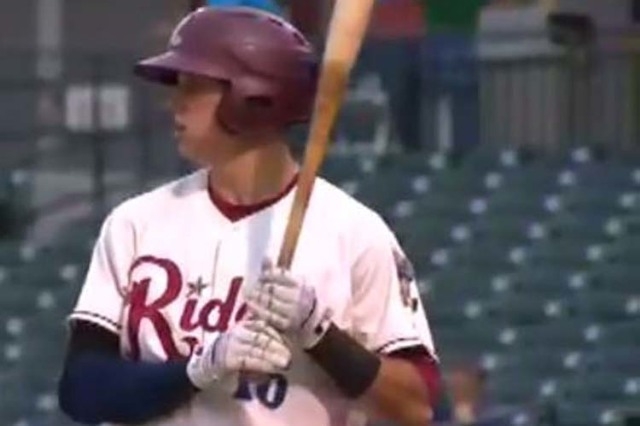 The news came in the other day that the Frisco RoughRiders, the Texas Rangers' affiliate in the Double-A Texas League, had activated left-handed hitting home run bomber Joey Gallo of Las Vegas following foot surgery.
Riders fans who sit in the party porch beyond the right-field wall at Dr. Pepper ballpark down there were put on notice, because Gallo hit 42 homers in the minors last year.
Turns out Gallo has a teammate with Las Vegas ties who already has taken aim on the right-field porch.
Drew Robinson, a former Silverado High star, hit his sixth big fly of the season on Thursday night, which co-leads the Texas League. Robinson, who like Gallo is listed as a third baseman, was a Rangers' fourth-round draft choice in 2010.
Here's a video of Robinson belting his fifth home run of the season against Corpus Christi pitcher Mark Appel, who was picked first overall in the 2013 major league draft by the Astros — the only player selected ahead of another Las Vegas slugger, Kris Bryant, now playing third base for the Chicago Cubs.
Notice that Robinson's home run ball lands in the party porch for an instant, but the guy in blue T-shirt doesn't make a very aggressive play on it for fear of spilling his beer.
Las Vegas Review-Journal sports columnist Ron Kantowski can be reached at rkantowski@reviewjournal.com or 702-383-0352. Follow him on Twitter: @ronkantowski