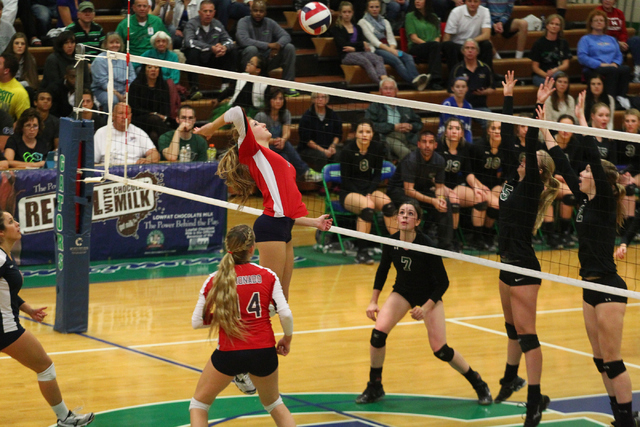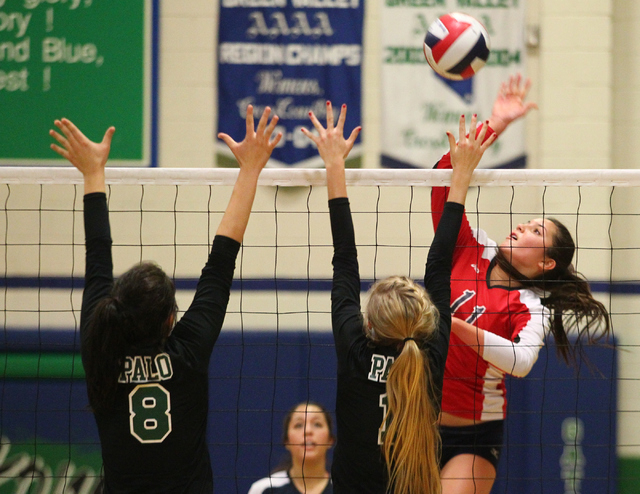 For the second consecutive night, Coronado's girls volleyball team found itself in a seemingly inescapable hole.
For the second consecutive night, the Cougars refused to quit.
Berkeley Oblad had 14 kills and three blocks to help Coronado rally for a dramatic 20-25, 22-25, 25-23, 25-15, 15-13 victory over Palo Verde on Saturday in the championship game of the Division I girls state tournament at Green Valley.
The state title was the first for the Cougars, who were the 2003 runners-up in their only previous title game experience.
Coronado coach Matt Johnson, whose team rallied from two sets down to defeat Bishop Gorman in the semifinals on Friday, said it was the most exciting match of his career.
"I guess this one trumps last night by just a little bit," he said. "The girls just kept gutting it out. They made some great plays and had some great digs. I think we kind of wore (the Panthers) down a little bit."
Neither team led by more than three points in the decisive set. But Carolyn Andrulis had back-to-back kills late in the set to give Coronado (31-6) a 13-10 lead.
Palo Verde (35-5) rallied to tie it at 13, but Johnson's effective timeout call resulted in consecutive Palo Verde errors, with McCall Phillips hitting match point into the net to give the Cougars the win.
"That's what you hold onto your timeouts for," Johnson said. "We talked about being clear with communication because we weren't communicating. We withstood it and got the last two points."
Palo Verde looked strong early, finishing the first set with an 8-3 scoring run and leading throughout the second.
But Coronado rallied from a 5-0 deficit in the third set as momentum began to swing.
"We like momentum," said senior outside hitter Brooke Garlick, the team's emotional leader. "When we don't have it, we lose. Once we got it tonight, we just kept pushing."
Despite a 9-1 scoring run in the third set, the Cougars had to withstand nine tie scores. Andrulis' service ace and Oblad's emphatic kill provided the margin of victory and set up an easy win for Coronado in the fourth.
Even then, Johnson was not sure the Cougars would prevail, as his squad had never gone five sets before Friday's semifinal victory.
"I didn't know what they had in them," Johnson said. "We'd never been pushed to that point before. But I knew we could draw on last night's experience. You never know what you're capable of until you're put in that situation."
The Panthers took an 8-5 lead in the final set, but Taylor Jackson's block later gave Coronado an 11-10 advantage. Palo Verde battled back to tie it, forcing Johnson's key timeout.
Garlick finished with 10 kills, two blocks and an ace for Coronado. Andrulis had seven kills and two blocks, Oblad had 14 kills and three blocks, Taylor Jackson had 12 kills and three blocks, and Nikki Jackson had seven kills and six blocks.
Phillips (16 kills, two blocks, one ace), Lexi Riggs (12 kills, two aces) and Kendall Chevall (nine kills) led Palo Verde.