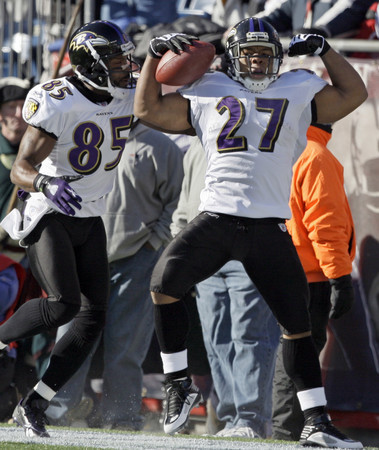 Four teams failed to make the cut, and now the NFL playoffs move forward with an elite group of eight.
Three of last week's favorites — the Cincinnati Bengals, Green Bay Packers and New England Patriots — got flattened. Will the underdogs keep rolling? Here's a look at today's matchups:
• Baltimore at Indianapolis (-61/2): The Ravens jumped on the Patriots early and often to set up a showdown in Indianapolis. The Colts shut it down in the final two weeks of the season to the consternation of their fans and, it seems, to many of their players.
All could be forgiven if they perform well today, but Baltimore's defense will have something to say about it. The Ravens confounded Tom Brady and now get their shot at Peyton Manning.
The Indianapolis quarterback does it all. This season has been one of Manning's most impressive bodies of work, resulting in another well-deserved Most Valuable Player award.
But when you think of a team that made it to 14-0, with a shot at going for history, wouldn't your first guess be they were pasting teams throughout the year? That wasn't the case. In the Colts' final eight wins, they won by an average margin of 5.5 points.
To their credit, the Colts handle adversity and win close games.
Baltimore scored 24 first-quarter points to derail New England, handing the Patriots their first home playoff loss in the Bill Belichick era. The Ravens won the turnover battle 4-2, produced 13 rushing first downs and converted 10 of 16 third-down situations.
Ravens coach John Harbaugh got his team to play a disciplined game, committing only three penalties that totaled 15 yards.
Most people are claiming the Patriots threw away the game. My belief is Baltimore took it away. I stated my case for the Ravens last week. Nothing has changed to dissuade me from gladly accepting the points in this AFC tilt.
• Arizona at New Orleans (-7): We could witness offensive fireworks in the Big Easy, with the Cardinals and Saints expected to stage a track meet. The astounding total of 57 is what immediately grabs the eye. This is a playoff game, right?
Las Vegas Sports Consultants sent out a total of 571/2 on Sunday after the Cardinals and Packers produced 1,024 yards total offense and a staggering 96 points. Now the NFC West champs are off to face Drew Brees and the Saints, who scored 510 points and averaged 32 points per game this season.
LVSC's Ken White and the oddsmaking team most certainly were influenced by the Green Bay-Arizona shootout when putting this rare playoff total together.
"The total was easily three full points higher as a result of that game," White said. "My database goes far back, and in the last 6,000 NFL regular-season games, only eight times has a total reached 58 points. These two teams combined could be in rarefied air with the points scored in this game."
After flirting with an unbeaten season, the Saints enter the playoffs having lost three in a row. This is a team that should benefit mightily from a week off, physically and mentally.
Brees has countless targets at his disposal, and don't sell the Saints' running attack short. Pierre Thomas averaged 5.4 yards per carry and can take over a game. If the Saints build a lead, Thomas can pound out tough yards and burn clock.
The Cardinals' 51-45 overtime victory over the Packers featured big-time performances from two receivers who picked up the slack with the absence of Anquan Boldin. Steve Breaston and Early Doucet teamed for 202 yards receiving and three touchdowns. Boldin is questionable today with an ankle injury.
The Superdome will be rocking, and that might slow Arizona's offense. The Cardinals posted an impressive 6-2 road record this year. Or was it impressive? They did not play one game away from home against a team that finished the season with a winning record.
Laying 7 points with New Orleans in a playoff game against the reigning NFC champions, who scored 51 last week, seems a strange proposition. But that's how I'm leaning.
Saints defensive coordinator Gregg Williams should dial up interesting packages to contain quarterback Kurt Warner.
I have no strong opinion on the total because these teams are capable of blowing the roof off the Superdome. But it's a playoff game, and the number is insane, so I would consider the under.
Brian Blessing, project manager for Las Vegas Sports Consultants, can be reached at bblessing@lvsc.com. Listen to the LVSC oddsmakers on "Sportsbook Radio" weekdays at 3 p.m. on ESPN Radio (1100 AM) and Sirius 98.