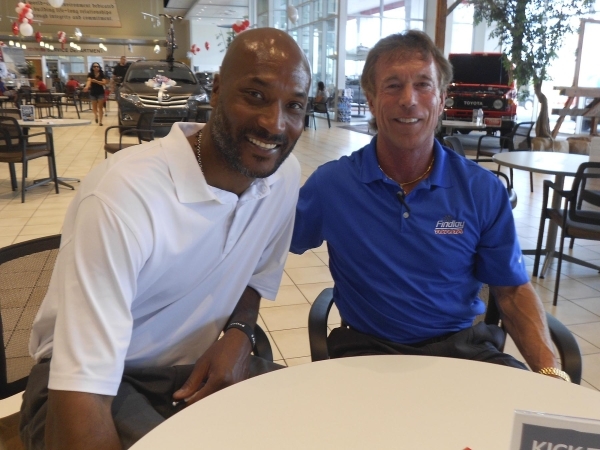 The 9th U.S. Circuit Court of Appeals on Wednesday upheld a lower court ruling in the Ed O'Bannon case that the NCAA violated antitrust laws by limiting student-athlete compensation, but it also nixed a plan to pay student-athletes as much as $5,000 per year more than the cost of attendance for the use of their name, image and likeness.
"The difference between offering student-athletes education-related compensation and offering them cash sums untethered to educational expenses is not minor; it is a quantum leap," Judge Jay Bybee wrote. "Once that line is crossed, we see no basis for returning to a rule of amateurism and no defined stopping point."
O'Bannon, the former UCLA basketball star who has lived in Southern Nevada since 2003 and works as a salesman for Findlay Toyota in Henderson, won his antitrust lawsuit against the NCAA in August 2014 after claiming the organization was using the names, images and likenesses of college athletes to profit commercially without compensating the athletes.
However, in a split decision Wednesday, the three-judge panel vacated U.S. District Court Judge Claudia Wilken's injunction, which required the NCAA to allow its member institutions to pay athletes $5,000 per year in deferred compensation.
O'Bannon, 43, had a mixed reaction to Wednesday's rulings.
"It's unfortunate that the athletes won't get the $5,000 stipend, but in my opinion, with this whole case, I think we took a step forward, as far as athletes getting what they deserve," he said. "The biggest thing for me personally was starting dialogue to kind of pull the covers off of how the NCAA has been doing business.
"It has always been my goal to at least point out that the way they do business is fundamentally wrong. In that respect, we're winning. So I'm good with it."
The three-judge appellate panel of Bybee, Sidney Thomas and Gordon Quist was unanimous in its finding that the NCAA's rules violate antitrust laws.
"The NCAA is not above the antitrust laws, and courts cannot and must not shy away from requiring the NCAA to play by the Sherman Act's rules," the panel wrote. "In this case, the NCAA's rules have been more restrictive than necessary to maintain its tradition of amateurism in support of the college sports market.
"The Rule of Reason requires that the NCAA permit its schools to provide up to cost of attendance to their student athletes. It does not require more."
While Wednesday's decision allows the NCAA to avoid the prospect of schools paying additional money to athletes, the panel's ruling on antitrust laws pleased lawyers for the plaintiffs. It also paves the way for the NCAA and/or the plaintiffs to try to take the case to the Supreme Court.
The NCAA and plaintiffs' attorneys have 14 days to seek a full review from the court of appeals and 90 days to petition the Supreme Court.
During a conference call Monday, the NCAA's chief legal officer, Donald Remy, said it was too soon for the association to determine whether it will pursue either of those options.
"We will make those judgments in short order," Remy said.
If need be, O'Bannon said he's prepared to take his six-year fight against the NCAA to the Supreme Court.
"I don't know where we go from here. What I do know is if it does go to the Supreme Court, by their side or our side, I'm good with it and I'm ready. I've got my bags packed, quite honestly," O'Bannon said. "I think at some point it is necessary, because up until now, we can't seem to reach an agreement. If the only way to reach an agrement is to do it legally, then so be it, and if it takes the Supreme Court to come to that decision, I'm all for it."
Besides O'Bannon, who decided to bring a lawsuit against the NCAA in 2009 after he saw his likeness in a video game and "knew something was wrong that had to be righted," other plaintiffs in the case include basketball legends Bill Russell and Oscar Robertson.
"I can't thank them enough for this, because there's a million things they could be doing with their time and their name and their likeness," O'Bannon said. "For them to see this lawsuit and put their name next to mine and help me stand up for the current athletes, I can't thank them enough. They're an inspiration to me.
"I've gotten to know Bill Russell through the years. He bought a couple cars from me. I'm very honored and privileged that we stand together in this fight."
Contact reporter Todd Dewey at tdewey@reviewjournal.com or 702-383-0354. Follow him on Twitter: @tdewey33
Like Sports News on Facebook: