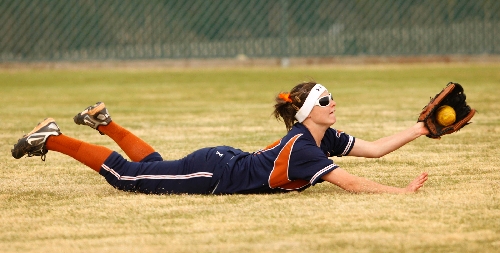 Arbor View could scarcely imagine a more difficult schedule to begin Northwest League play.
In a four-day span, the Aggies visited defending state champion Centennial, hosted Cimarron-Memorial and first-team all-state pitcher Carrie Sheehan and visited Legacy, which carried a 12-1 record into Thursday's game.
In those three games, the Aggies made a statement. That is, they might be the team to beat in the Northwest.
Savanah Webster drove in six runs, and Arbor View exploded for eight runs in the seventh inning to rout Legacy 14-4 and improve to 7-1, 3-0 in league play.
A day earlier the Aggies beat Cimarron 4-3 on a seventh-inning triple, and Monday they defeated Centennial 8-2 with Webster going 3-for-3 with three RBIs.
"We like to be underestimated," said Arbor View coach Hilary Eisen, whose team might no longer have that luxury.
The Aggies figured to contend for a second consecutive trip to the Sunset Region playoffs after welcoming back Webster and fellow senior Kayla Griffith, who both missed last season because of injuries.
Webster, who wears a knee brace, quickly inflicted pain on the Longhorns, crushing the first pitch she saw for a mammoth two-run homer in the first inning. After drawing two semi-intentional walks, she laced a two-run triple to right field in the sixth to bump Arbor View's lead to 6-3. She added a two-run double to left-center in the Aggies' big seventh.
Webster's homer easily cleared the eight-foot wall 235 feet away in right-center.
"Savanah spent every day last year working (on hitting)," Eisen said. "She's 100 percent focused. She's going to come out swinging every day. She's definitely our leader."
Getting two hits each for the Aggies were Amanda Jones, Kristina Billante, Karli Lehr, Marlene Panduro, Kayla Papuga and Griffith. Berlin Panduro led off the seventh with an inside-the-park homer.
"If everybody else didn't pull their weight, we wouldn't be winning games," Eisen said.
Kayla Murray hit a tying two-run single in the third for Legacy (12-2, 2-1). She finished 2-for-4 with a triple.
Contact reporter Bartt Davis at bdavis@reviewjournal.com or 702-387-5230.
In-depth high school sports coverage
THURSDAY'S HIGHLIGHTS
BASEBALL
Palo Verde's Dillon Meyer hit for the cycle and Billy Bob Ward was 5-for-5 with two home runs and five RBIs in a 16-7 road victory over Cimarron-Memorial.
Arbor View's Tyler LeBaron had a homer, triple, double and five RBIs in a 20-13 victory at Legacy.
Tanner Chauncey hit for the cycle and drove in four runs, sparking Las Vegas to a 17-7 victory over visiting Eldorado.
SOFTBALL
Kendy Reynoso's sacrifice fly in the sixth inning broke a 15-15 tie and Chaparral went on to defeat visiting Sunrise Mountain, 18-15.
Bonanza's Alex Teed went 3-for-4 with two doubles and four RBIs in the Bengals' 15-1 home victory over Western.
Melissa McCormick struck out nine in a four-hitter and went 3-for-3 with a homer as Palo Verde won at Cimarron-Memorial, 6-0.