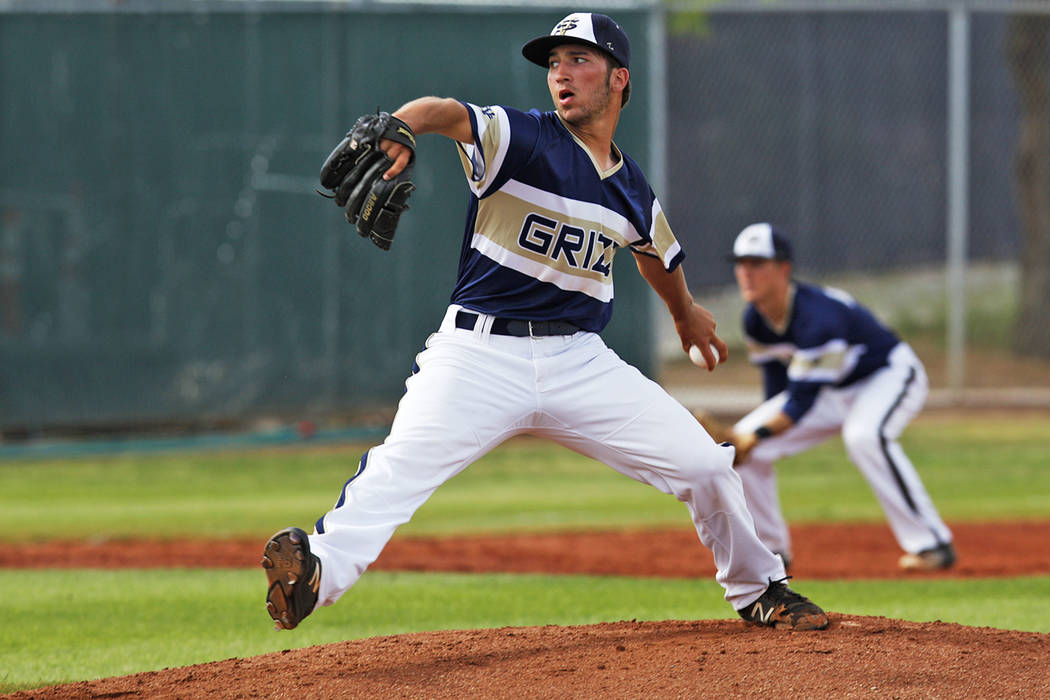 When Mike O'Rourke went to the mound with one out in the eighth inning of a scoreless game March 22, Bonanza starting pitcher Jay DeSoto told his coach his arm was fine.
"The government is making me take you out of the game," O'Rourke jokingly said.
Thanks to a new rule mandated by the National Federation of State High School Associations, baseball coaches in Nevada are required to adhere to a strict pitch count for their hurlers.
And after some early resistance, the policy now appears to be part of the normal game-day routine.
"I have to hand it to our coaches because I think they're doing a pretty good job of implementing it," Las Vegas coach Sam Thomas said Tuesday. "The more that it's used and the more coaches get familiar with it, it's something they will grow into."
The NFHS required each state association to adopt its own pitching-restriction policy starting with this season.
The Nevada Interscholastic Activities Association rule states: "A pitcher may not throw more than 110 pitches in any one day" and "A pitcher may not throw more than 140 pitches during any four consecutive days."
The NIAA's "11-inning in four consecutive days" rule remains in effect.
"I think it's a good thing," Desert Oasis coach Paul Buboltz said. "It protects the kids, No. 1. I think there has to be some barrier, otherwise you have kids throwing 150 pitches."
The new pitch-count rule has come into play on several occasions for Sunset Region teams, who play three-game series in league.
O'Rourke is critical of the rule, despite benefiting from it in one instance early in the season.
Spring Valley's Nick Rupp reached his pitch limit against Bonanza on March 27 with one out in the seventh of a three-hit shutout. Bonanza won 2-1 in extra innings.
"It's not like we're running our kids into the dirt," O'Rourke said. "To me, it's an arbitrary number, and this is coming from a former pitcher."
Thomas acknowledged that the wear and tear on pitchers from club baseball and showcase events outside of high school also needs to be restricted.
The new rule could become an issue when the region tournaments begin Tuesday.
"Next week, I think you'll really see that factor in," Green Valley coach Corey Gehlken said.
Recent commitments
* Silverado senior Jerald Murray to Glendale Community College (California), Arbor View senior Nick Roeper to Dominican University (Illinois) and Shadow Ridge senior Noah Soltero to Big Bend Community College (Washington) for baseball.
* Desert Pines senior Trevon Abdullah-Booker to Arizona Western for men's basketball.
* Centennial senior Marvin Perkins Jr. to University of Redlands (California) for football.
* Arbor View senior Samantha Blanchard to Mississippi State, Liberty senior Gia Maisano to College of Southern Nevada, West Career and Technical Academy junior Alex Roberto to Southern Utah and East Career and Technical Academy senior Tabita Maldonado to Gillette College (Wyoming) for women's soccer.
* Bishop Gorman senior Trevor Henry to Montana for men's track and field.
* Arbor View senior Kaitlin Gibb to Eastern Washington for women's track and field.
Contact David Schoen at dschoen@reviewjournal.com or 702-387-5203. Follow @DavidSchoenLVRJ on Twitter.
NAC 386.713 Baseball: Limitations on participation by pitcher; penalty.
1. A pupil who is a pitcher on a team that participates in baseball as a sanctioned sport during a baseball season shall not, during 4 consecutive days of that season, pitch more than 11 innings or more than *33 outs, including, without limitation, any inning that is conducted to break a tie score between two or more teams.
2. For the purposes of this section, each inning of a baseball game consists of three outs and an out is one-third of an inning.
3. If a pupil specified in subsection 1 violates a provision of that subsection, the team of which he or she is a member forfeits the game in which the violation occurs.
* Note: If the 33rd out involves a double or triple play, the team will not be penalized
NEW – Additions to current pitching rule are as follows:
* A pitcher may not throw more than 110 pitches in any one day.
* A pitcher may not throw more than 140 pitches during any 4 consecutive days.
* A pitcher will be allowed to finish a batter if they reach either of the above limits during an at-bat, but must exit the game after the hitter has completed his/her at bat or the half-inning ends.
* All member schools must keep an accurate record of all pitches thrown by each player who pitches in each game. Each Classification and/or Region/League may develop their own pitch-count charting system and make these records available to the NIAA upon request.
* If a pitcher violates any of the above pitch-count provisions, the team of which he or she is a member forfeits the game in which the violation occurs.