Arizona man runs Las Vegas marathon on crutches
November 12, 2017 - 11:51 pm
Updated November 13, 2017 - 12:25 am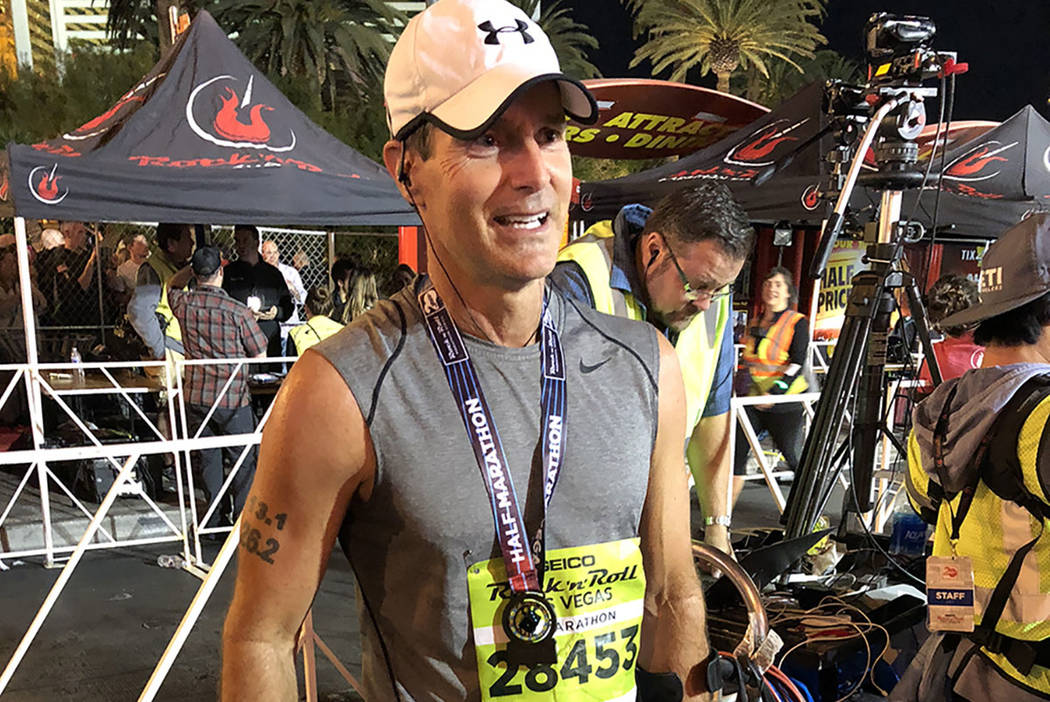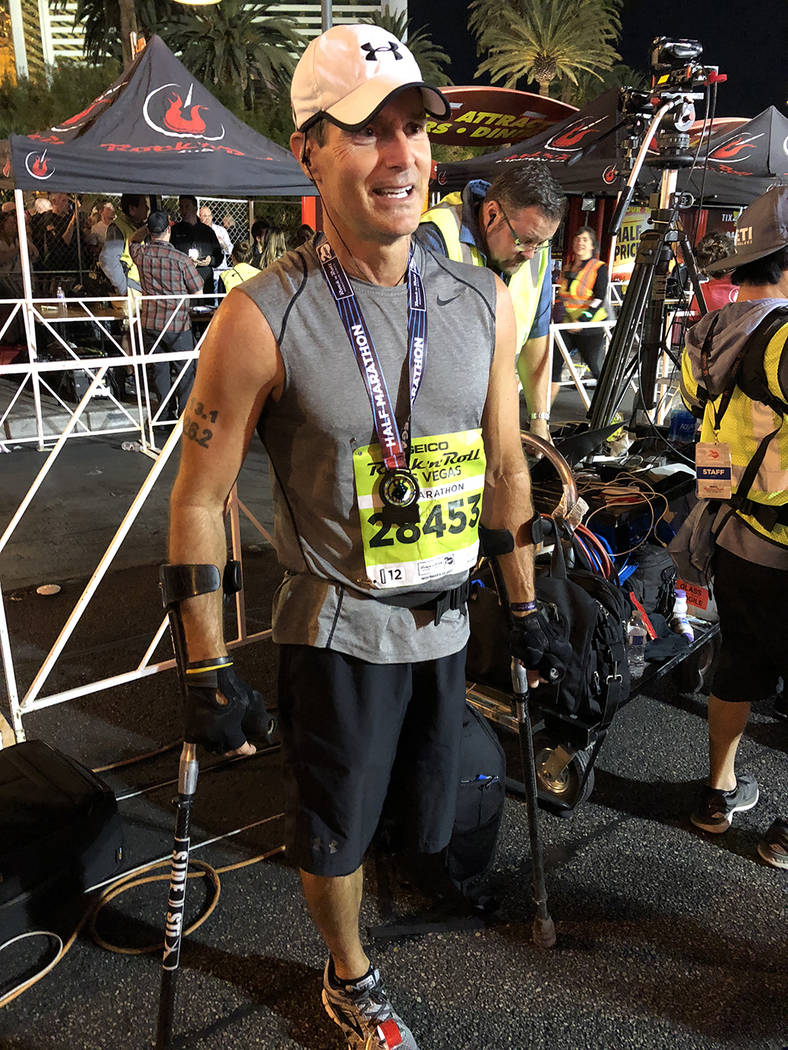 Larry Chloupek was just 7 years old when he lost his left leg to osteoscarcoma, a type of bone cancer.
But the 56-year-old from Scottsdale, Arizona, hasn't let that keep him from running.
Running on crutches, Chloupek, who took up the sport in his 20s, finished Sunday's Rock 'n' Roll Half Marathon in 2 hours, 42 minutes, 37 seconds, alongside his wife, Jenn.
"I hear it all the time: 'You're a great insipration. You keep me going,' " Chloupek said.
Jenn helps pace her husband and yells encouragements like "Pick it up" as the two run through the course.
Chloupek has set the Guinness Book of World Records record for the fastest marathon on crutches at 5:37.43 at the Rock 'n' Roll Marathon in 2013 in Washington D.C. and fastest half marathon on crutches, set at the Rock 'n' Roll Marathon in Arizona in 2014 at 2:31.
"I've been very, very fortunate and blessed to be able to able to run a number of half marathons as well as full marathons, and this one really, my wife and I were saying as we were running, we've done Boston twice and this comes pretty darn close to Boston," Chloupek said. "I don't think it topples Boston unfortunately, but this comes darn close."
The couple has enjoyed their first trip to Las Vegas, seeing the Beatles LOVE: Cirque du Soleil show, Donny and Marie Osmond and walking around the Strip.
"It's an awesome place," Chloupek said. "It really is. It never stops."
Friends run two half marathons
Kara Clark and Jacqueline Varrett ran a half marathon in Anaheim, California, on Sunday morning, hopped a flight and ran another 13.1 miles at the Vegas Rock 'n' Roll Half Marathon.
For Clark, it was her 15th Rock 'n' Roll event of the year.
"I've heard such amazing things about this race in general," Clark said. "People say the energy is bone-chilling, but in a good way. It's electrifying, is what I've been told."
Though the two visited Las Vegas, neither had run the marathon.
"This is very intense for Rock 'n' Roll," Clark said.
Father, daughter race together
Four to 6 miles Monday through Thursday and 9 to 10 miles Friday through Sunday for the past six weeks got father-and-daughter team Ashton and Dan Kraus of Phoenix geared up for the half marathon.
"She didn't have a training partner and needed one, so I jumped in and said, 'I'll do it with her,' " Dan Kraus said.
It's a first for both, but they vowed to stick together "and just keep moving."
Contact Betsy Helfand at bhelfand@reviewjournal.com. Follow @BetsyHelfand on Twitter. Contact Jessie Bekker at jbekker@reviewjournal.com. Follow @JessieBekks on Twitter. Contact Madelyn Reese at mreese@reviewjournal.com
Related
Runners show their 'Vegas Strong' side at Las Vegas marathon
Gilles, Hird crowned Las Vegas Marathon winners
Las Vegas Marathon embraces 'Vegas Strong' spirit — PHOTOS