Arizona opens strong, crushes UNLV 58-13
September 7, 2013 - 10:07 pm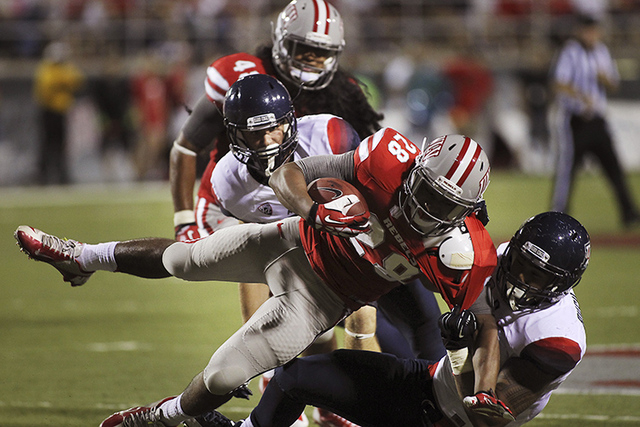 FINAL
Arizona cruised to a 58-13 victory over UNLV tonight at Sam Boyd Stadium after scoring 45 points in the first half.
The Wildcats rushed for 397 yards, finishing with 478 overall. Ka'Deem Carey ran for 171 yards and two touchdowns, and Daniel Jenkins added 82 yards for Arizona (2-0).
UNLV (0-2) totaled 275 yards, giving up its highest point total since Louisiana Tech beat the Rebels 58-31 on Oct. 6 of last season.
The Rebels next host Central Michigan next Saturday.
THIRD QUARTER
Arizona added just a field goal in the period, a 29-yarder by Jake Smith, to extend its lead to 48-6.
UNLV benched sophomore quarterback Nick Sherry to open the second half, putting in senior Caleb Herring. Sherry completed 6 of 22 passes for 111 yards and a touchdown, with two interceptions in the first half. Herring completed 3 of 4 passes for 14 yards in the third quarter.
SECOND QUARTER
Nick Sherry had two interceptions returned late in the quarter to turn what already was a rout into a massive blowout, allowing Arizona to take a 45-6 lead into halftime.
The Wildcats outgained UNLV 291 yards to 180, including 210-69 on the ground.
Ka'Deem Carey rushed for 110 yards and two touchdowns on nine carries, including a 58-yard touchdown the first time he touched the ball.
FIRST QUARTER
Arizona took control quickly to build a 17-0 lead after the first quarter.
After Jake Smith began the scoring with a 41-yard field goal, quarterback B.J. Denker scored on touchdown runs of 35 and 4 runs. The second TD was set up by a 36-yard fumble recovery return by linebacker Marquis Flowers, who scooped up the ball after defensive end Reggie Gilbert forced the loose ball.
UNLV's offense struggled throughout the first quarter, picking up just three first downs.
PREGAME
Arizona running back Ka'Deem Carey won't start today, but he is expected to play at some point when the Wildcats visit UNLV at 7:30 p.m. at Sam Boyd Stadium.
Carey was suspended for the Wildcats' season-opening 35-0 victory over Northern Arizona last week. He led the nation last season with 1,929 yards.
Whenever Carey gets into the game, UNLV defensive end Jordan Sparkman said the Rebels will be ready.
"We're going to dominate him, I mean every play," Sparkman said. "We want him to get no yards. Not saying that if he gets yards, it's OK because he's a good player, but my mission is he's getting no yards. We'll shut him down on the defensive line and the whole defense. He's definitely the top guy. Let's cut the head off the snake, and the snake should die."
Sparkman might want to be careful what he wishes for, and it might not matter who is taking handoffs. Daniel Jenkins, who is expected to start, rushed for 139 yards against NAU.
Contact reporter Mark Anderson at manderson@reviewjournal.com or 702-387-2914. Follow him on Twitter: @markanderson65.