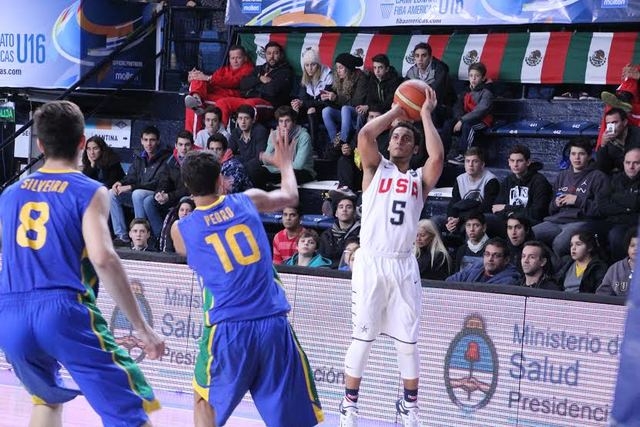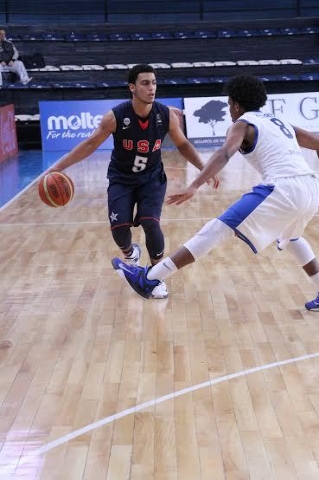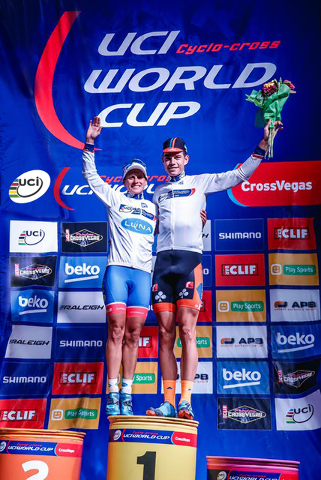 Markus Howard already had a strong admiration for the Findlay Prep basketball program before transferring even appeared to be a possibility.
So when Findlay Prep coach Andy Johnson pursued the 5-foot-11-inch guard and flew 2,300 miles to Virginia to watch him play in the Nike Elite Youth Basketball League in April, it only solidified Howard's interest in joining the program.
Howard, a two-time All-Arizona guard at Perry High School, will be the newest transfer to the Henderson school that has seen current NBA players Avery Bradley, Tristan Thompson, Nick Johnson and Anthony Bennett walk through its doors.
"The first time I actually got into contact with (Coach Johnson) was through text," said Howard, ESPN's No. 26 player in the Class of 2017.
"I've always known Findlay Prep as a national powerhouse. And when he asked me if I wanted to join, I jumped on board and got excited for the opportunity."
As a sophomore last season, Howard led the state of Arizona in scoring at 32.4 points per game. He also averaged 4.2 rebounds and 2.8 assists while mostly playing shooting guard.
Howard said he thinks, because of his size, he'll also see time at point guard with the Pilots, who lost Derryck Thornton when he decided to graduate early and attend Duke for the 2015 season.
But some, including the Director of the Las Vegas Prospects' AAU team that Howard plays on, think the standout doesn't necessarily need a position.
"If I'm Andy, I have to see him as a basketball player," Anthony Brown said. "Is Steph Curry really a point guard? Does LeBron (James) have a set position? To label these guys is doing them an injustice by pigeonholing them. He's a basketball player and a really good one."
Howard has proven to be one of the nation's top scorers. In January, he dropped a career-high 50 points against Highland (Ariz.) and was routinely a threat to have 30- to 40-point games.
Last weekend, he averaged 15.0 points, 2.0 assists and 2.0 steals in five games with the USA basketball U16 team that beat Canada 77-60 in the FIBA Americas Championship to win a gold medal in Bahia Blanca, Argentina.
Coming off the bench, Howard was second on the team in scoring to Gary Trent (16.8 points), the tournament's Most Valuable Player. Howard also set a USA U16 record for 3-point shooting percentage at 48.4 percent (15-for-31).
"It was a great experience to be in a foreign country," he said. "It was really humbling and just a blessing to be part of that team."
At Findlay Prep, Howard will join power forward P.J. Washington, the No. 7 player in the Class of 2017, on a formidable roster that will look to win a fourth national championship.
Howard, who recently announced he was decommitting from Arizona State, has offers from Arizona, Indiana, Marquette, Memphis, Texas Tech, UNLV and Utah.
"It can only get better for him," Brown said. "Now you're starting to get the blue blood coming in — the Kentuckys, the Dukes, the North Carolinas. There's still room to grow that list."
Howard said there are no front-runners but that it will be fun to have UNLV nearby in the recruiting process.
"I talked to (assistant coach Todd) Simon in the spring, and I've been back and forth with Coach (Dave) Rice," he said. "I really like the coaching staff. I get a good feel for them.
"I'm serious about any offer. I feel like I have to be familiar with the program. UNLV has a very historic program, one that won a national championship in the '90s with Larry Johnson and all those guys. I know there are a great number of players that have come through UNLV."
Contact reporter Ashton Ferguson at aferguson@reviewjournal.com or 702-383-0430. Follow him on Twitter: @af_ferguson.