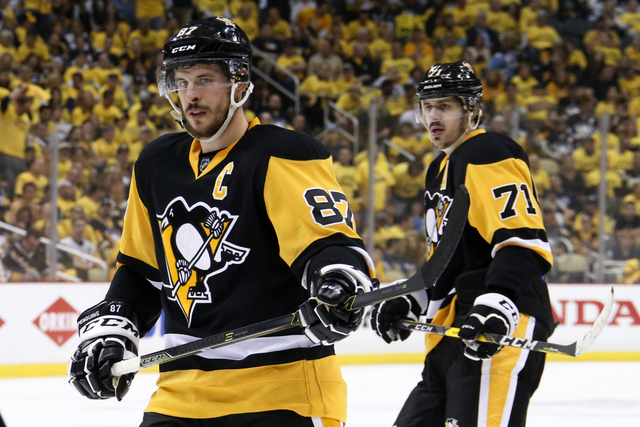 PITTSBURGH — When he won the Stanley Cup in 2009, he was still "Sid the Kid," just 21 years old. Now at the ripe old age of 28, Sidney Crosby is a grizzled veteran though he still can't grow a quality playoff beard.
The older you get, the more you appreciate the opportunity to play for the Cup. That was Crosby's mantra on the eve of this year's Finals as he and the Eastern Conference champion Pittsburgh Penguins prepared to host the Western Conference champion San Jose Sharks on Monday in Game 1 at Consol Energy Center. It's Pittsburgh's first time back since it defeated Detroit in '09.
"I think I appreciate it more having been what I've been through," Crosby said Sunday at Stanley Cup media day. "You never know if you'll get another chance, so I'm definitely more motivated to win."
Crosby was referring to his past concussion injuries that put his career in jeopardy. But he has been able to regain his form and his resurgence this season mirrors that of his team.
The Penguins had been eliminated two straight postseasons by the New York Rangers and a lack of scoring did the Penguins in a year ago. Management tried to rectify the situation by bringing in forward Phil Kessel from Toronto in the hopes of bolstering the lineup and providing more scoring to go with Crosby and Evgeni Malkin.
However, the Penguins started slowly and general manager Jim Rutherford shook things up in mid-December, firing coach Mike Johnston and bringing up Mike Sullivan, the head coach of the Penguins' American Hockey League affiliate in Wilkes-Barre/Scranton, Pennsylvania.
Sullivan allowed his team to play more freely, use their skating ability and play at a quicker tempo. Crosby, who had just six goals in his first 28 games, eventually got going, as did his teammates. They finished second in the Metropolitan Division with 104 points and Crosby had 36 goals, 49 assists and 85 points.
"I thought we had the kind of team that could play a speed game," Sullivan said. "We have a lot of depth and that allows us to do that."
There are interesting matchups everywhere in this series, starting in goal where San Jose's Martin Jones squares off against Penguins rookie Matt Murray. There's the battle of No. 1 defensemen Brent Burns of San Jose and Kris Letang of Pittsburgh. And there are veterans Joe Thornton and Patrick Marleau of the Sharks who are getting their first opportunity to play for the Cup against the Penguins' Kessel, who also is getting his first taste of the Finals.
"I think there are a lot of important matchups in this series, not just the top defensemen," Sharks coach Peter DeBoer said.
With his team in position to win the Stanley Cup, Crosby said the Penguins appear to be peaking at the right time. Of course, the same could be said of the Sharks, who eliminated Los Angeles, Nashville and St. Louis to earn their spot in the Finals.
"I think that we found a lot of momentum there in March and just built off of that," he said. "We played different styles with different teams here, and we've been able to adjust and still get to our game.
"We know the biggest challenge is ahead of us here, but we've got a great opportunity. It wasn't easy getting to this point. So it would be great to finish off the right way."
Contact Steve Carp at scarp@reviewjournal.com or 702-387-2913. Follow @stevecarprj on Twitter.
GAME 1
WHO: San Jose Sharks vs. Pittsburgh Penguins
WHEN: 5 p.m. Monday
WHERE: Consol Energy Center, Pittsburgh
TV: NBC
LINE (Game 1): Penguins minus-150, Sharks plus-130