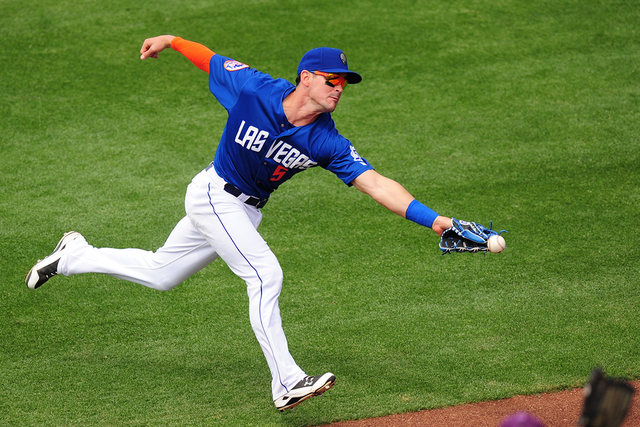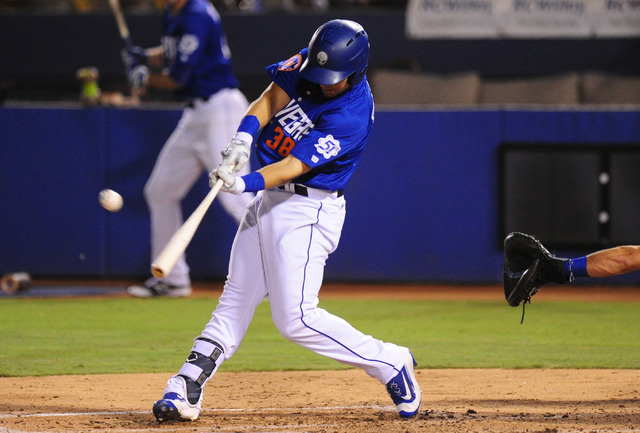 In about a week, the 51s' roster could look nearly unrecognizable to those who have followed the team throughout the season.
When rosters expand Sept. 1, many of the 51s' leaders can be expected to join the New York Mets.
A year ago, Las Vegas manager Wally Backman said players left Aug. 30 because the team had been eastward in Round Rock, Texas. This year, they'll be in El Paso, Texas, when rosters expand.
The 51s have 11 men on the Mets' 40-man roster, and at one point or another this season, each has been up to the majors.
"I would say that barring any kind of injury from now until the end of the year, all 11 of them have a chance to go," Backman said as the 51s enter their final homestand of the season Wednesday against the Salt Lake Bees.
The Mets might not take all 11 at once. They could take some at the start of the month, with others joining after the Triple A season ends Sept. 5.
Backman said this is the first year the 51s have had this many 40-man roster players. Aside from Rafael Montero, who was demoted to Double A, everyone currently in the minors on the 40-man roster is with the 51s.
That's a change from when Mets general manager Sandy Alderson first took over. Backman said then the organization had players on Single-A teams on the 40-man roster because they didn't want to lose them.
"That was one thing that when Alderson took over he wanted to get away from, because they believe that somebody on the 40-man roster is supposed to be able to go up and help the major league team, which I agree with," Backman said.
This year, the Mets have had to dip into their 40-man roster considerably because injuries have taken a toll. It's an oddity, but everyone on the 40-man roster has played for the Mets.
Here's a look at the players who could be headed to the majors in September:
PITCHERS
Five pitchers — Josh Edgin, Sean Gilmartin, Erik Goeddel, Logan Verrett and Gabriel Ynoa — are on the 40-man roster.
Edgin spent most of his season with Las Vegas after recovering from Tommy John surgery. He's performed well at Triple A with a sub-3.00 ERA in 32 games out of the bullpen for the 51s, but gave up four runs in 3 2/3 innings with the Mets when he was called up in August.
Like Edgin, Goeddel recently returned from New York. In his first 25 games, he posted a 2.70 ERA in 26 2/3 innings, though he had given up five runs in his past 1 1/3 innings before being sent down.
Gilmartin has been a starter for the 51s this season but had two stints with New York, where he pitched out of the bullpen. He and Ynoa, who also has started all season with Las Vegas, could be used by the Mets in long relief.
Verrett also can fill that role, as he's done for the Mets most of the season. They've also called upon him to start 12 times this season.
CATCHER
Kevin Plawecki didn't get consistent playing time with the Mets and hit .194. He was sent back to the 51s after Travis d'Arnaud returned from the disabled list in June. Since then, he's hit .307 with seven home runs and 33 RBIs at Las Vegas entering Tuesday.
INFIELDERS
Matt Reynolds has shuttled back and forth between Las Vegas and New York, with three call-ups since starting the season at Triple A. Ty Kelly also has been back and forth. He would provide the Mets a switch-hitting option in the infield and outfield.
OUTFIELDERS
Young outfielders Michael Conforto and Brandon Nimmo also should find themselves back in New York.
Since being sent down in August, both have been handling Triple-A pitching with apparent ease. Conforto has hit .550 in his past 10 games and .426 overall in 26 games at Triple A, and Nimmo is battling for the Pacific Coast League batting title.
Entering Tuesday, Nimmo was hitting .346, and Backman has said Nimmo has been the most improved player he's had over the course of a season.
Betsy Helfand can be reached at bhelfand@reviewjournal.com. Follow on Twitter: @BetsyHelfand