As players graduate from Las Vegas 51s, Mets farm system falls in rankings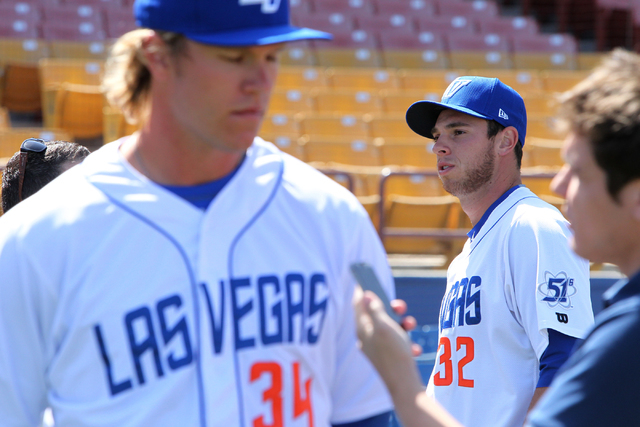 For the past few seasons, the Mets have boasted one of the best farm systems in Major League Baseball as pitchers like Jacob deGrom and Noah Syndergaard made their way through the minor league ranks.
And the 51s have benefitted, taking that talent and turning that into back-to-back division titles in 2013 and 2014.
But much of that talent has graduated to the majors, and the Mets farm system has taken a hit.
The Mets boasted the fourth-best farm system a year ago, but slid down to the middle of the pack — 15th— in Baseball America's latest rankings, released last month.
The ranking is as high as it is partly because of Steven Matz' inclusion.
He is 13th on Baseball America's prospect ranking list, but 51s fans shouldn't expect to see the top prospect around Las Vegas this year.
Matz, who was 7-4 with a 2.19 ERA in 15 games in Las Vegas a season ago, impressed in six regular season starts with the Mets and made three postseason starts. He is expected to join former 51s deGrom and Syndergaard in New York's rotation this year.
Other top prospects Amed Rosario (58th on Baseball America's list) and Dominic Smith (79th) will likely start the season lower than Triple-A.
That leaves Gavin Cecchini and Brandon Nimmo, the team's No. 4 and 5 prospects per Baseball America, as two of the highest prospects projected to start the year in Vegas.
Cecchini, a 22-year-old shortstop, spent last season at Double-A Binghamton where he hit .317 in 109 games.
Nimmo, a first-round draft pick in 2011, is expected to return to Triple-A, where he hit .264 in 112 at-bats in the latter part of last season.
The outfielder suffered a setback in January, partially tearing a tendon in his foot, forcing him to spend the first part of spring training rehabbing.
The 51s finished second in the Pacific last season, shortly after the Mets raided the farm system.
And a season later, with much of the highly-touted talent set for New York, a return trip to the playoffs could be even harder to come by.
Betsy Helfand covers the Las Vegas 51s for the Review-Journal and can be reached at bhelfand@reviewjournal.com. Follow on Twitter: @BetsyHelfand