At 15, Las Vegas' Julian Strawther already a prized recruit
Updated July 29, 2017 - 7:26 pm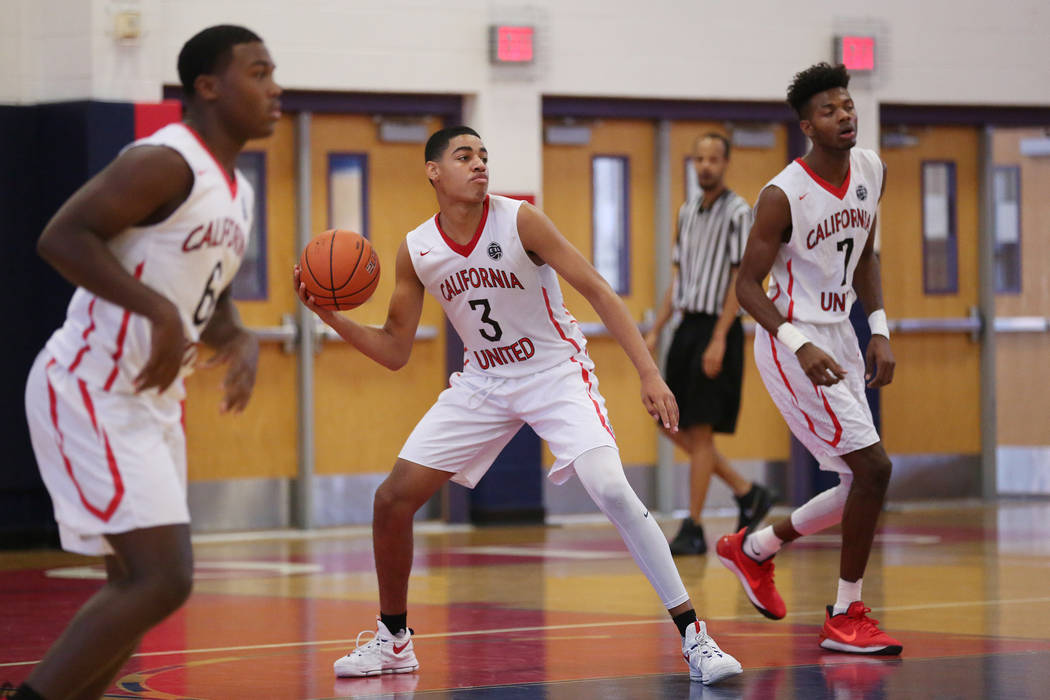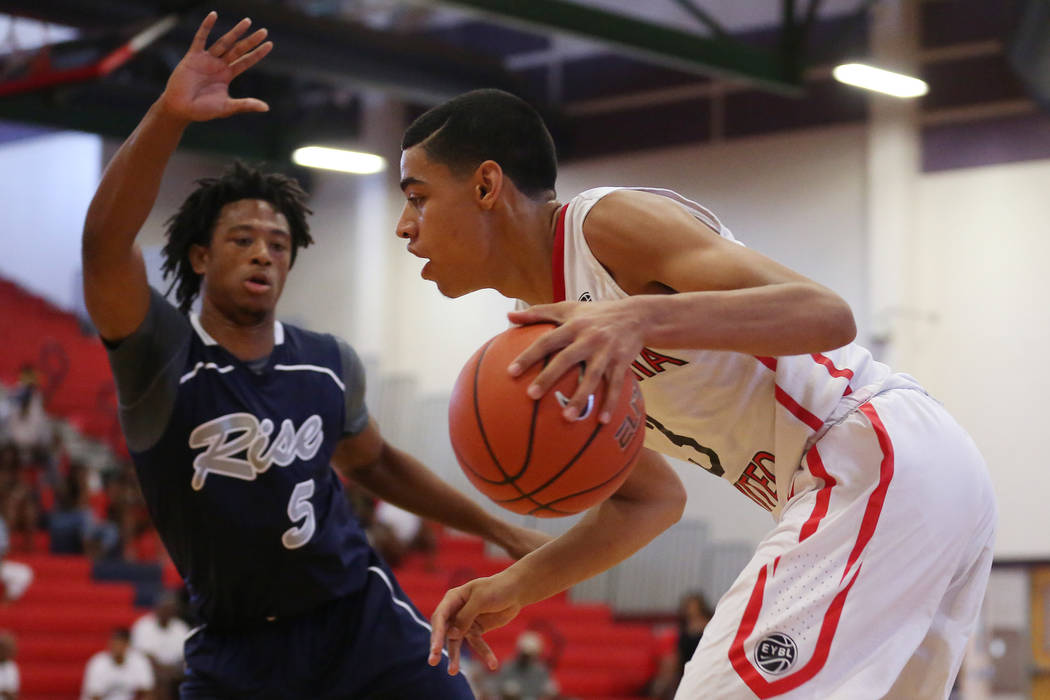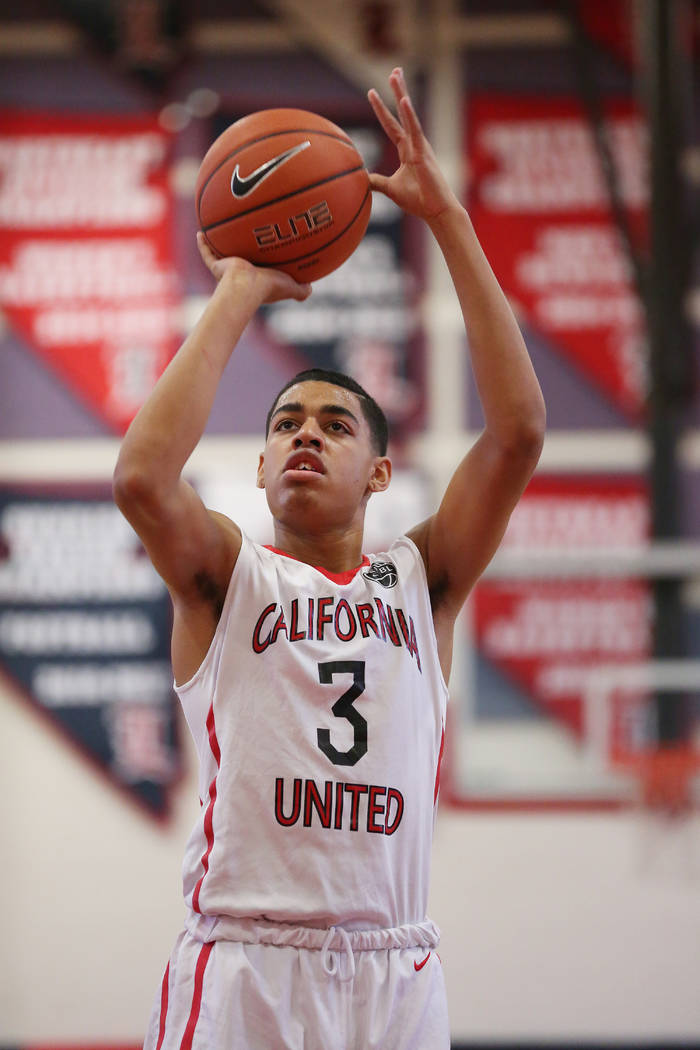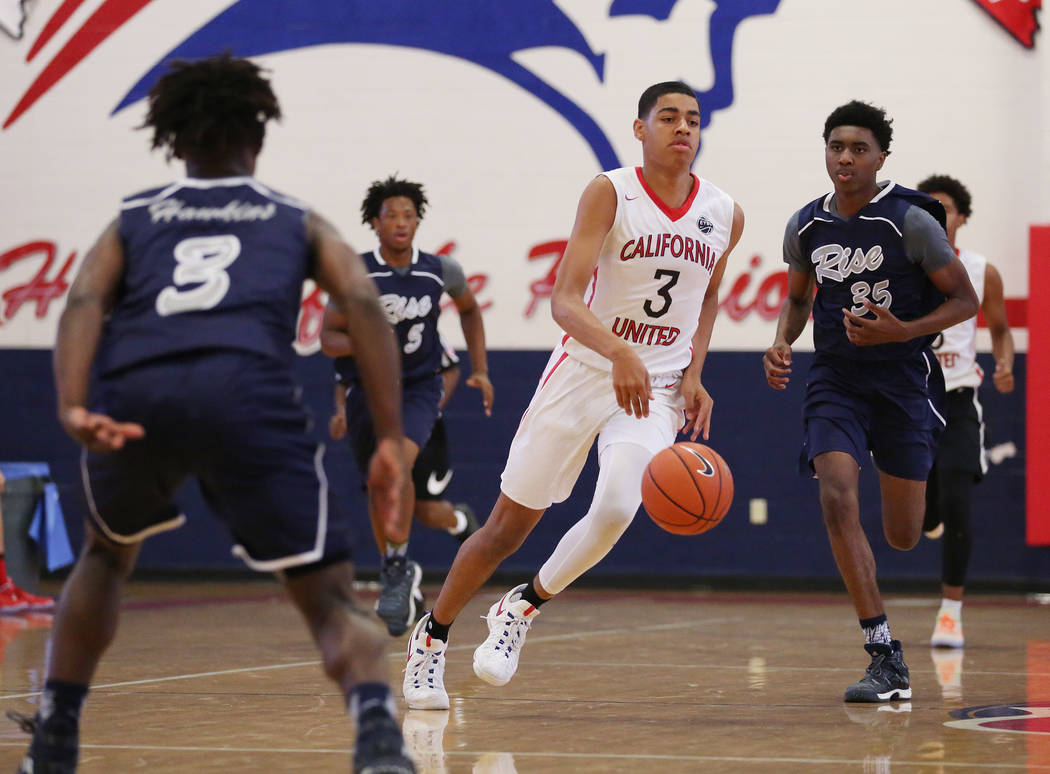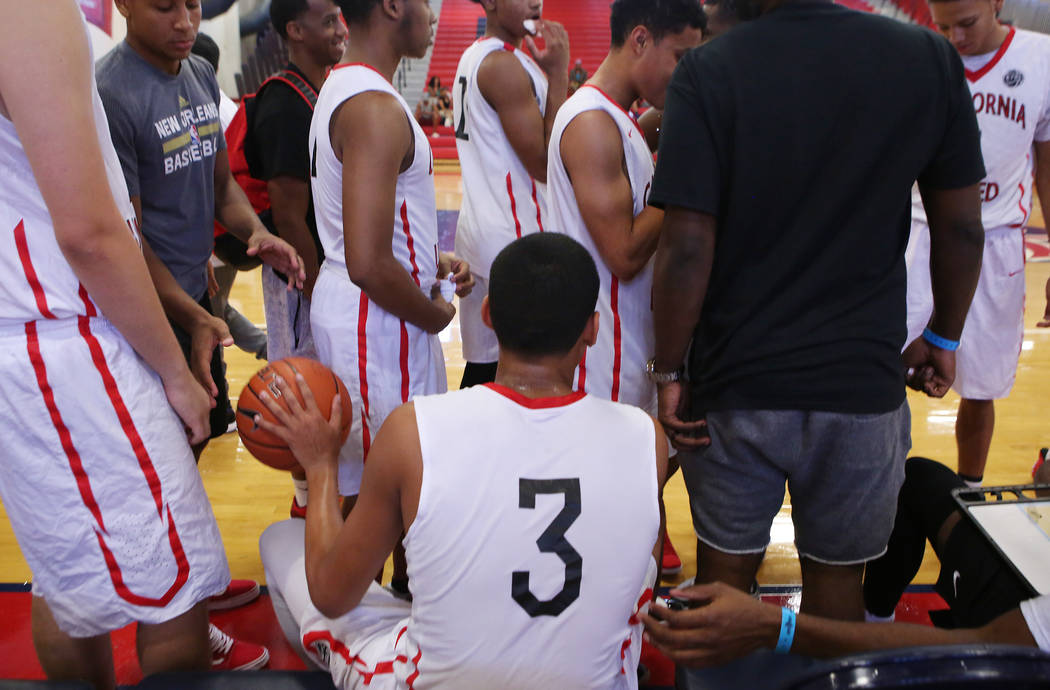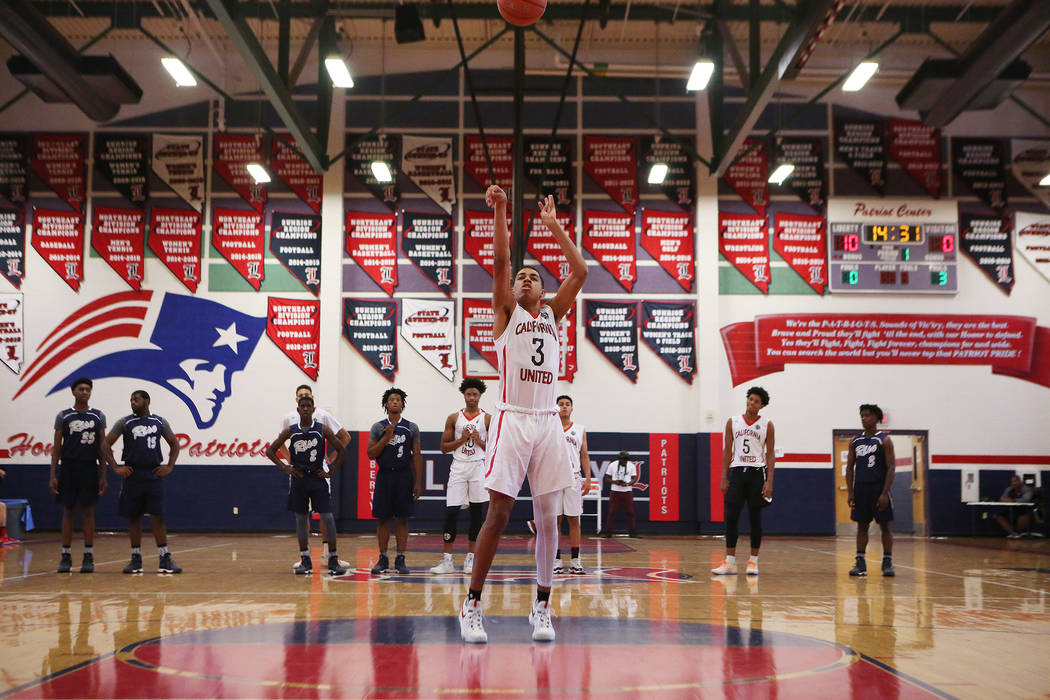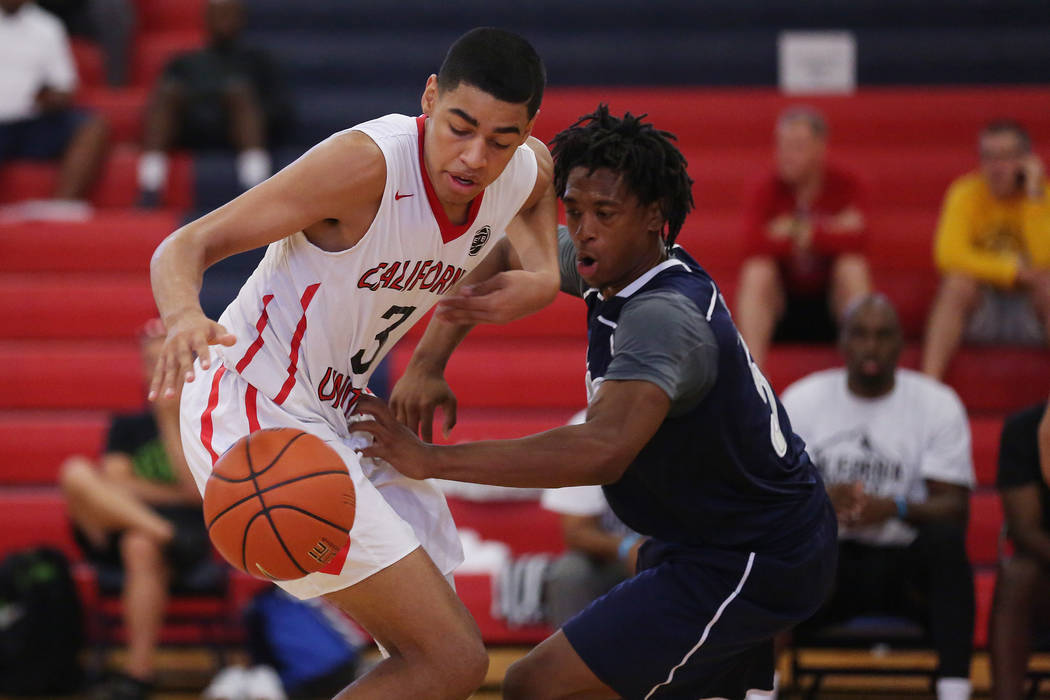 Julian Strawther is only 15 years old and entering his sophomore season at Liberty High School.
But the 6-foot-6-inch Strawther is already thinking, preparing and training like a professional basketball player.
That's because he's been living and working out with one the last six weeks.
In preparation of his final AAU live period of the summer this week, Strawther stayed with New Orleans Pelicans swingman Quincy Pondexter in Fresno, California, to learn the game and bolster his recruiting stock.
"Julian's like a little brother to me," said Pondexter, who is coaching Strawther on the California United 16U team in the Las Vegas Classic. "He's a great kid. The training sessions have been going really well — just trying to teach him some things I know about the game of basketball and work on his weaknesses and helping him change and evolve as a basketball player.
"I love seeing the growth that he's made. It's been really, really tremendous."
Strawther, who still has three more years of high school basketball, already was one of the most prized recruits in Nevada before he even stepped foot on the Liberty campus and donned a No. 23 jersey as a freshman. Last summer, he was offered scholarships by UNLV and Florida State, and entered high school with the sort of clout usually reserved for five-star seniors.
Add in the daily lifts, shootarounds and in-depth conversations with a current NBA player, and there has been a new-and-improved Strawther out there on the court the past four days of AAU basketball.
Strawther's father, Lee, who followed the process over daily videos from Pondexter, says he's "absolutely" seen a change in his son's physique and mindset.
"It was probably one of the best things that could've happened to Julian," Lee said. "Because he sees, to get to the next level, you have to sacrifice a lot. So he sacrificed being away from his home and family and put in those hours of two or three workouts a day — pro workouts. And it was an eye-opener for him."
"You can tell the difference — in his body structure and confidence level," Lee said. "Going to the basket and absorbing contact is totally different. He's much more bouncy (than) when he left. It's made a huge impact."
And Julian is using that developed game in Las Vegas, all while cementing himself as the new face of public school basketball in Southern Nevada — a role previously owned by Troy Brown, a Centennial graduate who will be an incoming freshman at the University of Oregon.
"I'm just having fun like any other kid would," Julian said Friday following a 33-point, eight-rebound effort in a 71-49 win over Cincinnati Rise at Liberty High.
Return of the hype
For the Strawther family, it's been a heck of a summer.
The hype Julian attracted after leading Silvestri Middle School to a city championship and 27-0 record in the seventh grade — and then a final-four finish in eighth grade — is nothing compared to what will be expected of him now after displaying a consistency not-so-prominent in the class of 2020.
Or from a high-schooler, in general.
Strawther strung together massive games in the Nike Elite Youth Basketball League Peach Jam in South Carolina earlier this month, including a 41-point performance.
But for a brief moment, the hype once surrounding Julian was on somewhat of a pause after his modest freshman year, in which he averaged 10.3 points, 6.4 rebounds, 1.6 assists and 1.1 steals.
Not any longer.
"He did come in with a lot of hype," Lee said. "And he had some struggles there midway through the (high school) season and the team had some struggles. But at the end, he turned it on. The team turned it on. And it ended up being a successful year." … Now he has no fear when it comes to competition. He's willing to go right at anybody — bigger, older, it doesn't matter."
Strawther is back on the national radar and should be a Top 100 recruit in his class on every recruiting website when the rankings come out.
And this time, he's here to stay.
Julian currently has scholarship offers from Connecticut, Creighton, Florida State, Fresno State, Southern California, UNLV and Washington.
The hometown Rebels, along with Connecticut and Washington, are pursuing Julian the most, according to Lee. And with each one of those schools, there's a unique connection. UNLV offered first, and Julian's sister, Paris, is a junior forward on the Lady Rebels' basketball team. Julian has family members on the maternal side living in Bristol, Connecticut. And Pondexter is a former star with the Washington Huskies.
And to think there will be three more years of it all.
"It's just a great experience to know everyone is recognizing me for what I'm doing on the court — and off the court, too — in the classroom," Julian said. "Getting these scholarship offers at such a young age is great."
Contact reporter Ashton Ferguson at aferguson@reviewjournal.com or 702-383-0430. Follow @af_ferguson on Twitter.
If you go
AAU basketball tournaments
Las Vegas Fab 48
— Championship game: Sunday, 3 p.m.
— Where: Bishop Gorman
— Tickets: Daily pass $15, daily pass for children (8 and under) and seniors (Over 62) $10
Adidas Summer Championships
— Championship game: Sunday, 2:20 p.m.
— Where: Cashman Center
— Tickets: Daily pass $15
Las Vegas Classic
— Championship game: Sunday, 2:30 p.m.
— Where: Spring Valley High School and surrounding high schools
— Tickets: Daily pass $15