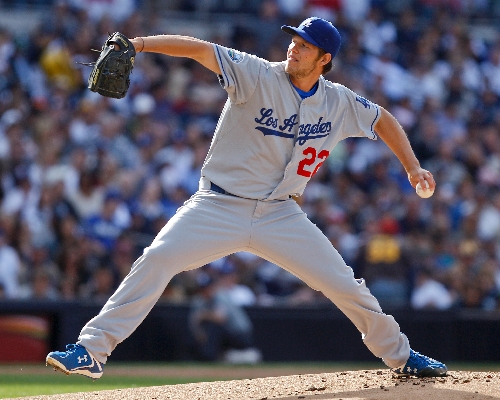 LOS ANGELES — Opening Day at Dodger Stadium is uncommonly important in Southern California, standing for generations as a daylong celebration of the franchise that put Los Angeles on the national sports map back in 1958.
It's also among the few team traditions that didn't lose luster during Frank McCourt's rocky ownership tenure.
The Los Angeles Dodgers' home opener today is doubly special this year: Their venerable ballpark is celebrating its 50th anniversary, and a guy named Magic just bought the team.
Cy Young Award winner Clayton Kershaw is grateful to be on the mound 50 years to the day after Dodger Stadium opened. Los Angeles looks to build on its 3-1 start against the Pittsburgh Pirates.
"I definitely think there's some renewed excitement," Kershaw said. "With change comes a little bit of excitement, and with some unknown comes a little bit of enthusiasm and everything like that. But Opening Day is Opening Day. Last year, we had a sellout, and it was an unbelievable crowd. It was awesome. This year, I don't expect any different."
After two of the most depressing years in franchise history while McCourt vainly attempted to keep control of the team, Dodgers fans can't wait to air out the smell of the McCourt era on what's expected to be another beautiful day in L.A.
Last season, Angel Stadium drew more fans than Dodger Stadium for the first time in their 46 years of shared history. Fans have rallied back to the Dodgers since the ownership group featuring beloved former Lakers guard Magic Johnson reached a deal for the team last month.
Optimism is always the fuel of spring baseball, and Magic's move into the owners' box seats has sparked a wealth of good feelings around a team that had little in recent years.
The players are simply grateful to be back at work in beautiful Chavez Ravine without hearing about uncertainty in the front office.
"I hope our fans come out and support us like they have in the past years," said Matt Kemp, the National League Most Valuable Player runner-up who already won the league's first player of the week award. "I think it's going to be a special year for our guys, and we're going to really need our fan support … a lot of fans, a lot of screaming. It's going to be exciting."
The majors' third-oldest ballpark is still a sparkling example of preservation and judicious modernization, and the Dodgers are honoring its golden jubilee year in style.
The franchise will hold a pregame ceremony today honoring at least 12 members of the 1962 team that opened the park, including Maury Wills, Tommy Davis, Wally Moon, Larry Burright and Norm Sherry.
And of course, broadcaster Vin Scully will be honored. Scully had already been the Dodgers' voice for 13 years before the stadium opened.
The Beach Boys, who are also in their 50th anniversary year, will sing the national anthem. Before Kershaw makes his second straight home-opening start, the first pitch will be thrown out by Terry Seidler — whose mother, Kay O'Malley, wife of then-owner Walter O'Malley, threw out the park's first pitch 50 years ago.
"I got to do it last year, and it's exciting at home," said Kershaw, who thinks he's feeling better after leaving last week's opener in San Diego after three innings with the flu. "The fans are awesome. It's a sellout. Just the excitement that they have and being home for the first time, getting to have that home-crowd energy, it's a fun environment."
PITTSBURGH VS. LOS ANGELES
■ WHEN: 1 p.m. today
■ WHERE: Dodger Stadium, Los Angeles
■ TV/RADIO: Prime (50), MLB (314); no radio