Athletes in giving spirit
December 25, 2008 - 10:00 pm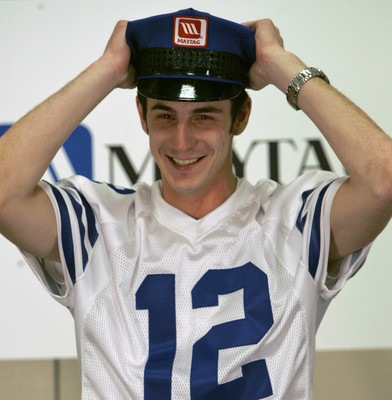 In the sports world, where athletes at virtually every level seem to possess a sense of entitlement and are selfish and spoiled, it's refreshing to see some of them give back.
Across the country this holiday season, good deeds were being done for the less fortunate.
In South Florida, Miami Heat star Dwyane Wade bought a new home, furnishings, clothing and gifts for a woman whose nephew accidentally burned down her house. At the University of Arkansas, athletes from several sports helped take a select group of children on a shopping spree at a Fayetteville Toys "R" Us. In Tucson, Arizona football players held a bowling party for underprivileged kids.
On and on it goes. Whether it's New York Giants linebacker Danny Clark taking 50 children shopping at Wal-Mart or 75-year-old Hall of Fame running back Lenny Moore delivering food to the less fortunate in Baltimore, athletes are doing things other than shooting themselves in the leg in nightclubs at 2 a.m.
• NO APOLOGY — The world of long-drive golf might have some controversy, but the player at the center of the storm isn't apologizing.
According to Golfweek, the women's world champion is a 55-year-old bartender who used to be a man. Lana Lawless upset the favorite in the RE/MAX World Long Drive Championship in Mesquite in October to claim the title.
"I am a woman," Lawless said, according to Golfweek. "I've lost muscle mass. I don't have big guns (biceps). They give you a drug that stops you from producing testosterone. … In about seven months, I went from 245 pounds to 175 pounds. I've gained back a little bit, but I feel like I don't have any power. Sure, I used to be a man. For 18 years, I was a cop for the city of Rialto, one of the most violent cities in Southern California. I worked the gang unit. I had a tough and mean exterior."
Lawless, who is from Palm Springs, Calif., hit a 254-yard drive into a 40-mph headwind to capture the title. A plus-1 handicap as a man, she quit golf after gender reassignment. Then Lawless saw a long-drive competition on ESPN and got back into the game.
• SORGI TIME — If it's late December, it means the Colts are headed to the playoffs.
It also means it's time for Jim Sorgi to take snaps at quarterback.
Peyton Manning's caddy likely will see action Sunday when Indianapolis plays Tennessee. The Colts (11-4) and Titans (13-2) have locked up playoff berths and postseason seeds, prompting coach Tony Dungy to revert to his philosophy of playing it safe.
The late-season calls to duty have become almost as much a part of Sorgi's Christmas ritual as opening gifts. In five seasons with the Colts, he is 77 of 126 for 751 yards and six touchdowns. In regular-season finales, he is 44 of 79 for 443 yards and five TDs. Of his 14 career games, only five have come before December.
"You want to keep going and practice well, so the starters will still probably take their regular reps," Sorgi said. "I've still got to learn primarily by watching, but you know you're going to play."
COMPILED BY STEVE CARP LAS VEGAS REVIEW-JOURNAL