A's owner: Relocation application done; team will lose $40M this year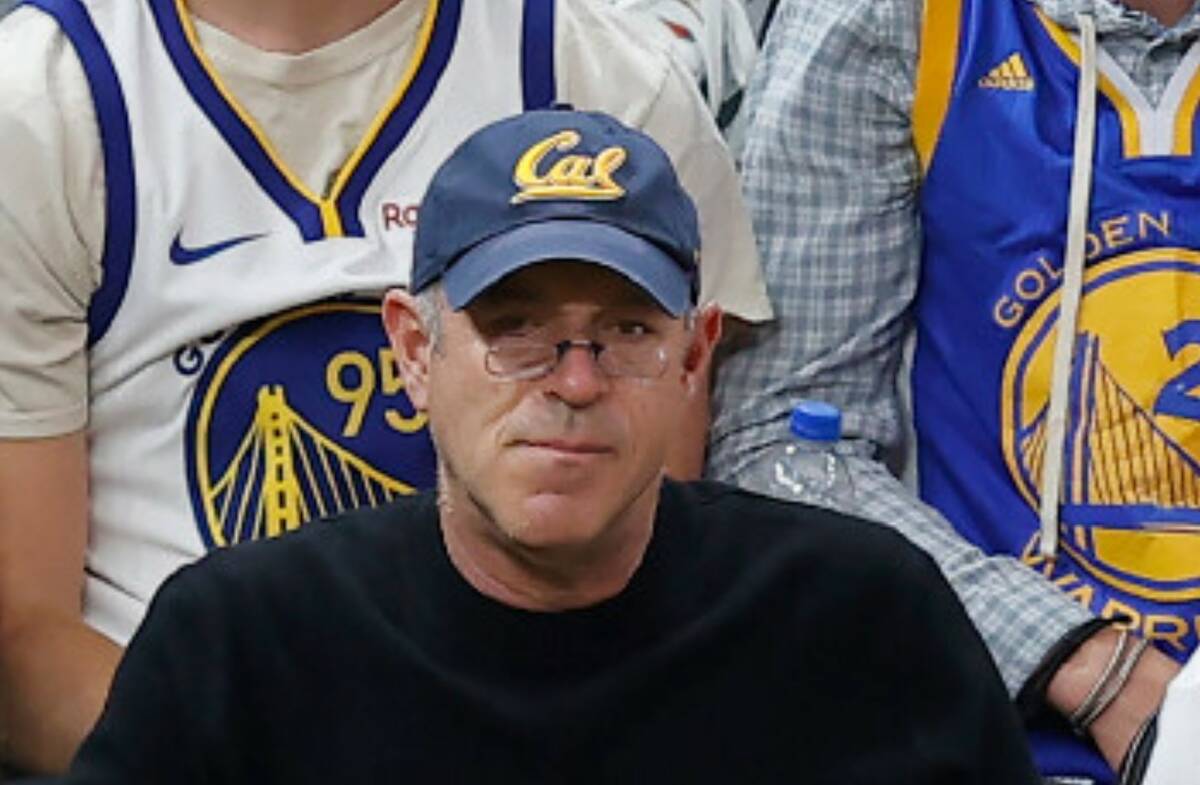 The Oakland Athletics have officially submitted their Las Vegas relocation application to Major League Baseball, and team owner John Fisher is breaking his silence on the years-long stadium saga.
In an exclusive interview with the Review-Journal, Fisher breaks down what went wrong in Oakland, his excitement about a future in Las Vegas, what he makes of the "sell the team" chants by A's fans and whether the end of "Moneyball" will start with the team's Nevada move.
The Review-Journal's questions are in bold, with Fisher's responses, in his own words, following. Questions and answers have been reordered based on newsworthiness.
RJ: What is the timeline for a relocation vote by MLB owners? How much work remains in submitting the A's relocation application?
Fisher: We just recently submitted our relocation application. The commissioner has established a relocation committee that is going to review that, and it will then make its way to the other committees that will be reviewing it, and then to the full group of owners to vote on it.
This is not new. Since we started looking at Las Vegas, we have been working closely with the commissioner and our fellow owners to make sure people were really up to speed on where things were on the timeline of our project in Las Vegas.
My hope is that this will get accomplished sometime soon, but I don't want to put a timeline on that, because that timeline is really governed by the commissioner and by our fellow owners.
You've been known to shy away from media interviews such as this one. Why did you think it was important to sit for an interview as the A's potential Las Vegas relocation is reaching a critical stage?
The reason that I haven't been as outwardly involved in media to date is that I really wanted the people running the team, Dave Kaval on the business side and Billy Beane and David Forst and others on the baseball side, to be the voice of the team. They're the ones that do most of the work here and create the teams and the product that's out on the field and that we use for creating a great experience for our fans.
It was important to me that they be front and center with the A's, as opposed to having it be me. That obviously changes when we're dealing with a truly momentous decision around relocating the franchise from one state to another. I feel that it's important that the people hear from me, because at the end of the day that decision is mine. That decision needs to be supported by the owners themselves, but in the middle of an application for relocation is a decision that I chose to make.
So I think it's really important that people hear from me about why that decision was made and what it means.
There has been the big push by A's fans this season urging you to sell the team. Have you ever considered selling the A's? Will successfully relocating to Las Vegas impact that decision at all?
I have not considered selling the team. I've now owned the team with my partner Lew Wolff, it's shocking really how the time flies, but since 2005. Our goal since then has been to find a new home and build a new home for our team.
Long-term, I think we've understood, and looking at the great success stories of new ballparks throughout baseball, I think all but four ballparks in baseball are new since the early '80s. Led by [Baltimore's] Camden Yards, going through the great facility Atlanta has built. It's been clear to us that we need a new home, but it's taken us a long time.
We're super excited about where we are today with the new stadium we're going to build, which I think is going to be iconic for the Strip. We think it's going to be great for the community, and which we think is going to be great for not only the A's and our fans, but for all of baseball and really of sports.
Baseball Commissioner Rob Manfred said that he believes you would field a competitive team in Las Vegas because you won't be spending upward of $100 million on the stadium development process in Oakland any longer. Do you agree with Manfred's assessment, and do you foresee a competitive team being on the field in Southern Nevada?
The whole reason that we're building a new stadium is so we can have not just a competitive team, but, we hope, a team that can have the kind of success, for example, that the Golden Knights have had, winning the Stanley Cup in six years. If we can win the World Series within our first six years, that would be an incredible goal to have.
That is why we are building a new stadium, so that we can have a team on the field that can win the World Series. Also a team that is going to be made up of players, some of them young, having come up through our system with the [Las Vegas] Aviators, players that will be recognized by our fans who have gone and watched them play when they were 18, 19, 20 years old, and up to free agents.
The A's have had a more challenging time signing free agents because we haven't had the revenues to support a payroll to do that. We expect that being in a new stadium, being in Las Vegas is going to change all of that. Our goal is to win and win with a team people love to watch.
What kind of player payroll can you sustain in Las Vegas? Does the securing of the up to $380 million public subsidy for the stadium impact what you can spend on player payroll?
The building of a mostly privately financed stadium — my family will invest in excess of a billion dollars in this project and in this stadium — will be the largest amount contributed by a baseball team owner of any stadium built to date. We're super excited about the public-private partnership that has been created by the funding from the state and (Clark) county supporting this project. The stadium will be part of the Stadium Authority, just like the Raiders, just like Allegiant (Stadium) is.
The payroll itself will be funded by the operations of the team itself, which is everything from selling tickets, sponsorships and naming rights, concessions, to hats, as well as media and what is provided by (Major League) baseball central funding.
We expect that our revenues will be considerably higher in our new ballpark than they have been to date, and that that will enable us to have a higher payroll and keep our young talent around, as opposed to sadly seeing them go to other teams, and it will allow us to be out there signing free agents.
With the public funding element figured out, are you confident that you'll be able to secure the over $1 billion in funding to get a stadium built in Las Vegas?
I am. We have a very good financial plan in place. We've been working closely with Goldman Sachs, and my family as well, as indicated, is planning to invest a substantial amount.
Are the A's currently a profitable organization?
No. We'll lose $40 million this year and in previous years, which included COVID when the losses were more significant, but we lost $175 million. Which is one of the reasons why it is so important to us to have a new stadium. It can help the team get to break-even, but even more importantly it can help drive the kinds of decisions we want to make around payroll for retaining our young players and signing new players and, hopefully, getting back to a World Series, which we did in 1989, a game that I was at, the earthquake series against the Giants, when Candlestick Park shook. We want to bring the A's back to winning the World Series — without the earthquake.
The organization has been accused by fans and critics of deliberately tanking the past two seasons to drive down attendance and further justify relocation. How do you respond to that criticism?
Nothing could be further from the truth. The A's this year will lose $40 million with a $60 million payroll. And the losses that the ownership has had here with this team over the last several years have been very significant. We have done everything we can to try and build ourselves back up to being a highly competitive team again.
But all teams go through a rebuilding period. If you look at Houston and Cleveland. When you look at Cleveland before they moved into Jacobs Field, in I think 1994, they finished last, second-to-last or third-to-last for like the previous 10 years. From 1995 through 2001 they finished first six of those years. That's just indicative of the likes of what happens.
Teams who have great players lose those players. When that happens you rebuild, and you rebuild with younger players. They start out in the minors and they move up to be, you hope, great players. And they build themselves up to be great players in the future.
Houston, same thing. In 2012 the A's dominated the Astros, but for the last eight-plus years the Astros have been an almost unbeatable team. It's just a process all teams go through, and small-market teams like the A's often go through them more frequently, because it's harder to hold on your best players.
The 2023 A's could rank as the worst MLB team ever in a number of metrics, from record to run differential. How do you feel about this on-field performance?
We won last night [Monday]. Baseball is a marathon. You play 162 games. The other teams, basketball and hockey, play half that number of games, football less than 10 [percent]. It's a marathon, and each game you want to win. Even if you're so far out of it, even if your record is terrible, you're getting to each game and, you know what, it's you against the other guy and you start out zero-to-zero and there is nothing that is guaranteed.
So we've lost a lot of games that we had a really good chance to win. Of course that's super frustrating. Then we win games that we're not expecting to win and that's super gratifying. I certainly understand, and I'm not ignoring the frustration that we all feel, that the fact that the A's have not performed as we hoped and expected that they would.
That's why you play the game. Sometimes it doesn't work out as you hope it will. And we made changes and we brought in a lot of our younger players up from the Aviators, and they've brought an element of excitement into our team that I think that our fans are going to grow to appreciate. I think that bodes well for us for the future.
With the A's having one year left on their lease at the Coliseum, what do you expect, attendance-wise, for what is likely the team's final season in Oakland?
The Raiders stayed at the Oakland Coliseum after their approval to go to Las Vegas, but the question of what will happen in Oakland going forward is obviously something that the community will take up as well.
We have tremendously passionate fans in Oakland. And while our attendance this year has definitely been heavily impacted by all the relocation efforts and by the fact that the team has had an extremely difficult season, in baseball you start out in the spring and there is this incredible amount of hope and rebirth. And every team goes into the first game of the season, following spring training, all tied for first.
We are excited about our young players, all of who have been seen by our soon-to-be fans at the Las Vegas Ballpark, playing for the Aviators. That's a really exciting opportunity for us, is for families to be able to follow their favorite player when they're a minor leaguer and see them go 20 minutes away to the new stadium and play for the A's on the Strip.
That's a way of saying we are hopeful that our fans will want to come out and support our players, our really young players, who are giving their all to win every single game. A lot of games have not gone our way. We've lost a lot of one-run games, but we have a really exciting team. I think next year's team is going to have a lot of excitement going on and I would hope that our really passionate fans will want to come out and support them.
What is the timeline for determining where the A's will play following the 2024 MLB season?
Our focus here has been working toward the relocation to Vegas and the question of what then would be the A's home going forward. Our [Oakland Coliseum] lease expires at the end of next season, and that is something that we and Major League Baseball and our fellow owners will work closely on determining.
You took in an A's game during Big League Weekend at Las Vegas Ballpark this year. What are your impressions of the ballpark? Do you think it would be a suitable home for a Major League Baseball team on a temporary basis? Would you need to upgrade or expand the ballpark in any way before the team could play there?
I think it's a fantastic ballpark, and I don't know the answer to the question of what improvements would need to be made for that ballpark to make it Major League Baseball ready. That's all going to be under discussion and under the control of MLB itself.
I can have my own opinion, but the commissioner and the league will really drive the decision of where we're going to play going forward and the suitability of the Las Vegas Ballpark for us to play there on a temporary basis.
Is there appeal to playing in Sacramento or Reno before potentially moving into a permanent stadium in Las Vegas in 2028?
They're both minor-league facilities that would require changes to make them major-league ready. I haven't had the conversation with Major League Baseball yet, as to where they would like us to play going forward.
Are you considering a fixed dome for the new Las Vegas ballpark, or are you committed to a partially retractable roof?
Climate comfort is one of the top priorities of being in the stadium itself. The extent that we can make the stadium feel like it has a connection to the outside is really important. The most important thing is when people are inside the ballpark, that they are comfortable. We haven't made a final decision yet. Even if it's a fixed-dome, it will have large openings and a lot of clarity in the roof structure and walls, that it will have the feeling of being outdoors even though you have a roof over your head.
Have you been to a Raiders game at Allegiant Stadium, or a Golden Knights game at T-Mobile Arena? Do you think the Las Vegas market requires a different kind of fan experience for professional sports? Is there anything you'd like to do here in Vegas that's completely different from what the rest of MLB currently offers?
I have been to a couple of the Golden Knights games. I was fortunate enough to take one of my sons to a Stanley Cup game this past season, and I was blown away at the show that was put on. With the sword fighters on the ice itself, it was an incredible experience. The support of the local fans during that game, it was one of the loudest arenas I've ever been to. That was a lot of fun. The Golden Knights crushed it during that game, so that made the crowd that more happy.
I also went to a Raiders game last season against the Chargers and it turned out to be a really great game and really fantastic experience. I really commend both of those organizations for what they have created with fan experiences.
One thing I would say about "is Vegas different," the answer is of course. Vegas is Vegas. They call going up to the major leagues, "Going to The Show," and I think it's a great way to describe Vegas, because Vegas is The Show.
We want to create an environment that's great for visitors and locals alike. We think that our site actually checks all those boxes. It's going to be really easy to get to, especially with the improvements to the Tropicana interchange at I-15, all the parking that's going to be available, the fact that we're so central in the Strip itself will also be great for visitors.
It all starts with being able to create an environment that fans love to be in. It starts with having a great team, which we will have, but it also is being in a great stadium and then having really good transportation options for our fans and putting on a great show.
The Raiders are seeing crowds with up to 50 percent of fans from out of market. How important is it for you and the A's to maintain a true home field advantage in Las Vegas?
Home crowds are great. When I was at the Golden Knights game, the Stanley Cup, and the game I went to a couple of years ago during the playoffs, the crowd was just raucous. It was fantastic. Having said that, hey, we play 81 games with an expectation that we're going to draw between 2 and 2-and-a-half million fans, and we want to be an environment that is conducive to local fans wanting to come out and support the team, having a great experience, but it's also conducive to visitors coming in.
We think that we can accomplish both successfully. We actually like to play the competition that exists between really strong local crowds and visitors who are coming, some of who are supporting the other team. We think that we can accomplish both well and not feel like we have to pick one over the other.
Raiders owner Mark Davis had some unkind words for Athletics management earlier this year. How would you characterize the relationship between the A's and the Raiders before the NFL team left for Las Vegas? Would you want a better relationship with the Raiders if the A's move to Las Vegas?
When the Raiders were leaving Oakland we were co-tenants at the Coliseum, and the A's probably didn't make it the easiest on [owner] Mark [Davis] and the Raiders as they left town. That's on me, that was my responsibility. I told that to Mark, and I called him when we were coming to Las Vegas, to get to know the community. I reached out to him because I wanted to let him know that we were going to be there and that I wanted to sit down with him when he was available so that we could talk about our respective experiences and so that we could learn something from him. They were in Oakland, they came to Vegas, they have been really successful and we wanted to learn from that experience.
I told him that I apologized to the extent that we made those mistakes when the Raiders were moving to Oakland. That was my fault and I was sorry for it. Having said all of that, I think they have done a fantastic job. Allegiant is a great place to go and watch a game. That team is going to get better and better and continue to build their local support. Every game is sold out. With Taylor Swift coming there and selling it out, she probably could have sold it out for 30 days straight or more.
So we have a lot to learn from Mark and the Raiders and I really look forward to building that relationship. We have a lot of friends in common, and I think he can be really helpful to us and helping us build our relationships in the community. We would love to work together on things we can do from philanthropic and other ways to support the community itself.
We feel the same way about the Golden Knights and Bill Foley. I met Bill at the games, communicated with him since. They've done an absolutely amazing job and are really an example of what we would like to achieve for the community. Which is to win and to be seen as a really important member of the community itself.
Oakland Mayor Sheng Thao claimed the Las Vegas land agreement announcement was done in bad faith, and she has been highly critical of the organization since Gov. Joe Lombardo signed the Las Vegas stadium funding bill into law. How would you characterize the timing of the Las Vegas announcement, and Mayor Thao's comments about the A's?
In the last two years since the commissioner of baseball gave the A's permission and encouraged us to look at other markets because of the slow progress that was happening in Oakland, Oakland has known, and so has Las Vegas, that we had parallel paths, and the most important thing for us was being able to get to "yes." Without a new stadium, we cannot be the kind of successful team that we want to be. We made that clear in Oakland, to baseball and everywhere for the last 10 to 20 years. That has been our single-minded focus, since we bought the team in 2005.
For the last six years we worked with Oakland to try and come up with a plan to allow that to happen at Howard Terminal. With the last two years of that six following the parallel paths with Oakland and Las Vegas.
I met with Mayor Thao shortly after she took office, and I have nothing but positive things to say about her. But we did not have a deal in place. In fact, the Oakland City Council had approved a nonbinding agreement in July of 2021 that committed that all the offsite infrastructure costs would be paid for by Oakland. The A's would pay for all the onsite infrastructure costs plus the stadium itself.
On the day we made our announcement that we were going to focus our efforts on Las Vegas, we still did not have an agreement consistent with what the City Council had voted on two years before. Oakland did not have the money and did not raise the money to cover all of the offsite infrastructure. It was a key element of the deal that they had agreed to, that they could no longer meet.
We were under extreme time pressure to get to a new stadium. Our fear was prolonging things in Oakland would've resulted in either no stadium being built, or nothing happening into 2031 or beyond if things moved slowly.
We did not have that option. In the last collective bargaining agreement between baseball and the players union, the agreement was that the Oakland A's had to have a binding agreement on a new stadium by January 15 of 2024 or we would lose our revenue sharing. Which is something that would have a devastating impact on the team.
So we made a conclusion that we were not going to be able to reach that date in Oakland, because we did not have a deal there. We had the opportunity in Las Vegas, which is a place that we're very excited to go to and that's why we made the decision.
Can you compare the differences in dealing with Oakland officials and Nevada officials?
The Oakland officials that we have worked with have been really supportive, and we worked really closely with the previous mayor, Libby Schaaf, for close to five-plus years when Mayor Thao took over as the mayor. Libby was incredibly supportive of trying to get the project done. The same thing with Sheng Thao. She was very committed to wanting to make this deal happen, as were the A's. But sometimes things just can't get done. I know people want to blame me, or they want to blame the city, or they want to blame baseball, but that's not really solving the problem.
The reality is I don't think it's about blaming somebody. The reality is, in Oakland there were other significant priorities that made it very difficult for the city to be able to make the project work and happen.
In the case of Las Vegas, we have felt really supported by the community, by the building and trade unions, by Culinary [Local 226] and UNITE, the resorts and the resort operators, by the fans and the politicians as well. We've had a lot of support in Las Vegas and enjoyed the process of working with the community to try and get this to happen.
In the nearly 20 years that you've owned the A's, where would the potential relocation of the team rank in terms of importance during that time?
At the top. I recognize the historic significance, the emotion and challenges for the community that you're leaving. To have a team that's been in this community for nearly 60 years now moving to a new place. The fact that the A's are the third of three sports teams to leave the Coliseum and Oakland is not lost on me. I think that that's one of the great challenges that we face and something that I recognize and feel very directly myself.
A viable home is important for both the organization and the home city. Why is a ballpark in Las Vegas a viable home for the A's?
From the moment that Dave Kaval and I went to Las Vegas at the approval or invitation of the commissioner [Rob Manfred] starting ab0ut two years ago, it became really clear that not only is Vegas an incredibly great and passionate sports town, but it was also a baseball town. The A's Triple-A affiliate is the Aviators, so we spent a lot of time going out to Las Vegas Ballpark and watching games out there. It's just a tremendous experience. Don Logan and the folks from The Howard Hughes Corporation have done a fantastic job in building a great home for the Aviators.
Being out there showed me how much passion there is for the game from families, local families. I think the other thing is seeing the success of the Raiders and the Golden Knights has shown that not only are tourists and visitors interested in going to sports games, but the local market is incredibly strong in Las Vegas.
That goes all the way from the governor [Joe Lombardo] and the legislative leaders, who when we were in Carson City, a number of them had pictures of their favorite baseball team, or signed baseballs ranging from support for the Seattle Mariners, to the Yankees, to the Detroit Tigers, was really exciting.
I've been really impressed by the strength of the market in seeing how the Golden Knights and Raiders before us have really led the way in what a great market for sports Las Vegas is.
Has anything that you've learned about Las Vegas during the over two-year relocation process surprised you?
In the past, as a visitor in Las Vegas, I spent my time mostly on the Strip. I have some good friends who live in Las Vegas and they told me it was a really great place to live, very family-oriented, but I didn't really know what that meant. As I spent the last couple of years, generally every month, I'm spending time all over the area, and I've really come to appreciate the local community.
The business community and labor have been such supportive forces for making Las Vegas the great place that it is today. I didn't really appreciate or know about that until I spent some more time in town.
How would the A's benefit Southern Nevada if the team relocates to the area?
The stadium we're working on designing as we speak and having a great contractor with Mortenson-McCarthy, I think it's going to help us create a home for a team that is going to be second to none, and it will be a great attraction. It will be somewhere where families from Henderson, or Summerlin, or from the north or the south, will want to come to.
But the reason that we've have been so focused on getting a new stadium built for the last 20 years, while our teams have been exceptional on the field, we have done it with generally low payrolls, compared to the average or higher payrolls in Major League Baseball.
That is not the path that we want to follow moving forward. We want to be able to be in an environment where we can create revenues that can support much higher payrolls for the team and be a team that can compete for the World Series, hopefully every year.
I got into this sport because I want to win, and building a new ballpark and doing it in Vegas and having it be tremendously successful is going to help us achieve that goal. For ourselves and especially for the fans all over, for the team and the people who work for us.
Will you make Las Vegas your primary residence if the A's relocation is successful?
I am so focused on finding one home, which is a home for our team, that I will say that I have looked at different places in the community, and I think it's a great place to live and my plan is to spend a lot of time out there. I think a key to our success, just as the success of the Golden Knights and the Raiders and some of the other successful things in Vegas, is to really connect with the community and really be seen as part of the community. That is something that is really important to me and my family, is to feel really connected to the community and to build friendships there.
But also to do things to support the community. The A's have been a really big supporter of our community in Oakland and the East Bay, supporting Little League teams, hospitals, literacy programs, and our expectation in Las Vegas is to be very supportive and do what we can, so people understand that the team is a part of the community and does what it can to make the place a better place to live for everyone.
What is your background in baseball? Did you play the sport when you were young? Little League? High school? What positions did you play? What made you love the sport?
I started going to baseball games before I can even remember because my grandparents were huge San Francisco Giants fans and started going to Giants games when they moved out to San Francisco in 1958 and then went to basically every single game for 30-plus years until my grandfather died. They would take my brothers and me to the games, but I have to admit I probably liked the cotton candy and Red Vines licorice more than necessarily liking the games.
My grandfather, who took us to all these games, was himself a bat boy when he was 7 years old, and he was photographed with a group of American professional baseball players, that I was told, were the first group to go and play exhibition games over in Japan. In fact, my grandfather's uncle, this would've been my great grandfather's brother, was a guy named Mike Fisher, also the name of my son, who owned the minor league team in Tacoma in the Pacific Coast League. So, there's a lot of history in my family dating back to the early 1900s and being involved with baseball.
I myself mostly played racquet sports in school. I did play baseball when I was in elementary school enough to know it probably wasn't going to be my career, at least not playing the game.
What got you interested in pursuing ownership of pro sports franchises? What do you see as the pluses and minuses of doing so?
One of the things that I love about sports is it brings people together. It brings people together of all nationalities, of all different socioeconomic backgrounds, of all different ages and to have the opportunity to run a team or own a team is really sort of a gift.
When I go to the game and I see families enjoying themselves and coming to the game, it gives me a lot of internal satisfaction and pleasure to see it happening. I grew up in the environment where "ABC's Wide World of Sports" had this opening to each one of their sporting events, where they would call it the "thrill of victory and the agony of defeat." One of the things that you learn at a very young age when you're following a team is the agony of defeat. Your team is always going to lose, and it's incredibly agonizing. But when they win it's an incredible positive rush of excitement.
Being able to have those sorts of emotional extremes is definitely something that drives you to the game and the game, sports in general, is a great way to bring people together.
What is the most important thing you've learned in business? How do you apply that to the A's?
To run a successful business, first off you have to have great people working for you. We worked extremely hard to bring the best and brightest people, both on the business side, led by Dave Kaval, but also on the baseball side, by Billy Beane and David Forst. The organization there is critical to your success.You're not going to be successful in business if you don't have great people.
The second thing is you need a great product. While our team has definitely struggled this year, for the most part the Oakland A's have been a great product. With tremendous players, great play out on the field and creating an experience for fans, which I think has been really positive. Our teams have been, over the last 20 years, some of the most successful teams in baseball. We've made it to the playoffs at least six times and just like you learn in business, if you can have great people working for you and have a great product you'll be successful. I think that's been the same experience with baseball.
Contact Mick Akers at makers@reviewjournal.com or 702-387-2920. Follow @mickakers on X.