Former A's exec says team has a bright future in Las Vegas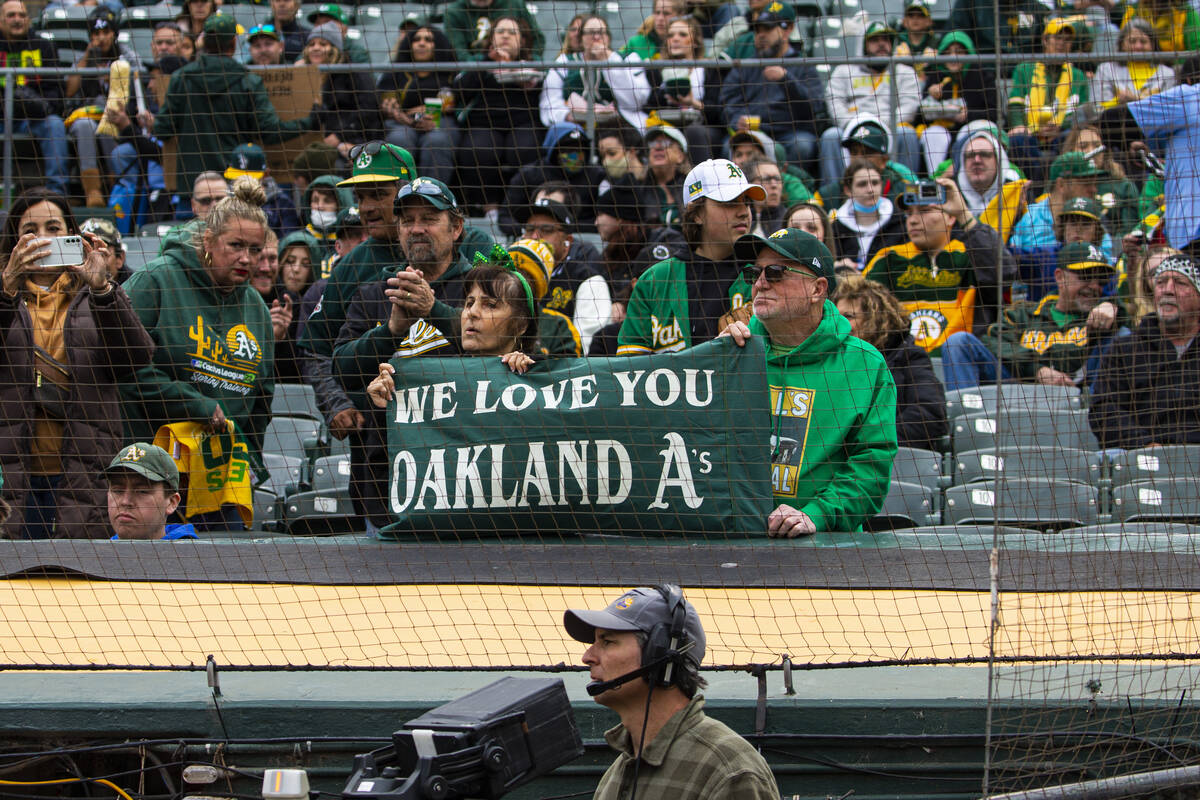 A former Athletics executive said Thursday the team and the city of Oakland were never able to forge the kind of public-private partnership needed to keep the team in Oakland.
And Chris Giles, who served as the A's chief operating officer between 2017 and 2020, said it is that kind of partnership in Las Vegas that has him confident the A's will succeed if they are successful in moving to Southern Nevada.
While negotiations between the A's and the city of Oakland continued, Giles said the Oakland Coliseum, where the A's played, continued to age out of being a viable home for the team.
"They have a really passionate, engaging fans base and I think that building went far too many years without the necessary upgrades," Giles said. "Then it got to a place to where it was more of a dire situation."
That of course led the A's two-plus-year relocation effort in Las Vegas, one that landed the team up to $380 million in public funding and plans for a $1.5 billion ballpark on 9 acres of land at the Tropicana site.
Much like the Raiders have been able to do since moving to Las Vegas, Giles said the A's will "get the opportunity to build this core group of season ticket members, but then you obviously have the tourism that's coming in on a day-by-day basis. So I think the combination of those two facets makes Vegas a really attractive market for teams."
The A's plan for a ballpark that would seat as many as 33,000 fans is an ideal size for the market, Giles said, even if it would be the smallest in the major leagues. He envisions future MLB ballparks being even smaller than that.
"I'm not going to be surprised to see teams build smaller ballparks than that," Giles said, citing the ability for fans to be closer to the action with no bad seat in the ballpark. "Scarcity matters. If you always have seats available, you're basically training your fans that they can just go and buy a cheap ticket last minute.
"If you build and design for scarcity, it creates much more of a vibe. We've all been to a game when it's completely full. It's a much more different atmosphere than when it's a quarter or half full."
Giles left the A's organization in 2020 to found FanRally, a platform for season ticket members of various professional and collegiate teams. It allows fans to exchange, upgrade and add on seats for games they want to attend, while making their own season tickets available to others when they don't attend.
FanRally isn't yet affiliated with any teams in Las Vegas, but Giles said they have had multiple discussions with the Golden Knights regarding their software.
While with the A's, Giles focused on the fan experience in Oakland. His efforts included the adding of ballpark features and implementing a ticket trading program, similar to what FanRally does today.
"It allowed members to freely exchange seats for access to games where they didn't have tickets," Giles said. "We added 10,000 members onto the program. The building still had the same set of limitations, so we learned a lot from building more open social spaces. We built a space called the Treehouse, which is basically this giant bar, hangout area overlooking the field. That really taught us about what modern consumers were looking for in their ballpark experience." As the relocation process continues to play out, A's fans in Oakland have been active in showing their dismay for the potential move, including organizing multiple "reverse boycotts," or packing the stands to show that fan support isn't the problem. That doesn't surprise Giles, as he knows the fan base in the Bay Area is passionate about their club.
"I think all of us, if you're a fan of a team, can empathize with how they're feeling," Giles said. "Especially those who have season tickets … it becomes a lot of your lifestyle. Going to a lot of games, like those folks who sit in the outfield seats who are really vocal, their lives are changing. So, I can really empathize with where they're coming from."
Contact Mick Akers at makers@reviewjournal.com or 702-387-2920. Follow @mickakers on Twitter.