Golden Knights' Foley supports A's Las Vegas relocation plans
Updated May 12, 2023 - 5:49 pm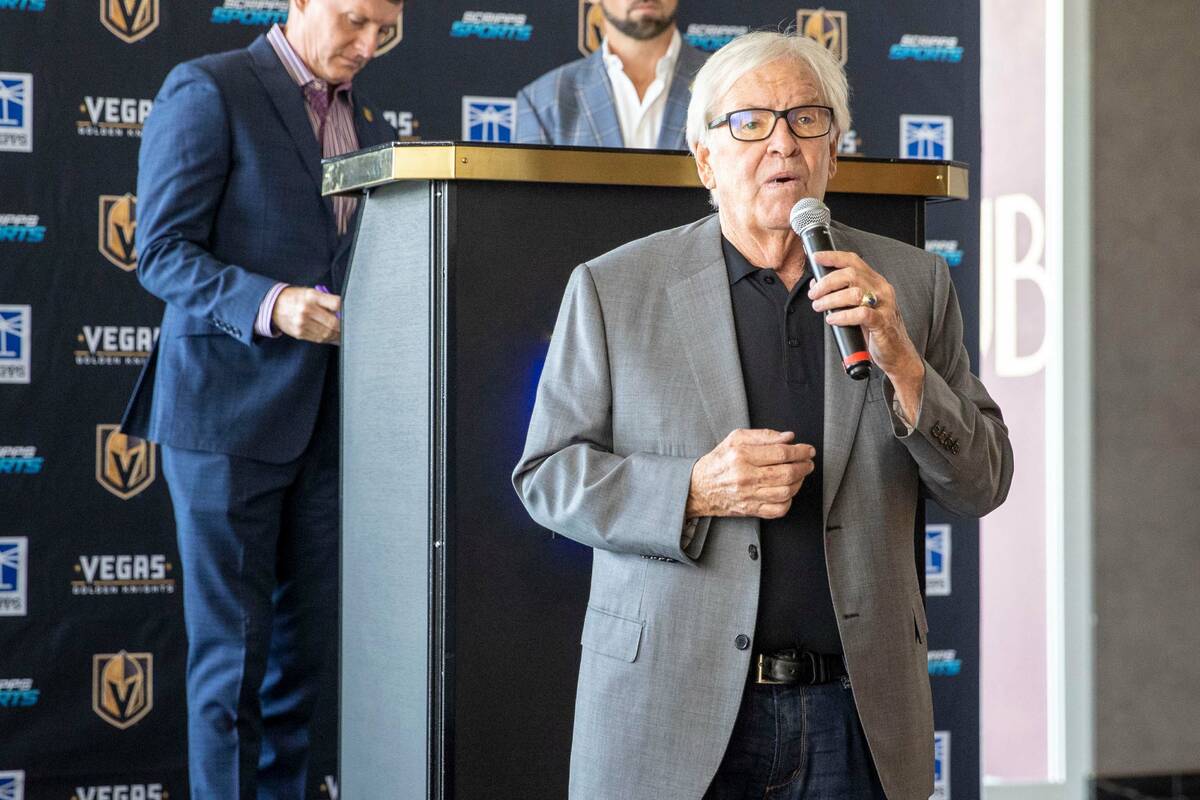 Golden Knights owner Bill Foley is ready to welcome the Oakland Athletics as a new neighbor on the Strip.
The A's entered into an agreement with Bally's Corp. to build a $1.5 billion, 30,000-seat ballpark on a portion of land where the Tropicana sits. That would position the A's potential new home blocks away from T-Mobile Arena, where the Knights play their home games.
"I think it's great," Foley told the Review-Journal. "I think we have different fan bases, as opposed to the Raiders, as I was a little concerned about sponsorship and ticketing and so on. I think we can be pretty symbiotic. I don't think we're going to impact each other at all."
Foley said he's a big baseball fan and is looking forward to catching the A's when they potentially begin play in Las Vegas.
"I don't go to Allegiant (Stadium) and the Raiders games, but I look forward to seeing the A's," Foley said. "My son goes to spring training and watches the A's. Somehow he's adopted the A's for many years. I'm all for it, I think it's fantastic."
Foley wasn't a fan of the Raiders receiving $750 million in public funds, being paid for via a 0.88 percent room tax on Clark County hotel rooms, to construct the $2 billion Allegiant Stadium. He doesn't see the Athletics' request for $395 million in public assistance in the same light, since it would mainly be paid for by setting up a special tax district around the stadium site.
"Allegiant became a little bit of a burden on visiting fans, so it's a bit different," Foley said. "I'm good with the A's (tax ask)."
Adding the A's into the mix would create a Las Vegas sports district of sorts, having T-Mobile Arena, the potential MLB stadium and Allegiant Stadium within the same vicinity.
"For locals we're still a pretty small town," Foley said. "I'm always worried that we're over-committing to the sports side and having too many teams. But in reality I think the A's are a little bit different … Certainly having all this activity down here in the same neighborhood is kinda nice. It's kind of fun. I'm sure the A's will have lots and lots of visiting fans."
Adding another pro team also means bringing in the players and the staff, but their families as well. Foley estimated that between the Golden Knights, Silver Knights and Knight Hawks, his indoor football league team based in Henderson, his staff is made up of around 500 people.
"We're bringing players in, buying houses, going to schools, churches and restaurants," Foley said. "Same is true with the Raiders. Lots of people moved here and created real wealth. There's a real wealth effect. The A's will do the same thing."
Foley said he plans to meet with A's President Dave Kaval sometime Friday or Saturday to chat about the team's Las Vegas plan.
The A's are looking to keep their Triple-A affiliate the Aviators playing at Las Vegas Ballpark in Summerlin should the MLB team relocate to Southern Nevada. Foley has a similar arrangement with his hockey teams, with the NHL's Golden Knights and the AHL's Henderson Silver Knights.
He thinks the setup of having both major league and minor league teams in the same community pays dividends for all involved.
"I think it's brilliant," Foley said. "They way we have it now, we just make a call and say 'Hey, why don't you come on over to T-Mobile around 4 o'clock, we may need you. If we don't, we just send them back to Henderson. So there's no wear-and-tear on the body. The same thing would be true with the A's. If they want to call somebody up, they aren't playing across country. They're driving across town."
If the A's end up in Las Vegas, Foley sees an opportunity to cross-promote the two teams, something that hasn't occurred with the Raiders.
"I'd like to figure that out," Foley said. "In terms of joint ticket sales and promotions. Maybe a softball game between the Golden Knights and the A's, although I think they'd have an advantage."
Contact Mick Akers at makers@reviewjournal.com or 702-387-2920. Follow @mickakers on Twitter.