Las Vegas ballpark design process on schedule, A's Kaval says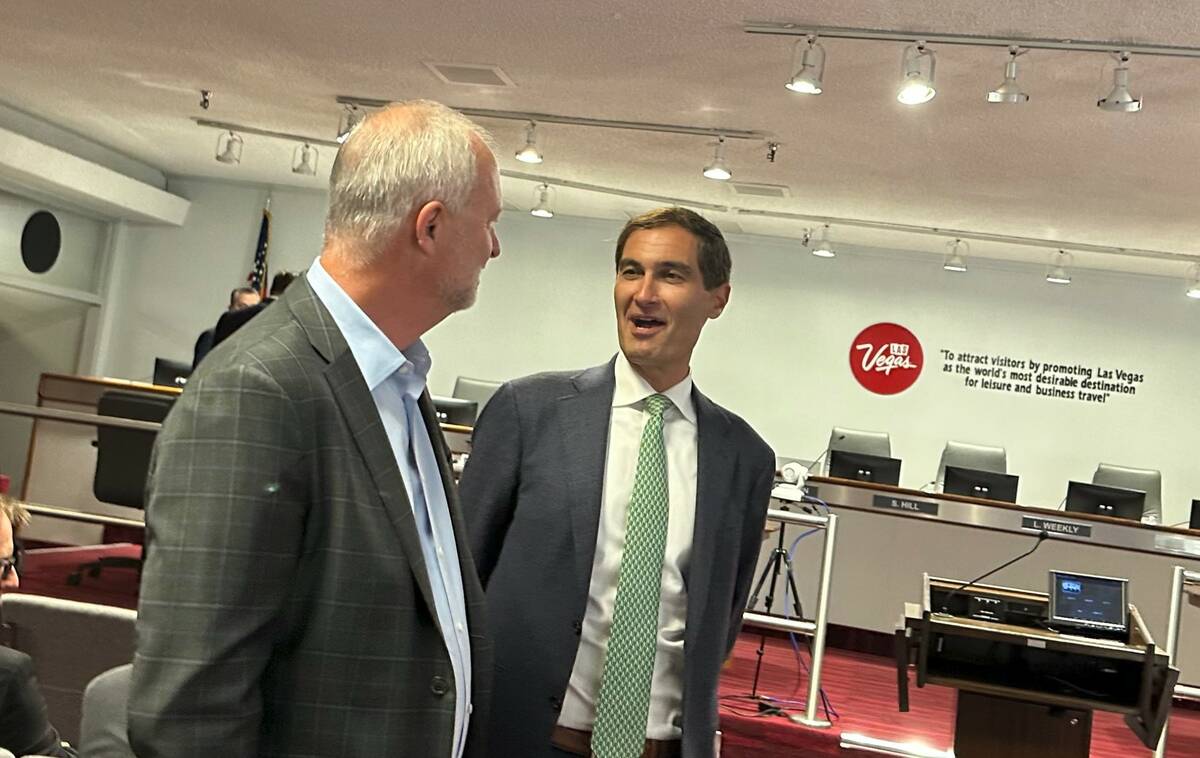 The Oakland Athletics stadium design competition is progressing with the team's final choice to be made within two months, A's President Dave Kaval said Thursday.
For the past several weeks, two design groups have been battling it out in hopes of being chosen to design the A's planned $1.5 billion, 33,000-seat Las Vegas Strip ballpark.
One group is architect firm Gensler, which has a Las Vegas office. The other is a combination of two firms, HTNB, which helped design Allegiant Stadium, and Bjarke Ingels Group.
"It's been pretty fun," Kaval told the Las Vegas Review-Journal Thursday. "There have been presentations pretty much every 10 days. I think the groups are both exceptional with what they have brought to the table. We're excited to have a final decision by October … I think having the competition is going to do a lot to have an iconic design and one that will have a lot of presence, one that people in Las Vegas will be really proud of."
Where the team will play following the expiration of their lease at the Oakland Coliseum following the 2024 season is still to be determined. But the Triple-A Aviators' home Las Vegas Ballpark, the San Francisco Giant's Oracle Park and even the Oakland Coliseum appear to be the likely landing spots for the team. When the decision is made, it largely won't be up to the A's.
Related: A's owner: Relocation application done; team will lose $40M this year
"It really comes down to the league and the (players) union and their decision to what makes the most sense," Kaval said. "We're kind of deferring to them on that. We're providing all the necessary information that they need. But in the end, we're going to take direction from the league in the interim."
A Giants spokeswoman Thursday night declined to comment on the potential for the A's and Giants to share the 42,000-seat Bay Area ballpark.
With the Athletics recently filing their relocation application to MLB, Kaval plans to visit Las Vegas weekly.
This week one of his stops was Thursday afternoon at the Las Vegas Stadium Authority board meeting at the Las Vegas Convention Center. The appearance marked the first time he appeared in front of the entity that will strike a number of agreements with the team and eventually oversee the building and operation of the A's planned $1.5 billion Strip ballpark.
Related: Oakland mayor's office says city was close to a deal with A's
"Just a meet and greet to say hi to everyone and introduce myself and to be sure people know I will be the point person on the negotiations and all the efforts," Kaval said. "To ensure that people feel that there's a really good open dialogue and transparency in communication to have an effective conversation."
As the visits to Southern Nevada continue, Kaval will look to keep the team's plans on schedule with their planned 2028 opening of a Las Vegas ballpark. He'll meet with various stakeholders, including resort executives and elected officials, to keep all involved informed on the stadium happenings.
"We filed our actual relocation paperwork in the last couple of weeks and we're working with the league on that," Kaval said. "At the same time we have critical processes here with the (Las Vegas) stadium authority, the county, ensuring we have a community benefits plan that works per Senate Bill 1. These are important steps we will take to make sure everything is on track for a 2028 opening."
The A's have already made their presence felt in the community with a pair of $25,000 donations made during the Battle 4 Vegas charity softball game and a $15,0oo donation to the Henderson All-Stars for their trip to the Little League World Series this month. Doing so is important to the A's, even though it's well in advance on the team playing in Southern Nevada.
"In these interim years it's important that we don't just show up in 2028 and start playing. We want to start establishing connections and show people we can bring a lot of value to the community," Kaval said. "And what a baseball team can mean for quality of life and community benefits and civic pride. I think that can be a really fun thing to do and we look forward to interacting with folks and getting ideas from a lot of community members about how to do that in an effective way."
Contact Mick Akers at makers@reviewjournal.com or 702-387-2920. Follow @mickakers on X.