Major-league deal: A's to purchase land near Strip for new ballpark
Updated April 20, 2023 - 8:15 pm
The Oakland Athletics have zeroed in on Southern Nevada, signing a binding purchase agreement for land just west of the Strip where a major-league ballpark could be constructed.
The agreement is for 49 acres at Dean Martin Drive and Tropicana Avenue, owned by Red Rock Resorts, parent company of Station Casinos.
"For a while we were on parallel paths (with Oakland), but we have turned our attention to Las Vegas to get a deal here for the A's and find a long-term home," A's President Dave Kaval told the Review-Journal on Wednesday. "Oakland has been a great home for us for over 50 years, but we really need this 20-year saga completed and we feel there's a path here in Southern Nevada to do that."
With the announcement of the purchase agreement, MLB Commissioner Rob Manfred concurs with Kaval and hopes the A's shifting their efforts solely to Southern Nevada will lead to the end of the team's yearslong quest to leave crumbling Oakland Coliseum.
"We support the A's turning their focus on Las Vegas and look forward to them bringing finality to this process by the end of the year," Manfred said in a statement provided to the Review-Journal.
Update: Oakland mayor: A's negotiations 'ceasing' following Las Vegas land agreement
The deal is for the land only, with the A's having an option to purchase an additional 8 acres at a later date. Kaval said a $1.5 billion, 30,000-seat, partially retractable roof stadium would be built on the site, and that ancillary development, including but not limited to food and beverage establishments and even an amphitheater, are also in the cards.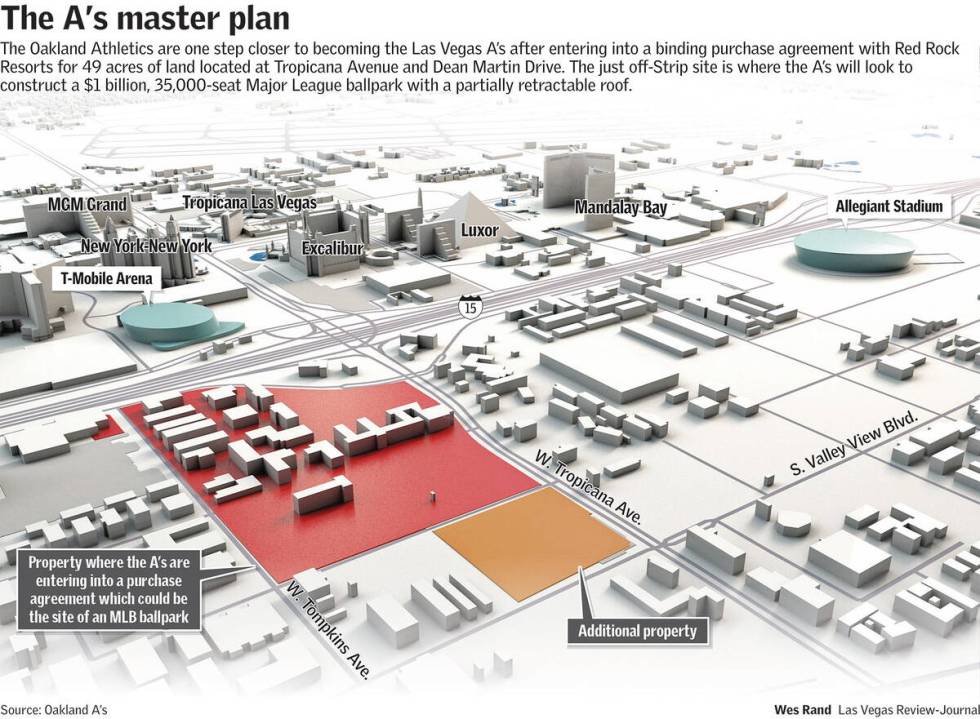 "It's really exciting to have a site," Kaval said. "We've spent almost two years doing our due diligence, working with community leaders, elected officials and everyone in town to really determine a location that could be a win for the A's as well as the community and public officials."
With the location being just over Interstate 15 and west of the Strip, Kaval said the site works out for residents and visitors alike.
"It's a great location not only for tourists, because it's in the Resort Corridor, but it's easy to get to for locals," Kaval said. "About 70 percent of our fans are going to be locals, so we want to make sure we cater to them, to have a great experience at the ballpark. And this location will do that."
The A's have been working with Las Vegas economist Jeremy Aguero of Applied Analysis, who determined that the new ballpark would draw around 400,000 incremental visitors annually to Las Vegas.
"That's just visitors coming only because the team is here (Las Vegas)," Kaval said. "That brings a lot of tax dollars that helps the community pay for social services and benefits and really creates a positive return on yield for the whole project."
Red Rock Resorts, which owns 100 total acres at the former site of the Wild Wild West property, will still control about 50 acres of land in the area once the land deal is finalized.
The A's portion of land in the agreement is bordered by Dean Martin Drive to the east, Tompkins Avenue to north, Procyon Street to the west and Tropicana Avenue to the south. The additional 8 acres of land that is available to the A's is just to the west of the 49 acres, bordered by Valley View Boulevard, Tropicana and Procyon.
The site is just over a mile north of Allegiant Stadium on Dean Martin and is a little over a mile west of T-Mobile Arena, which is located just off Tropicana and Las Vegas Boulevard.
"It's really in the sports district," Kaval said. "So you have all the stadiums kind of clustered in one spot. I think that creates a powerful zone, a kind of energy to it that will benefit the community and also help us be successful running a baseball team."
To further that synergy, there's also a possibility that the A's would have a pedestrian bridge constructed from their ballpark over I-15 linking to Park Avenue at T-Mobile Arena.
"So you'd have this connection to the Strip, which would be great for tourists getting in and out of the location," Kaval said. "It's also a nice way to knit everything together in a positive way and extend the vibrancy of the area. It also helps the casinos in that area as well as the resorts."
The stadium would be the site of 81-plus MLB games each year in addition to other events and concerts that could take place at the ballpark. The facility would also be a big draw to land big one-off baseball events such as the MLB All-Star game and the World Baseball Classic.
Gov. Joe Lombardo is excited about the prospect of another major-league sports team calling Southern Nevada home and is looking forward to the next steps in the process.
"Welcoming the A's to Las Vegas would be great news for Southern Nevada as well as our entire state," Lombardo said in a statement provided to the Review-Journal. "The prospect of bringing new jobs, more economic development and a historic MLB franchise to Las Vegas is exciting on many levels. As we continue to navigate this opportunity, I'm in regular communication with the A's, Major League Baseball, legislative leadership and local and state stakeholders."
What's next for the A's?
With a site now identified, the A's will turn toward working on a public-private partnership with state and local officials.
The A's have enlisted an army of lobbyists in Carson City for the legislative session. Kaval is one of them. Kaval noted their plan is still being developed and would be revealed at a later date.
"To put a package together that hopefully can work for all parties and that can be a positive return on investment," Kaval said. "That's the next step in the process. Hopefully that is done in a positive fashion, and then we can go to Major League Baseball and apply for relocation."
Assembly Speaker Steve Yeager, D-Las Vegas, said he's had preliminary discussions with the A's regarding their relocation and looks forward to furthering those discussions once the A's legislative plan comes into place.
"I am excited about the prospect of bringing Major League Baseball to Las Vegas," Yeager told the Review-Journal in a statement. "When the time comes, we will vet the proposal, seek input from interested parties and make the best decision for the people of the great state of Nevada."
The A's are working against a January 2024 deadline set by MLB to get their ballpark deal finalized.
If all goes as planned and the A's negotiate a public-private partnership that benefits all sides, and MLB approves their relocation, plans call for crews to break ground on the new Las Vegas ballpark sometime in 2024.
"Then opening for the 2027 season," Kaval said. "That's the current plan right now. Obviously things need to fall into place … but I think that is an achievable timeline right now."
How the A's got here with Las Vegas
MLB first pushed the A's to pursue a new ballpark in 2009, with the commissioner's office stating at the time, "The A's cannot and will not continue indefinitely in their current situation."
The A's weren't able to successfully land a new stadium before then-MLB Commissioner Bud Selig left his position and was replaced by current Commissioner Rob Manfred.
"For more than half a century, MLB has demonstrated overwhelming franchise stability and a consistent record of finding local solutions," Manfred said. "The A's have done their part to stay through an enormous investment in Oakland, their many playoff berths, outstanding baseball operations leadership and an abundance of patience. Under John Fisher, the A's ownership has invested unprecedented time and resources to try to build a new ballpark in Oakland."
The A's have been working with Oakland officials on the planned $12 billion Howard Terminal project, which is centered around a $1 billion waterfront ballpark near Jack London Square. Since the Oakland City Council approved its own version of a term sheet for the project in July 2021, the A's and city officials have been working to resolve issues between the two sides. Many of those issues still remain, inducing off-site infrastructure costs and affordable housing.
Las Vegas came into the fray in May 2021 when Manfred gave the A's the green light to explore relocation to Southern Nevada. In recent years the Raiders left the Bay Area in 2020 for Las Vegas, and in 2019 the NBA's Golden State Warriors moved across the bay, beginning play at Chase Center in San Francisco.
"The A's have remained in Oakland long past the departures of other teams in the market," Manfred said. "In 2021, given the continued lack of progress, MLB instructed the A's to explore a parallel path plan with Las Vegas. Since that time, the process in Oakland has not progressed and Las Vegas has presented a comprehensive path forward for the A's that will preserve this historic franchise forward and set the stage for future success."
Las Vegas ballpark location process
During the A's Southern Nevada search, they once compiled a list of more than 20 ballpark sites, including locations in the Resort Corridor, downtown Las Vegas, Summerlin and Henderson.
After reviewing feedback from a survey the team commissioned for potential season ticket-holders, it was decided to focus on areas near or on the Las Vegas Strip. Last year, that list included the Wild Wild West site, which eventually was nixed.
Since earlier this year the team had a list of three final sites, including the Tropicana, the Rio and the Las Vegas Festival Grounds. That changed when the Wild Wild West site came back into play.
"The Wild West site was the best site as far as an ingress-egress perspective," Kaval on how the site came about. "It was really favorable and when it became available for somewhere that could work for us, it was really something we jumped on."
"Clark County looks forward to welcoming the A's to our region, and we are in full support of adding Major League Baseball to our growing sports brand," Jennifer Cooper, chief communications and strategy officer for Clark County, said in a statement Thursday.
Contact Mick Akers at makers@reviewjournal.com or 702-387-2920. Follow @mickakers on Twitter.
RELATED
What happens to Aviators, Las Vegas Ballpark if A's move to Las Vegas?
Las Vegas baseball fans love Aviators, but the A's are very tempting
Gordon: A's don't belong in Las Vegas. They belong in Oakland